Free-for-all looms in speakership race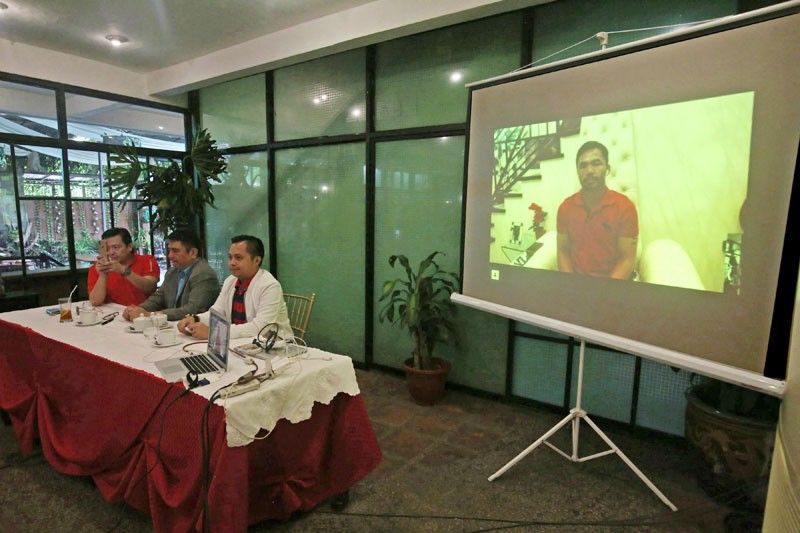 MANILA, Philippines — Political parties and power blocs under the administration coalition in the 300-member House of Representatives engaged in a free-for-all yesterday after President Duterte begged off from picking his choice for next speaker.
This developed after top leaders of the ruling PDP-Laban and three other political groups decided to support the candidacy for speaker of reelected Marinduque Rep. Lord Allan Velasco.
As soon as party leaders announced their decision, several of their members cried foul, claiming there was no consultation and they would vote for Velasco's rivals.
A faction of the ruling PDP-Laban vowed to support incoming Leyte representative Martin Romualdez, president of Lakas-CMD, the ruling party during the Arroyo administration.
Despite threats of sanctions from party leaders, Romualdez had his own show of force in a Quezon City hotel yesterday.
Sen. Manny Pacquiao, who served as PDP-Laban national campaign manager in the recent elections, announced in a television interview from Los Angeles, California that the ruling party has chosen Velasco as its candidate for speaker.
Pacquiao acknowledged President Duterte has declined to back any candidate for speaker as they are all his allies but said that would not pose a problem for the ruling party.
Presidential spokesman Salvador Panelo said it is not Duterte's style to interfere with the affairs of a co-equal branch of government.
"The Chief Executive would rather focus on the business of governance rather than play politics and ruffle the feelings of those outside of his preferred choice. The latter is simply not the character and style of the Chief Executive," Panelo said.?
While there was no explicit endorsement, Pacquiao said PDP-Laban members should be reminded the party is headed by Duterte. He said the party expects its members to vote for its chosen aspirant.
In a manifesto, leaders of PDP-Laban, the 54-member Party-list Coalition (PLC), Nationalist People's Coalition (NPC) and Northern Luzon Alliance (NLA) said they were expressing their "full and unequivocal support" for Velasco.
They called on their members to support Velasco.
They also opposed the proposal for speaker aspirants to share the three-year term of the top House leader.
Reps. Aurelio Gonzales Jr., who is PDP-Laban executive vice president; Mikee Romero of 1-Pacman, who is PLC president; Jack Duavit of Rizal, Weslie Gatchalian of Valenzuela City and Kristine Singson-Meehan of Ilocos Sur signed the manifesto.
Duavit and Gatchalian are NPC leaders, while Meehan represents NLA, which groups House members from the north.
Gonzales of Pampanga's third district said they are aiming to get at least 200 of the 304-305 House members to vote for Velasco.
That number includes 60 from PDP-Laban, 45 to 50 from Romero's group, more than 30 from NPC, 15 from Nacionalista Party, 20 from NLA, 12 from Liberal Party and at least 20 from the ranks of independents, he said.
Aside from Velasco, the other aspirant for the speakership from PDP-Laban is former speaker and Davao del Norte Rep. Pantaleon Alvarez, who has not been visible lately.
Breaking away
As soon as the manifesto was released to the media and Pacquiao made his TV announcement on Velasco, a group of PDP-Laban lawmakers led by Joey Salceda of Albay said they are for Romualdez.
About 40 administration lawmakers showed up in yesterday's caucus of Romualdez held at Satin 2 Conference Room of Seda Hotel Vertis North in Quezon City.
"It's the President's choice to make, not for Manny Pacquiao. That is his (Pacquiao's) right but he cannot vote in the House. Secondly, don't try to scare us. I don't think the President will allow a bloody fight in the floor," Salceda said.
Another PDP-Laban faction led by Reps. Neptali Gonzales II of Mandaluyong City and Ronaldo Zamora of San Juan is supporting Nacionalista Party's Alan Peter Cayetano.
The administration party is the largest political group in the House with 84-85 members, followed by Romero's coalition.
Like the administration party, Romero's PLC is divided, with some members distancing themselves from their leader's support for Velasco.
The coalition earlier passed a resolution authorizing Romero and giving him "full trust and confidence" to discuss its concerns and negotiate with all speaker candidates on its behalf.
Romero called his group to an emergency meeting to tackle the complaints of some of his members. The coalition was expected to ratify his actions.
Former Quezon City congressman Mike Defensor, the top nominee of winning party-list group Anakalusugan, claimed that only seven members of the coalition would vote for Velasco.
He and the others will go for Romualdez, he said.
"Members of the party-list coalition agreed to vote as a bloc. A majority, however, that I have spoken to already indicated their preference for Congressman Martin as speaker pending the possible endorsement of President Duterte," Defensor said. – With Paolo Romero, Alexis Romero