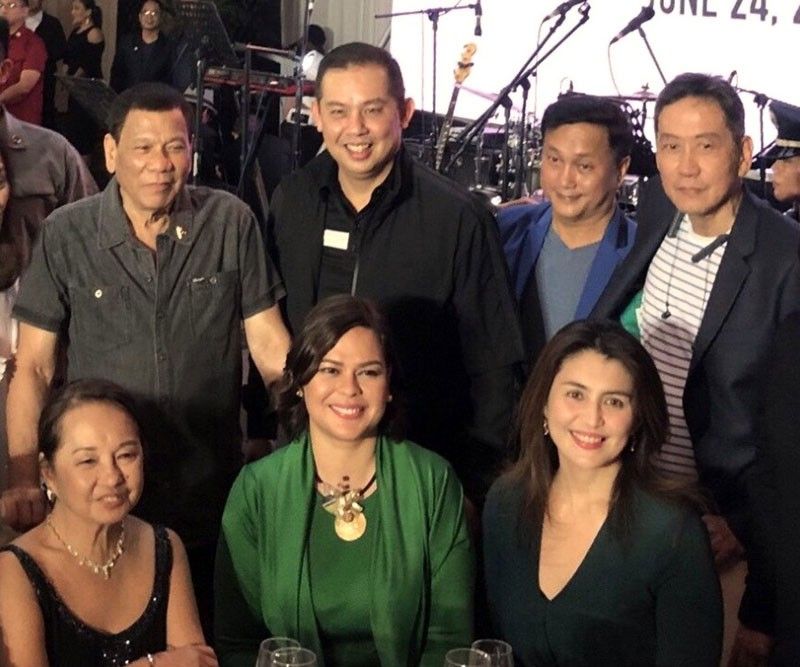 President Duterte and his daughter Davao Mayor Sara Duterte pose with Hugpong ng Pagbabago allies during the HNP's thanksgiving celebration at the Manila Peninsula Hotel Monday night. From left are (standing) Leyte Representative-elect Martin Romualdez, Senator-elect Francis Tolentino and businessman Sammy Uy. Seated are Speaker Gloria Macapagal-Arroyo and Tingog party-list Representative-elect Yedda Romualdez.
File
Duterte tells GMA: Pick your replacement as speaker
MANILA, Philippines — President Duterte has changed his mind anew and is leaving it to members of the House of Representatives to decide on who their next speaker should be, saying he does not want to experience the "agony" of choosing because all the contenders are his friends.
Duterte revealed he had asked outgoing Speaker Gloria Macapagal-Arroyo to choose her successor because he does not want to hurt the feelings of his allies.
"Do not give me a problem anymore... You are about to retire. You choose the next speaker," Duterte, referring to Arroyo, said during the oath taking of local officials yesterday at Malacañang.
Duterte said the conversation took place during the thanksgiving of the Hugpong ng Pagbabago in Makati last Monday. He said people thought he was kidding but he was not.
Arroyo refused to select the next speaker, according to the Chief Executive.
Duterte said incoming Taguig Rep. Alan Peter Cayetano and Marinduque Rep. Lord Allan Velasco signified intention to become speaker during the midterm polls. Leyte Rep. Martin Romualdez expressed interest in the post after the polls, according to the President.
"I said sort it out among yourselves," Duterte said. "I am comfortable with any speaker as long as he is Filipino."
Last Monday, the President said he was still undecided on who to endorse in the race for speaker, saying he was too busy to think about the issue.
"Look, I just came from Bangkok. Nagpatong ang trabaho ko (My work has piled up). I have to go home because I have to work," Duterte told reporters last Monday.
"I have so many papers to sign. Maybe, when I sit for a – in the bathroom and begin to ponder, I might decide on what to do," he added.
Presidential spokesman Salvador Panelo said Duterte was just floating a possibility. He claimed that the President does not interfere with issues in Congress.
The spokesman added that it is also possible that the President would not announce his choice for speaker.
"Puwedeng puwede, puwedeng hindi. Hindi natin alam. Siya mismo nagsabi maybe, eh (Maybe yes, maybe no. He himself said maybe)," Panelo said.
Panelo later admitted that the Duterte's political alliances may be a consideration in his decision-making.
"All of them are allies, eh. Maybe, he doesn't want to ruffle the feelings of the candidates; and all of them naman are supportive of the President," he said.
Duterte's former aide and senator-elect Christopher Go previously said the President had asked for more time to decide on who he would endorse in the speakership race.
Divided
Allied political parties in the administration coalition, led by PDP-Laban party, at the House have been largely polarized owing to his failure to officially declare his candidate for the next speaker.
As it is now, no less than the country's most dominant party is deeply divided, with the ruling party's stalwarts and members endorsing Velasco, Romualdez and Cayetano as the three main speakership aspirants.
The camp of reelected Pampanga Rep. Aurelio Gonzales Jr., who sits as executive vice president, has officially endorsed the candidacy of Velasco – a close friend of the Duterte family – whose group has already garnered 40 signatures out of its 90 members.
Another PDP-Laban "faction," that of Reps. Ronaldo Zamora (San Juan) and Neptali Gonzales II (Mandaluyong), has declared their all-out support for returning congressman Cayetano, a former senator and foreign affairs secretary.
"As the battle for speaker heats up, PDP-Laban expressed their support for the Taguig-Pateros representative, notwithstanding the fact that he belongs to the Nacionalista Party (NP)," a statement from the Cayetano camp read.
A third wing, however, has thrown their support behind Romualdez, as per repeated pronouncements of outgoing House Minority Leader Danilo Suarez who disclosed that most of their 156 signatories actually come from the country's ruling political party.
The incoming Quezon governor, however, refused to give the names of the PDP-Laban signatories.
Reliable sources in Congress have admitted that "practically all political parties" allied with Duterte – like the Villar-led NP, the Cojuangco-founded Nationalist People's Coalition (NPC), the National Unity Party (NUP) and others – are "divided" on the speakership issue.
Duterte is reportedly eyeing a win-win solution to the speakership quarrel among his congressmen-allies: term-sharing.
"He wants them to share the three-year term of the speaker," a close presidential aide said in a text message to a lawmaker.
It was not clear, though, whether two or three aspirants would divide the term. If two, they would have one-and-a-half years each; if three, they would have one year each in occupying the position.
There is also a quarrel in term-sharing: who gets the post first, or if they are amenable to the idea in the first place.