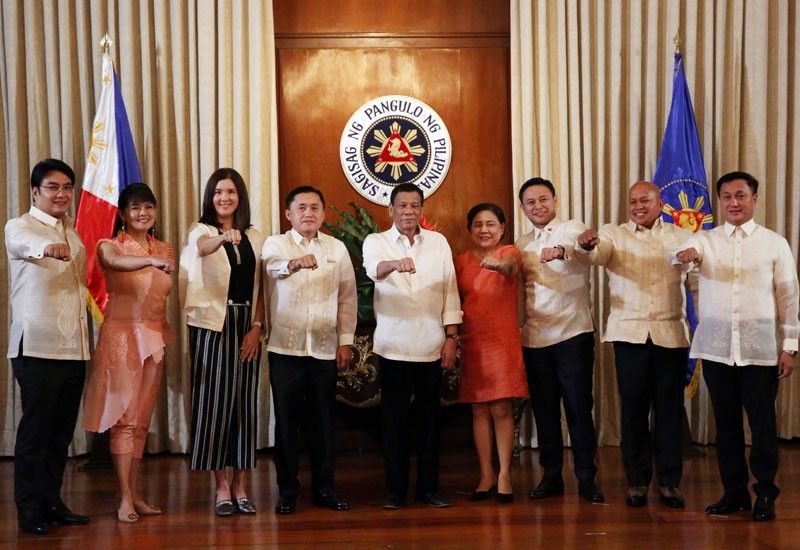 Duterte said local officials should at least amend the Constitution if they are not in favor of federalism, a form of government that he said would solve the decades-old conflict in Mindanao
File
Federalism may not gain support – Duterte
MANILA, Philippines — President Duterte is now open to the possibility that his proposed shift to a federal government, one of his campaign promises, will not gain support.
Duterte said local officials should at least amend the Constitution if they are not in favor of federalism, a form of government that he said would solve the decades-old conflict in Mindanao
"If you do not want federalism, fine, but change the Constitution that would change this nation," the President said during the oath-taking of local officials yesterday at Malacañang.
Duterte, the first president from Mindanao, previously said federalism would bring development in the countryside and would break the concentration of power in Manila.
Earlier this month, Duterte lambasted the 1987 Constitution, which was ratified during the administration of Corazon Aquino. The president cited the party-list system, which he said is being controlled by the rich.
"And for all of the brightest who crafted that constitution, son of... they did not see the simplest fact that money buys everything including political party," Duterte said during the 121st anniversary of the Philippine Navy in Cavite City last June 17.
"And who benefits? The rich...It's really a disaster," he added.
'Mindanao a dangerous place'
Duterte also admitted that Mindanao remains a dangerous place because of security threats.
"That's the problem of Mindanao. Far and wide in between the years, we had so many troubles. Lawless violence, it's still there. There are people who refuse to follow… Mindanao really seems to be a dangerous place still to go around," the president said.
Duterte admitted that there is still a need to perfect the Bangsamoro Organic Law (BOL), which provides for the establishment of the Bangsamoro Autonomous Region in Muslim Mindanao (BARMM) to replace the Autonomous Region in Muslim Mindanao.
"I am now the one government that is hurrying them up. We have so much resources. They say that Liguasan Marsh contains all...whatever you need to build a nation, if there is such money there," the president said.
"I told them 'move fast.' The problem is there seems to be a breakdown in the efficient communication between the central government and BOL," he added.
The president did not elaborate on the communication gap but he revealed that he seldom sees BARMM officials in public functions.