Duterte may not endorse PDP-Laban contender for speaker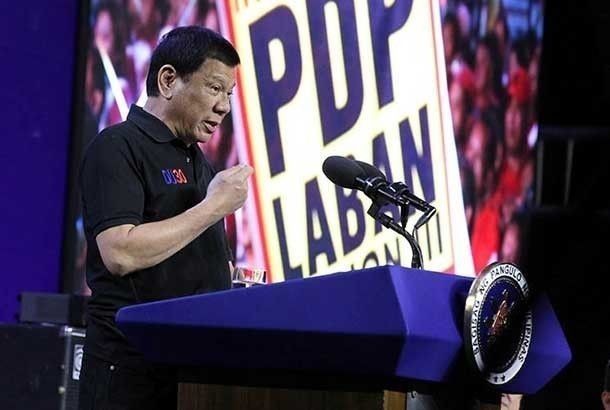 MANILA, Philippines — President Duterte may choose not to endorse a contender of the ruling Partido Demokratiko Pilipino-Lakas ng Bayan (PDP-Laban) for the race for House speaker, a Cabinet official said yesterday.
Secretary to the Cabinet Karlo Nograles said Duterte may choose to remain neutral on the speakership race because his preference could "tilt the balance" and influence other parties.
"It is also not farfetched that the President would not endorse anyone because most of his pronouncements, even presidential spokesperson Secretary Sal (Panelo) is saying that the President would not interfere," Nograles said in an interview with radio station dzBB.
"The President's word wields a lot of influence," he added.
Last Thursday, Sen. Manny Pacquiao consulted Duterte on who PDP-Laban's bet for the speakership would be. Among the PDP-Laban members who are eyeing the post are former House speaker and Davao del Norte Rep. Pantaleon Alvarez, Pampanga Rep. Aurelio Gonzales and Marinduque Rep. Lord Allan Velasco.
Nograles said Duterte has yet to decide on whether to support anyone in the fight for House leadership.
"If he speaks, it might be an indication also for all parties. He is not a member of Nacionalista, or NUP (National Unity Party) NPC (Nationalist People's Coalition) or party-list; of course, the President avoids issuing a statement. If he does, that will tilt the balance, so to speak," he added.
Contenders for House speaker would have to seek the support of their colleagues in the chamber if the Chief Executive remains neutral, according to Nograles.
"They are trying to get as much support from Congress persons as possible," he said.
"The top contending ones are just preparing for the eventuality that the President will stay neutral up to the very end, then, paramihan na lang ng boto ang mangyayari (it would be a numbers game)," he added.
'Unify, not divide'
No more "divisive" speakers this time around.
Officials of the House of Representatives have had enough of a speaker who bullied them, which is why administration lawmakers have expressed their desire to vote for an aspirant who will unify the various interests of legislators.
"Lessons from the recent change of House leadership are material – that House members are inclined to support a leader who knows well his members as well as their needs and sentiments," Oriental Mindoro Rep. Doy Leachon said over the weekend.
"Someone whom they can always confide in – without political considerations. Acceptability is very important. After all, the candidate will be judged based on his personality and the motivation for his running," the House justice committee chief added.
House Deputy Speaker Munir Arbison sees no problem whoever emerges as speaker by July 22 primarily because all of the aspirants are allies of Duterte who can help him push his legislative agenda in the 18th Congress, which will run until July 2022.
The Sulu congressman pointed out though that among the contenders, reelected Leyte Rep. Martin Romualdez has "a good chance to become the speaker if he has the majority support."
Reelected Camiguin Rep. Xavier Jesus Romualdo, who chairs the House committee on good government and public accountability, agreed that "acceptability to the members of the House is the deciding factor that will determine who the next speaker will be."
Outgoing House Minority Leader Danilo Suarez has repeatedly endorsed the speakership bid of Romualdez, who sits as president of their party Lakas-CMD, and whose 156 signatures from his fellow lawmakers remain unsurpassed until now.
"Congressman Martin is the most acceptable, competent and experienced among the candidates in the speakership race," the incoming Quezon governor told reporters.
Puwersa ng Bayaning Atleta party-list group Rep. Jericho Nograles had hinted earlier that there would most likely be only two serious contenders for the speakership – Romualdez and Velasco.
Nograles, whose mother Rhodora Bendigo is a cousin of the Chief Executive, made this forecast in the run-up for the speakership race by July 22.
"This will be a tough decision… but we will definitely choose the speaker who can treat us justly and fairly," he said, referring to the Party-list Coalition Foundation Inc.
The son of the late speaker Prospero Nograles said party-list congressmen believe that only "under a Velasco or a Romualdez speakership will we be treated fairly and the concerns of our constituents be heard and respected." – Delon Porcalla