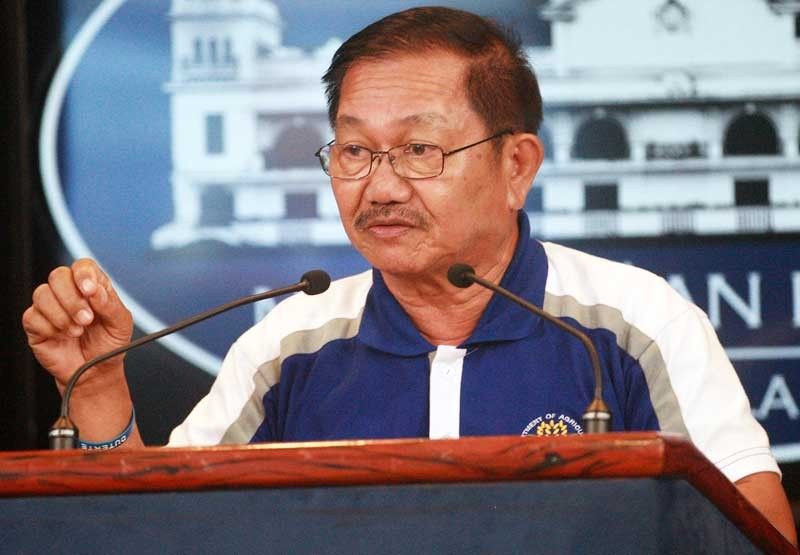 The PACC said it found no evidence that Piñol had amassed unexplained wealth.
Joven Cagande
PACC clears Piñol in lifestyle probe
MANILA, Philippines — The Presidential Anti-Corruption Commission (PACC) has cleared Agriculture Secretary Emmanuel Piñol of corruption months after he was accused of benefiting from rice importation deals.
The PACC said it found no evidence that Piñol had amassed unexplained wealth.
"The PACC will submit to President Duterte its resolution clearing Secretary Piñol, including copies of all documents gathered during the investigation," the commission said in a statement signed by its chairman Dante Jimenez.
The resolution was approved after a seven-month full lifestyle check on the agriculture chief.
The lifestyle check was conducted with the help of the Anti-Money Laundering Council, the National Bureau of Investigation, Land Transportation Office, Land Registration Authority and the Philippine National Police Civil Security Group and Firearms Explosives Office.?
The PACC commended Piñol for volunteering to be subjected to a thorough lifestyle check and investigation.
"Instead of issuing self-serving statements to defend himself, Secretary Piñol opened all of his records, including his bank accounts and financial documents, to the graft investigators," it said.
"It should be made public that after Secretary Piñol volunteered to undergo a full lifestyle check, other officials of the Duterte administration have followed suit and are now undergoing probe by the PACC," it added.
The PACC expressed hope that a "new culture" would prevail in government service, wherein public officials open themselves to a thorough scrutiny instead of just issuing denials.
Late last year, Piñol submitted himself to a lifestyle check to respond to claims that he made money from rice importation.
He also decried what he called a "demolition job" against him by members of the rice cartel who control rice trading.
"Last year, shortly after three agencies, including the controversial National Food Authority (NFA), were placed under the DA (Department of Agriculture), rumors swirled that I benefitted financially from rice importation deals," Piñol said as he welcomed the result of the lifestyle check.
"It was a rumor which reached the ear of President Duterte and while he did not confront me about it, I felt the need to clear myself from the issues.