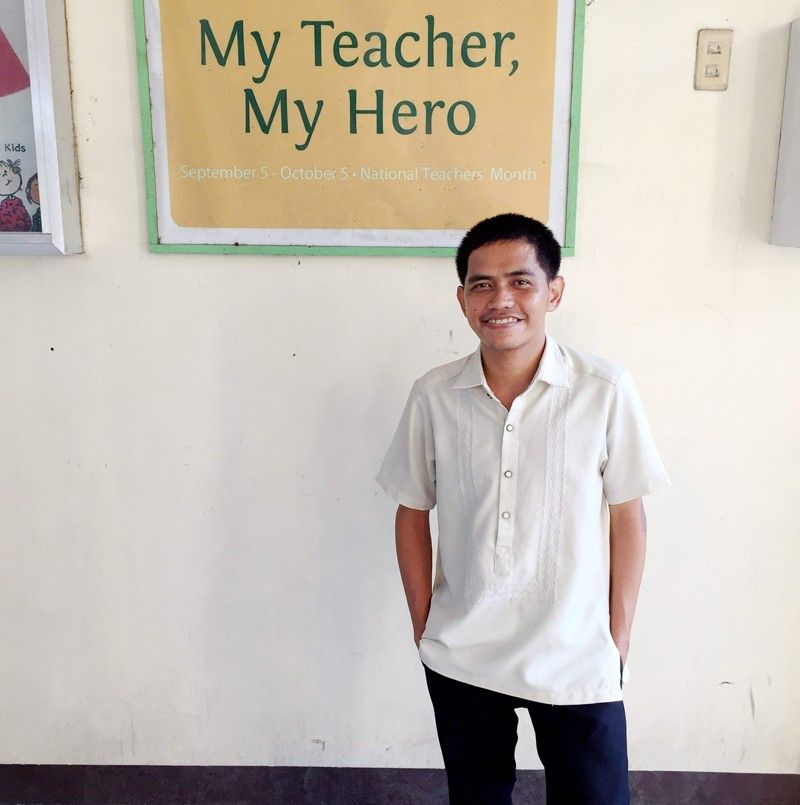 Noel Alicaba poses beside a sign at Panghulo Elementary School, where he has been teaching since 2012. He grew up in Malabon's Artex Compound, also known as Metro Manila's 'Little Venice.'
Marc Jayson Cayabyab
Malabon teacher rides boat to school
MANILA, Philippines — In Malabon, where the flood in a disputed area has not subsided for 15 years, Noel Alicaba takes a boat daily to attend classes.
Alicaba recounted his life at Artex compound in Barangay Panghulo, which may be the only one of its kind in Metro Manila.
As a college student, Alicaba left his house at the break of dawn. Now a teacher at Panghulo Elementary School, sometimes he takes boat rides with his students on their way to school, within walking distance from Artex.
"At first, it was a discomfort for us. But we eventually got used to it and we adapted," said Alicaba, whose father served as a security guard for Artex Yupangco Textile Mills Corp. that closed down in 1989 after its workers went on strike.
Alicaba uses his experience of rowing a boat to school in inspiring his students to perform well in their academics.
"When my alternative learning system students go absent in class, I usually share my story. That way, I can share with them the importance of studying," said Alicaba, who ferried people for P3 each as a working student.
Another Artex resident, Nylen Carina ferries her son to school using a makeshift vessel made of styrofoam.
Carina also uses the makeshift vessel to fetch potable water.
"It becomes more difficult during the rainy season when we have to buy raincoats and umbrellas and when it is more difficult to row the boat," Carina said.
She said her seven-year-old son, who likes to catch fish, wishes the flood would subside so he could pick up the coins on the ground.
"Our place has long been neglected. Only when we win our case can we claim the place as ours," Carina said.
A "We Are Still on Strike" banner is visible at the entrance to Artex, home to around 250 families who have claimed the property as their own.