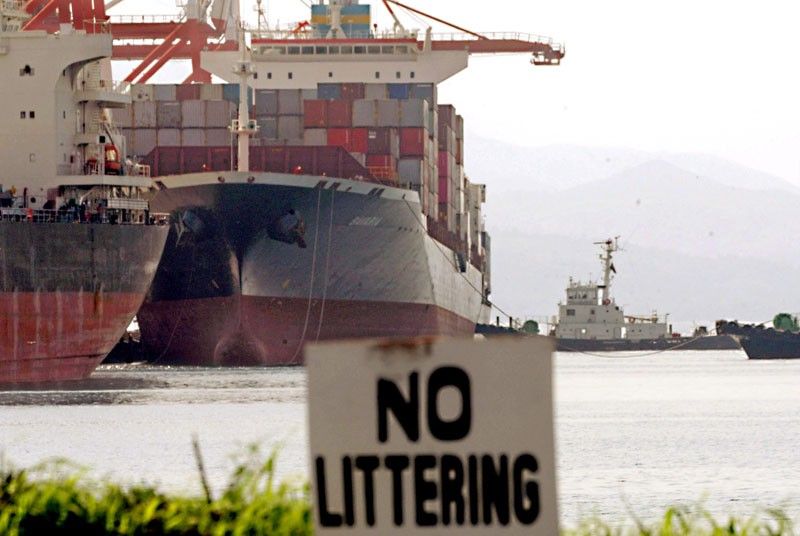 GOODBYE TRASH: Container ship M/V Bavaria, a vessel hired by the Canadian government to ship containers of trash back to Canada, is seen docking at Subic Port yesterday.
KrizJohn Rosales
'Garbage collector' arrives in Phl; ties with Canada seen normalizing
TOKYO – Diplomatic ties between the Philippines and Canada will normalize once the containers of trash dumped in Manila are shipped back to Ottawa, Malacañang announced yesterday.
The Philippines will finally return to Canada the 69 containers of toxic waste as the ship tasked to transport the garbage arrived at the Subic Bay Freeport at 2:40 p.m. yesterday.
The trash will be loaded onto M/V Bavaria, the Subic Bay Metropolitan Authority said.
"Hopefully, it will return to normal because that (garbage issue) triggered the disruptive relations," presidential spokesman Salvador Panelo said in an interview here.
Panelo said the government would most likely reinstate the ambassador and consular staff recalled earlier this month after the Canadian government failed to ship back its garbage.
"If the reason for the recall was the trash, then if the trash has been brought back, there's no more reason. That's the logic," Panelo said.
"What is important is the trash will be shipped back to Canada" he added.
The estimated 2,000 tons of garbage were shipped to the Philippines in 2013 and 2014.
Canadian Prime Minister Justin Trudeau had said legal obstacles prevented Canada from taking back the trash since the company that sent the rubbish to the Philippines was a private firm.
Foreign Affairs Secretary Teodoro Locsin Jr. said the scheduled shipment of waste back to Canada had to wait for another day following the delay in the arrival of the ship.
Locsin said the ship that would transport the garbage was supposed to arrive on Wednesday.
Ban waste imports
Environmental groups launched an online petition urging President Duterte to ban the entry of waste in the country.
Greenpeace made the appeal after garbage from Australia, Hong Kong and South Korea were illegally dumped in the country.
Aside from Greenpeace, Ecowaste Coalition, Global Alliance for Incinerator Alternatives, BAN Toxics and the global Break Free from Plastic Movement called on the government to ratify the Basel Ban Amendment, which prohibits waste imports.
Angelica Pago of Greenpeace noted that 103 shipping containers from Canada were intercepted at the Port of Manila containing plastics, household waste, electronic wastes and used adult diapers in 2013.
"These materials are classified as hazardous under Republic Act 6969 or the Toxic Substances and Hazardous and Nuclear Waste and Control Act. Moreover, the waste shipment violates the Basel Convention, as the contents of the shipping containers were misdeclared as recyclable," she said.
"We are calling on the President to stand up for Philippine sovereignty by telling developed countries that the Philippines is not a garbage dump," Pago said.
Aileen Lucero, national coordinator of EcoWaste Coalition, said, "Today marks a point in our nation's history as we get rid of the illegal waste shipments from Canada after six years."