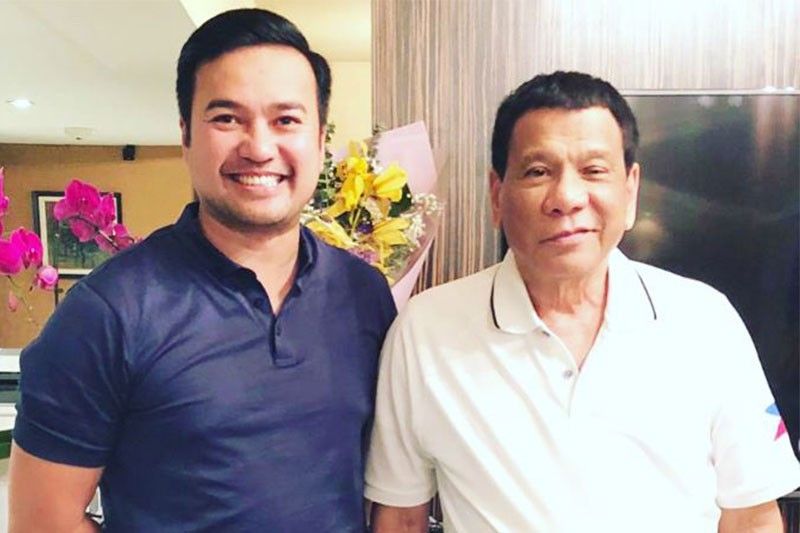 Marinduque Rep. Lord Allan Velasco said his relationship with President Rodrigo Duterte would help in his bid to become the next Speaker of the House of Representatives, the fourth highest position in the country.
Rep. Lord Allan Velasco's Instagram account
Marinduque's Velasco sees ties with Duterte as advantage for House speaker bid
(Philstar.com) - May 28, 2019 - 3:30pm
MANILA, Philippines — Marinduque Rep. Lord Allan Velasco said his ties to President Rodrigo Duterte is an advantage for his House speaker bid.
"People say it might be a disadvantage if I become speaker because I'm very close to the president because you know, the House should be an independent institution… but at the end of the day I'm saying it's actually an advantage for me to be close to the president because at least I can talk directly to the president when it comes to the problems of the House," Velasco told ANC's "Headstart" Tuesday.
Velasco is one of the many politicians gunning for the position — the fourth highest in the country — which will be elected when the House of Representatives meets in July.
In November 2018, both President Duterte and Davao City Mayor Sara Duterte introduced Velasco, a Duterte ally, as the next House speaker during different events in Marinduque.
However, Velasco clarified that what made him decide to run for the speakership position was also his frustration with past budget allocations.
"In the past few years we heard about zero budget given to some of the congressmen... and then we're hearing stories during GMA's time that some of the congressmen's budget were slashed, so it was really mostly frustration," he said.
In 2017, the house voted to reduce the 2018 budget of the Commission on Human Rights to just P1,000; it was ultimately given a budget of P508.5 million. In January last year, former speaker Pantaleon Alvarez threatened to give "zero budget" to lawmakers who would oppose federalism.
Velasco promised that should he become the House speaker, he will "protect the budget for each district of each congressman."
"Nobody will get a zero budget.. I will not slash any budget that is allotted to their districts because I'm a district congressman, I know how important it is to have a budget for my districts because each district has its own needs," he said.
The Marinduque representative also said that he wanted to offer "stability in the leadership."
"I'll be a consensus builder, I'll be a listening speaker. But on top of listening I will be very decisive after," he said.
When it came to rumors of him giving away millions of pesos in exchange for support, Velasco dispelled these.
"Congressmen should respect congressmen, they won't go to that type of wheeling and dealing just to be able to get the votes… I don't think each congressman can just be bought that easily," he added. — Philstar.com intern Michelle Co