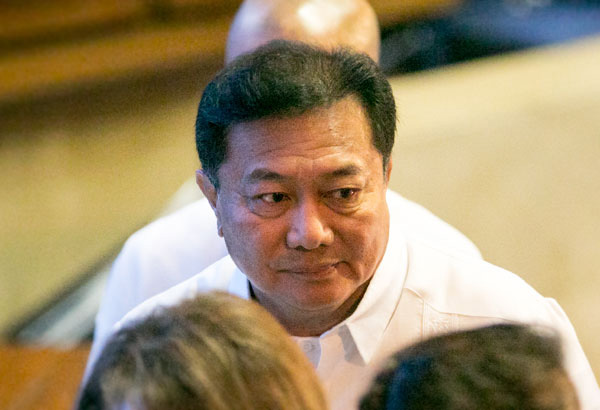 Speaker Pantaleon Alvarez threatened provinces whose leaders would not support federalism with zero budget. Philstar.com/AJ Bolando, File
Speaker: Support federalism or get zero budget
MANILA, Philippines — House Speaker Pantaleon Alvarez threatened the provinces of politicians who would not support administration efforts to shift to a federal form of government with a "zero budget."
Alvarez said that he would respect the decision of lawmakers who would oppose moves to amend the 1987 Constitution to pave the way for a federal form of government but stressed that these solons should not also resent if their provinces would get no funding due to their choice.
"Of course, some provinces would not support the initiative, then they will get zero budget. We can't give equal treatment to provinces which have supportive leaders and areas whose leaders oppose a federal form of government," Alvarez said in Filipino during the oath-taking of Iloilo politicians who switched from the erstwhile ruling Liberal Party to PDP-Laban.
"If you won't go along with the plan, it's okay. I respect that. It's your right, but you should also respect my right to give you zero budget, right?" said Alvarez, talking as though he was discussing his personal money.
READ: Full speed ahead for House con-ass
He said that his allies would find it unfair that supporters and opponents of federalism would both get funding from Congress.
He also assured local residents of Iloilo that they would not get zero funding following the mass switch of political allegiance of their leaders.
Alvarez also explained to residents why there was a need to shift to a federal form of government, saying that the current system has fomented unequal development between Metro Manila and the provinces.
READ: Former chief justices disagree on need for charter change, but not on mode
He said some leaders from Manila were resisting efforts to change the form of government because their revenue share would be significantly diminished under a federal system.
He said that in the current system revenues by provinces would go to the central government which would then decide how the money would be allocated to the country's regions.
"What PDP-Laban and the president want is to provide opportunities to the regions. In a federal form government, the earnings of provinces would stay there, and they would just give a contribution to the national government," he said.
READ: Lacson readies resolution for separate Senate ConAss
The speaker also asked residents for their help in pushing for a change in the country's Constitution, saying that this will benefit everybody.
Duterte has made amending the Constitution to shift to a federal form of government a priority, saying this will help address the unequal development among the country's regions.
The House of Representatives has recently adopted a resolution that would convene the two chambers of Congress into a constituent assembly.
The Senate however has insisted that it will not meet with the House as a constituent assembly without assurances that voting would be separate.
Senators have insisted that they will insist on separate voting, and Sen. Panfilo "Ping" Lacson has filed a resolution that will result in separate constitutional assemblies for the upper and the lower chamber.