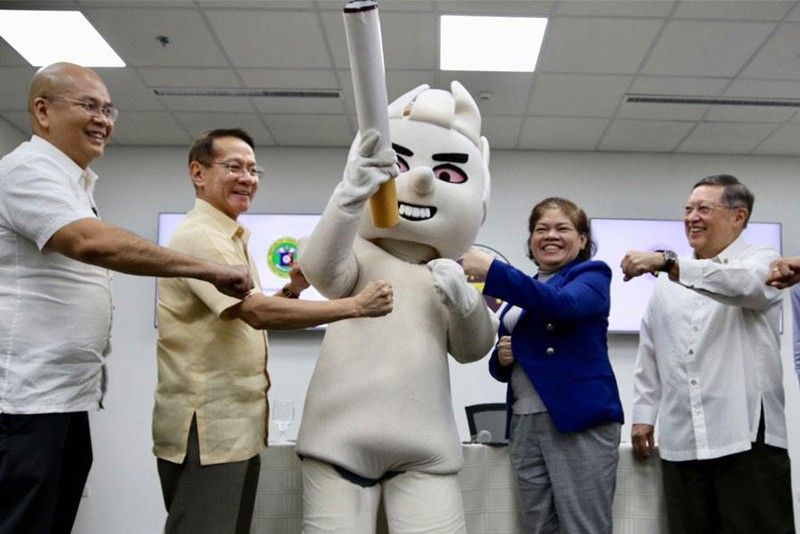 In a joint statement, DOH Secretary Francisco Duque III and DOF Secretary Carlos Dominguez III said that raising the taxes would "close a cumulative funding gap estimated at around P426 billion over the next five years for the full and proper implementation of the Universal Health Care (UHC) program."
DOF FB Page
DOH, DOF make final push for higher sin taxes
MANILA, Philippines — The Department of Health (DOH) and Department of Finance (DOF) are making a final push to get Congress to approve higher taxes for alcohol and tobacco products.
In a joint statement, DOH Secretary Francisco Duque III and DOF Secretary Carlos Dominguez III said that raising the taxes would "close a cumulative funding gap estimated at around P426 billion over the next five years for the full and proper implementation of the Universal Health Care (UHC) program."
A clearer picture is expected tomorrow, at least for tobacco, as the Senate is expected to sponsor it for second reading and pass it on third reading on Wednesday, Sen. Sherwin Gatchalian said yesterday.
In their joint statement, the DOH and the DOF said imposing higher excise taxes on alcohol and tobacco products would help the government "curb vices and undesirable behavior while, at the same time, generate the revenues necessary to fully fund the UHC."
It is estimated that implementing the UHC will require as much as P1.44 trillion from 2020 to 2024. President Duterte signed the UHC program into law in February.
Under UHC, all Filipinos shall automatically be enrolled in the Philippine Health Insurance Corp.
Duque added the reforms provided for under the UHC law will ensure health insurance coverage and expand benefit packages particularly for outpatient consultation and outpatient medicine for all Filipinos.
However, government funds will not be enough to fulfill the financing requirements of the program beginning 2020, thus the urgent need for Congress to write a new "sin" tax reform law.
Dominguez said that from 2020 to 2024, government funds can only cover P200 billion for UHC annually, while the cost of the program will continue to grow to as much as P1.44 trillion during the same period.
In 2020 – the first year of UHC's implementation – the program is estimated to cost P258 billion, P195 billion of which the government can cover from its current funding sources from the national budget, the Philippine Amusement and Gaming Corp. (PAGCOR) and the Philippine Charity Sweepstakes Office (PCSO).
He added without "sin" tax reform, UHC will be left with a funding shortfall of around P62 billion.
Gatchalian, meanwhile, said the proposed increase in tobacco tax to P60 per pack can be passed on third and final reading on Wednesday, as President Duterte had agreed to certify it as urgent.
"We will see a better scenario this Monday. We will see, this law will have clearer direction," Gatchalian said over radio dwIZ.
He said the bicameral conference committee meeting on the measure is possible next weekend if it gets approved on third reading on Wednesday. "So this week will be very critical," he said.
Senate Bill 1599, authored by Sen. Manny Pacquiao, seeks to amend Republic Act 10351 or the Sin Tax Reform Act of 2012, by increasing the current unitary excise tax rate to P60 per pack from P30 per pack, and the annual excise tax to nine percent from four percent.
Gatchalian said he personally supports the sin tax on cigarettes as a measure to dissuade Filipinos from smoking and also to raise funds for UHC.
He said that if the Senate fails to pass the measure by Wednesday, it may have to be re-filed in the next Congress.
While most senators have indicated their support for the measures, others have indicated their intention to introduce some amendments and interpellate, which could delay the passage of the bill. But Gatchalian stressed the senators have a "commitment" to fast-track the measure.
Gatchalian also said he wants greater protection for farmers if tobacco excise taxes are raised. He pointed out that higher taxes might encourage smuggling.
"Best effort, given the time, only six session days – if senators cooperate we can make this into a law." he added.
For his part, Sen. Aquilino Pimentel III said they should strike a balance between the interest of business and workers.
"During the campaign, I said I support business-friendly policies. Let us not over tax businesses to death. If this tax would imperil the viability of a business, then I'll not agree to it," he said. – Cecille Suerte-Felipe