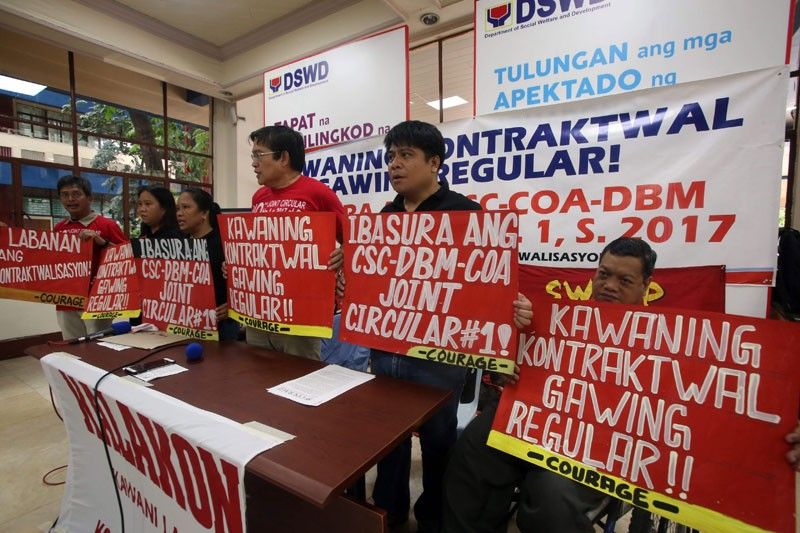 The labor coalition Nagkaisa also expressed hope that the SOT bill could be ratified before the end of the 17th Congress.
Boy Santos
Workers, labor groups see end of 'endo'
MANILA, Philippines — Workers see the coming end of the end of contract or "endo" and other illegal short-term employment scheme with the passage of the Security of Tenure (SOT) measure.
The labor coalition Nagkaisa also expressed hope that the SOT bill could be ratified before the end of the 17th Congress.
"This is a major victory for workers. We should maintain the momentum and work double time so that the bicameral conference committee could submit a version of the bill that could be ratified at once by both chambers of Congress," Nagkaisa chair Sonny Matula said yesterday in a statement.
"We appreciate the Senate for standing firm against the long standing effort exerted by the DOF (Department of Finance) to discourage senators from supporting the End ENDO Bill and defeat its passage," Matula added.
The measure, Matula said, is a progressive step that would stop employers from engaging in illegal contractual schemes by increasing penalties for violators to as high as P5 million.
According to Matula, it took more than two decades before an anti-endo bill got passed since the first such measure was filed.
For its part, the Trade Union Congress of the Philippines (TUCP) said the passage of the measure would benefit 15 million contractual and endo workers nationwide.
"The bill will incentivize workers to higher labor productivity by regularizing huge numbers of them. It will cut down production costs by doing away with 'labor-only' or 'cabo' contractors whose financial services charges add 15 percent to the labor costs of employers utilizing such agencies," TUCP president Raymond Mendoza said.
According to Mendoza, stopping endo will also reduce training costs for firms that are constantly refitting a new workforce as they phase out workers whose contracts have run out.
"It means having an experienced and loyal workforce for employers treating their workers fairly," he pointed out.
TUCP said endo workers are thriving in the services sector such as hotels, restaurants, resorts, repair shops, malls, supermarkets, security agencies, offices, transport and logistics, followed by agriculture and manufacturing industries.
Mendoza lauded the Senate for displaying "great political leadership and the highest standards of legislative independence."
"Fifteen senators shed hope to millions of endo workers nationwide. TUCP and the Nagkaisa Labor Coalition are overjoyed that notwithstanding a fierce lobby opposing the passage of Senate Bill 1826, led by employers, agency contractors and the joint foreign chambers of commerce, the Senate passed the measure that will begin the process of finally ending contractualization and endo," said Mendoza at a press briefing in Quezon City.