K to 12 program not being scrapped, DepEd clarifies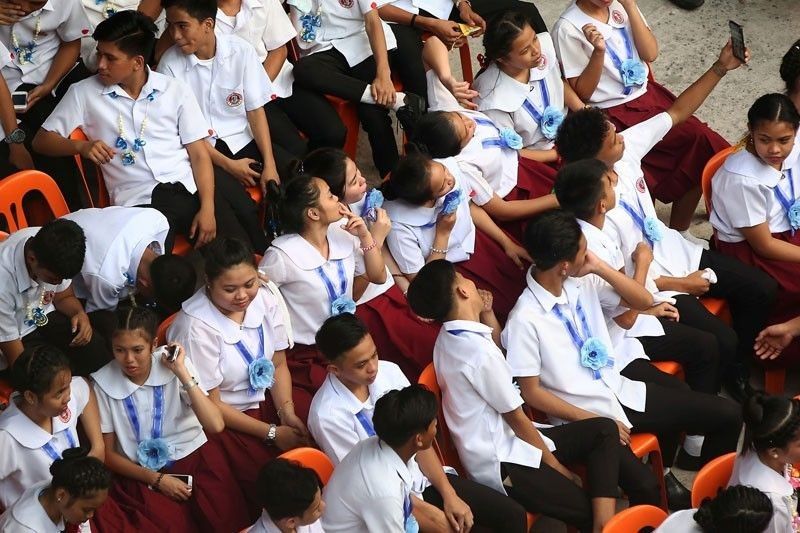 MANILA, Philippines (Updated 7:31 p.m.) — The implementation of the K to 12 program is not being discontinued, the Department of Education stressed Monday amid claims circulating online that the curriculum will be scrapped.
"Sentiments and questions on social media pertaining to the supposed plan to scrap the K to 12 Education Program are clearly based on misinformation and lack of critical discernment," DepEd said in a statement.
DepEd called on the public to consult the agency's website and social media accounts before spreading rumors that may influence the opinion, decision or action of learners.
The department noted the claims came after news of the Commission on Higher Education's plan to review and change the system for its K to 12 transition program—a five-year effort aimed at the development of higher education institutions and personnel from 2016 to 2021—was wrongly interpreted to mean the implementation of the entire K to 12 program.
"These two are not one and the same," DepEd said.
It also explained the implementation of the K to 12 program is mandated under Republic Act 10533 or the "Enhanced Basic Education Act of 2013." Hence, the implementation, amendment or repeal of the program is within the scope of the Senate and the House of Representatives.
"Therefore, DepEd, as an executive arm of the government, cannot arbitrarily discontinue the program," the department said.
'Prompt necessity'
DepEd said the basic education reform program that added two years to secondary education in the country has seen "numerous gains" despite challenges.
"Nevertheless, the department maintains its stand that the K to 12 program is a prompt necessity that pushing it back might prove detrimental to the accelerating and increasing demands on education," DepEd said.
It added: "The challenges still abound but the support of the national and local government and of stakeholders in the private sector and the community, has been overwhelming that it silences doubts and strengthens the resolve to move forward with change today."
In 2018, the Supreme Court affirmed the constitutionality of the K to 12 program, noting it went through public consultations.
DepEd started the implementation of the K to 12 educational system in 2011.
(Editor's note: An earlier version of this article used the headline "DepEd: K to 12 program under review, not scrapped". It has been changed to better communicate that what is being reviewed is the transition program and not the curriculum itself. We regret the error.)