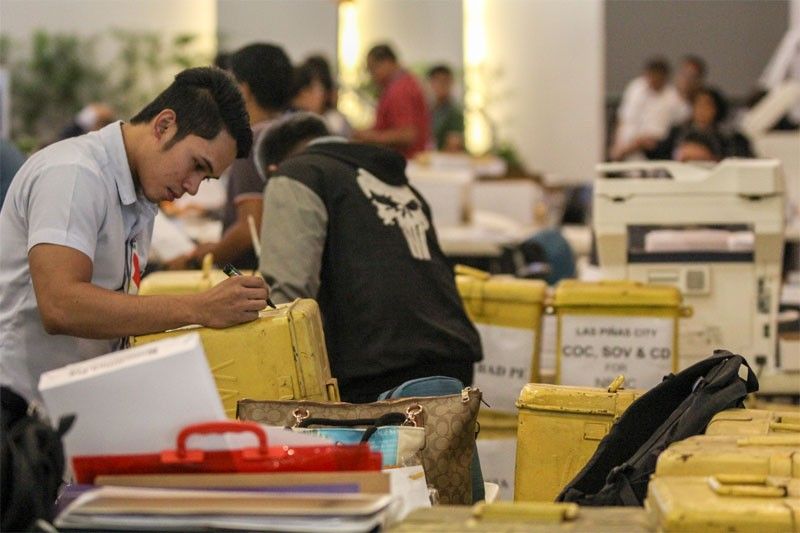 In this May 2019 file photo, officials of the Commission on Elections are auditing the certificates of canvass.
Philstar.com/Efigenio Toledo IV
Comelec to hold special polls in Isabela barangay where VCMs were burned
MANILA, Philippines— Commission on Elections spokesman James Jimenez announced that there will be special elections in a village in Isabela where vote counting machines were set on fire.
Jimenez said the special elections will be held on Monday in Barangay Dicamay 1 in Jones town.
Special Elections will be conducted on 20 May 2019, in Barangay Dicamay 1, Jones, Isabela, as a consequence of the intentional burning of VCMs in that area, on election day. #NLE2019

— James Jimenez (@jabjimenez) May 18, 2019
He said VCMs in the barangay were intentionally burned on elections day last May 13.
As of 3 p.m., the Comelec, sitting as the National Board of Canvassers, is waiting to tabulate the last four certificates of canvass.
They have tabulated a total of 161 out of 167 COCs.
They are waiting for COCs from Isabela, Zamboanga del Sur, Washington DC, Japan, Saudi Arabia and Nigeria.
Meanwhile, the partial and unofficial tally from the Parish Pastoral Council for Responsible Voting (PPCRV) already tabulated election returns from a total of 86,319 clustered precincts.
PPCRV reportedly said there are 40,000 election returns or 45.55 percent that arrived in its command center on Sunday and its accuracy level is at 99.98 percent.
Re-electionists Sen. Cynthia Villar and Grace Poe still led the partial and unofficial tally with over 25 million and more than 21 million votes, respectively.