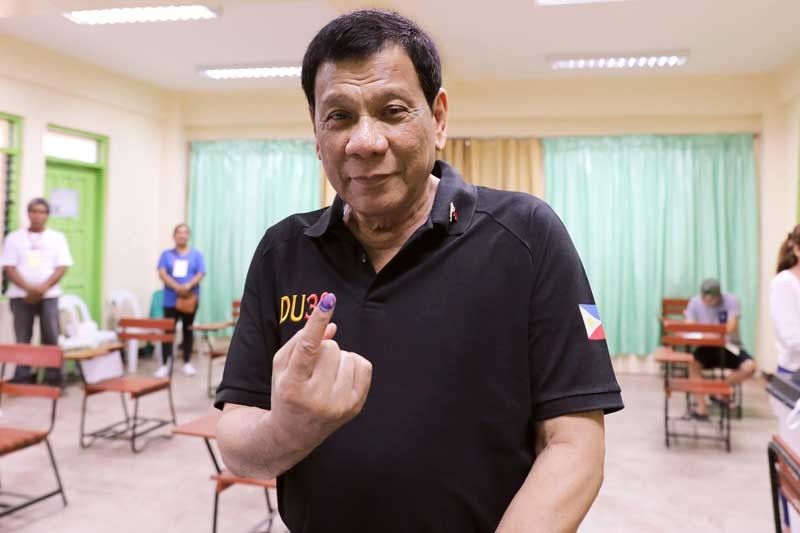 President Duterte shows the ink on his finger after voting at the Daniel R. Aguinaldo National High School in Davao City yesterday.
Vote buying an integral part of Philippine elections — Duterte
MANILA, Philippines — President Duterte yesterday said that vote buying is an "integral part" of elections in the Philippines, a country that he said is beset with poverty and a feudal system.
Duterte claimed that everyone has engaged in vote buying which, according to him, comes in many forms.
"If they are caught, they will be prosecuted to the fullest of the law. Now, the practice of buying votes has been an integral part of an election in the Philippines. 'Yang pagboto lahat 'yan. Walang hindi nagbibili ng boto rito... Ituro mo kung sino ang hindi nagbili ng boto (Nobody has not bought votes. Tell me who has not bought votes)," the President told reporters after casting his vote at the Daniel R. Aguinaldo National High School in Davao City.
"Kaya mahirap 'yang vote buying (That's why vote buying is a complex issue). It can take many forms... for as long as the Philippines remains to be a poor country, for as long as the feudal system exists lalo na sa (especially in) rural areas aggravated by the communists... We are becoming poorer and poorer," he added.
Duterte said the giving of money does not necessarily mean that one is buying votes.
"You know, when you start to give money, as I told (the Commission on Elections), that's not because I'm buying the vote of the fellow. It's because I'm giving him money to go to the precinct, cast his vote and go home. Not all people have money. Or you send food to your leaders who are here sacrificing and waiting for the food to eat so they can last until the last vote is counted," he said.
Communist insurgency is making the situation in rural areas worse, according to the Chief Executive.
"Nobody can till the land, improve the land and the communists are there asking for money, asking for food and everything. And they think they are on the right track," he said.
The election code prohibits the giving, offering or promising of money or anything of value, any office or employment, franchise or grant, or making or offering to make an expenditure or causing an expenditure to be made to any person, association, corporation, entity or community to induce anyone to vote for or against any candidate or withhold his vote in the election.
An offense is also committed if a person or group solicits or receives any expenditure or promise of any office or employment.
Rody blamed
Duterte was blamed yesterday for the reported massive vote buying resorted to by candidates in the midterm elections.
The President promoted the illegal practice in a speech in which he encouraged voters to accept money from politicians, according to Anakpawis party-list Rep. Ariel Casilao.
"The Comelec, as an independent body, should slam Duterte's promotion of accepting vote-buying money under the guise of a 'fare allowance,'" Casilao said.
The poll body's campaign against vote buying "has been demolished instantly by a presidential speech," the congressman added.
In a campaign speech in Davao City over the weekend, the President said it was OK for voters to accept fare money, criticizing the Comelec for its "unrealistic" rules on financial assistance of candidates to their leaders and supporters.
Casilao said it was not only Duterte who allegedly promoted vote buying, citing other officials, including Philippine National Police chief Gen. Oscar Albayalde and administration candidates as actively encouraging the practice.
Some officials have said voters could accept money from politicians but should vote for candidates they were supporting, since no one would see their ballot on the day of the voting.
It is the voter who feeds the ballot into the vote-counting machine, they said.
While yesterday's elections were taking place, Albayalde, based on reports he was receiving from police stations, lamented that there was vote buying across the country.
On Saturday, two days before the elections, former senator Heherson Alvarez withdrew his candidacy for congressman in the fourth district of Isabela, saying he could not continue participating in a "political sham" due to massive vote buying.
"Vote buying is vote killing and is as destructive to our democracy as illegal drug is destructive to our physical wellbeing… (It) is a massive practice all over the country and a public knowledge tolerated by the majority," Alvarez said.
The former senator urged people to "renounce it, denounce it and withdraw our tolerance to it, or our democracy will wither away."
Alvarez, however, did not say who was buying votes in his district. – With Jess Diaz