National Board of Canvassers suspends session to wait for poll results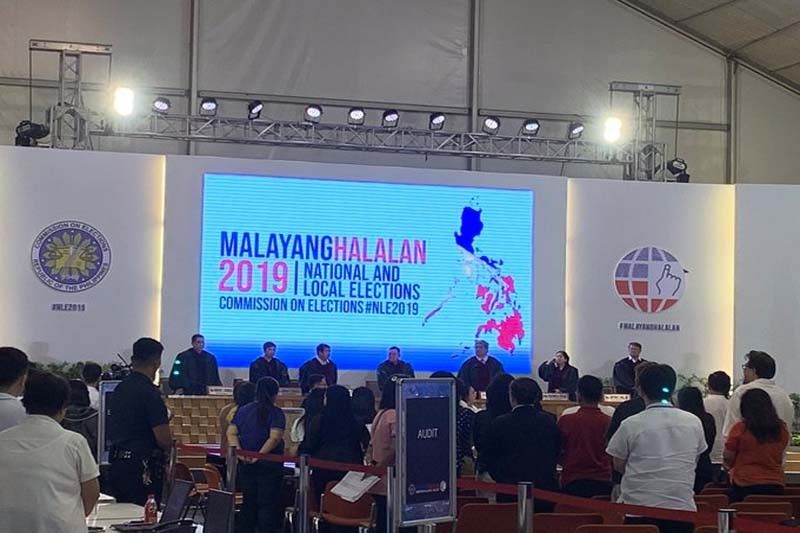 MANILA, Philippines — The Commission on Elections, formally constituted as the members of the National Board of Canvassers, on Monday afternoon suspended their session as they await the transmission of election results.
The seven-member Comelec en banc composed of poll body's chair Sheriff Abas, Commissioners Al Parreno, Luie Tito Guia, Ma. Rowena Amelia Guanzon, Socorro Inting, Marlon Casquejo and Antonio Kho Jr. convened as NBOC at the Philippine International Convention Center to mark the start of canvassing of votes for the 2019 midterm elections.
They were supposed to convene at 3 p.m. but they officially sat as NBOC at around 4 p.m., just two hours before the polling precinct closed its doors to voters.
"Today, May 13, 2019, marks yet another milestone in our history as we usher the new set of leaders will impact the lives of the Filipinos," Abas said in his opening speech.
"An election is the single manifestation of the nation's democracy," he added.
Abas said the success of the 2019 midterm polls cannot be solely credited to the Comelec as he also recognized the efforts and contributions of every sector to ensure honest and orderly elections.
Aside from the NBOC members, representatives of political parties, partylist and other candidates were also present at the NBOC command center to witness the canvassing of votes in the national elections.
The NBOC initialized the canvassing and consolidation system before the session was suspended at 5:15 p.m.
Guia earlier mentioned that the session may be adjourned since the poll results is expected to be transmitted after the voting hours.
The midterm elections are set to end at 6 p.m. The NBOC session will resume on Tuesday.