Vote-buying complaints swamp PNP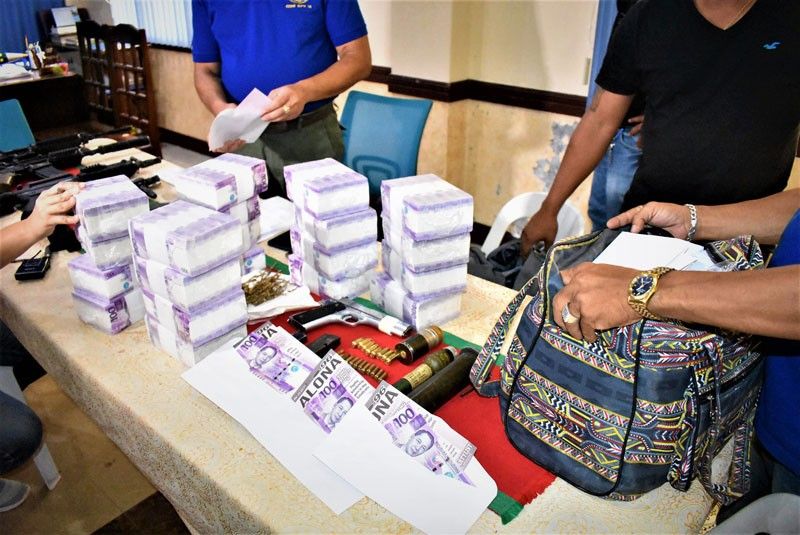 • Vote buyers using business networking – Namfrel
• Some barangay leaders getting up to P500,000
MANILA, Philippines — Three days ahead of the elections, authorities are being deluged by reports of vote buying across the country.
Philippine National Police (PNP) chief Gen. Oscar Albayalde said he continues to receive reports of vote buying in different parts of the country on his cell phone.
He said the complaints are too numerous and it would take him two days to reply to every text message.
Election watchdog National Citizens' Movement for Free Elections (Namfrel) also confirmed reports of widespread vote buying.
In an interview Wednesday night with "The Chiefs" on Cignal TV's One News, Namfrel secretary general Eric Alvia said their group has been monitoring reports of vote buying way ahead of the elections.
Based on the information they are getting, Alvia said candidates are giving an average of P200 to P500 per voter, and as much as P500,000 to barangay leaders.
He said candidates have taken to business networking or multilevel marketing, which is "very difficult to track… we're impressed. these people are very adaptive."
"It's widespread already," Alvia said. "You see this happening in your face."
Albayalde said the reports are usually allegations from rival politicians, accusing each other of the same offense.
"I'm not saying there is presence of vote buying, but the allegations in the Philippines are everywhere," Albayalde said.
Commission on Elections (Comelec) Chairman Sheriff Abas had said they have been receiving numerous reports of vote buying in the past few weeks.
Comelec on Wednesday activated its multisectoral Kontra Bigay Task Force to prosecute those buying and selling votes.
Comelec Commissioner Al Parreño said the poll body will pursue the investigation and filing of criminal charges against those involved in vote buying.
"So even if they win in the elections, they can still be disqualified from holding public office," he said.
Under the law, any person found guilty of committing election offense, including vote buying, shall be perpetually disqualified from holding public office.
Aside from facing imprisonment, those convicted of vote buying also lose their right to vote.
Comelec officials said those found selling their votes would also be charged.
"The filing of sworn affidavit is really the starting point. If there is documentation that will help the case," Comelec spokesman James Jimenez said.
PNP spokesman Col. Bernard Banac urged the public to immediately report incidents of vote buying so arrests could be made.
"It would be better if they are caught on the spot," Banac said.
The Department of the Interior and Local Government (DILG) said the public must be vigilant to report activities of vote buying.
"If we are really serious about solving this problem, everyone must be pro-active and do their part in solving what has become a mockery of our democracy and a social menace," DILG spokesman Jonathan Malaya said.
Malaya said those who wish to report a vote buying incident should fill up a complaint affidavit form which can be downloaded on the DILG's website, www.dilg.gov.ph.
"Have it notarized and submit it to the Comelec law department in Metro Manila or to their field offices in the provinces," he said.
Complainants can also submit their complaints to the PNP and the National Bureau of Investigation (NBI).
"They can also submit it to the DOJ (Department of Justice) prosecutors and they will act on it," Malaya said.
Malaya appealed for understanding from the public on the need to submit a formal complaint instead of just sending information through phone calls and text messages.
"Even if we want it done quicker, it can't be because there are technicalities. It may result in the disqualification or removal of a sitting official," he said.
Officials said those being accused of vote buying will only be invited by the police to face his or her accusers.
Authorities admitted though that prosecuting vote buyers is a difficult process.
Invasion
Sen. Richard Gordon, for his part, appeared to be the highest-ranking complainant in the issue.
Gordon claimed Olongapo City is rife with vote buying activities. He said practically all the barangays of Olongapo City were "invaded" by people buying votes.
"I was told this was also happening in Castillejos and other towns in Zambales," Gordon told a press briefing yesterday.
Quoting reports, Gordon said some local politicians were seen supervising vote buying operations.
"The modus operandi is to invite people in certain houses and locations, they (vote buyers) would line up (people) outside, they would countercheck these people's names in the voter's list and, once confirmed as voters, they give them P1,000 each and ID cards," he said.
Gordon said his office receives affidavits of complaints from people who personally claim they received P1,000 with the instruction to vote "straight" for a certain ticket.
In Pangasinan, provincial police director Col. Wilson Joseph Lopez said they are deluged with reports of vote buying activities across the province.
He said the police have been responding to the reports in almost all areas in Pangasinan.
Lopez said the reports are usually relayed through text message and phone call, though he failed to mention any incident with positive results.
In Agusan del Sur, two voters filed a complaint before the provincial Comelec office accusing local politicians of vote buying.
Jimmy Remedios of Bayugan City and Juanita Rabaya of Sibagat filed separate complaints against incumbent provincial board member and gubernatorial candidate Santiago Cane Jr. and Alfel Bascug, an incumbent provincial board member and congressional candidate, accusing them of vote buying.
They claimed they were made to sign a document expressing their support for the candidates in exchange for money.
In Pagbilao, Quezon, a tricycle driver suspected to be engaged in vote buying was snatched by unidentified men on Wednesday.
Police said Raymund San Juan was forcibly dragged into a pickup truck by two men and a woman who were identified as supporters of a rival mayoral candidate.
On the other hand, a multi-sectoral group in Mindanao sought the postponement of the elections due to rampant vote buying in the region.
The Bangsamoro Multi-Sectoral Group claimed they had recorded 600 sworn statements of vote selling and vote buying incidents.
The group said they filed all the complaints with the Comelec's Legal Department.
Alan Balangi of the Bangsamoro Movement said some people in Lanao del Sur are selling their votes for P5,000 to P10,000.
Yusoph Mando, of the Muslim Affairs Council of the Philippines, added vote selling and vote buying are rampant in the new Bangsamoro Autonomous Region in Muslim Mindanao (BARMM).
Mando added vote selling and vote buying are also rampant in Basilan.
The Lanao del Sur Military and Police Retirees Reform Movement urged Comelec to suspend the elections in Lanao del Sur and Marawi City, alleging massive vote buying.
The group also recommended the appointment of caretakers for local elective posts should Comelec declare a failure of elections in the two areas.
Rival reelectionist officials and candidates denied allegations of massive vote buying.
Lanao del Sur Vice Gov. Mamintal Adiong, a gubernatorial candidate, said complaints of vote buying should be filed at the Comelec for proper litigation.
He said political quarters in Lanao del Sur and Marawi City must also refrain from using social media to trade accusations.
Comelec's Jimenez ruled out the possibility of suspending elections due to widespread vote buying.
He said suspension or failure of elections will only happen due to inability to conduct free and fair elections.
"Remember this is a very difficult concept to swallow, but even if you are paid when you go to the polling place, you are voting according to your conscience or consequence of being paid. But in either case, it is still your choice. It is difficult to say elections are no longer fair because of the volume of vote buying," Jimenez said. – With John Unson, Cecille Suerte Felipe, Ben Serrano, Ed Amoroso, Jose Rodel Clapano, Eva Visperas