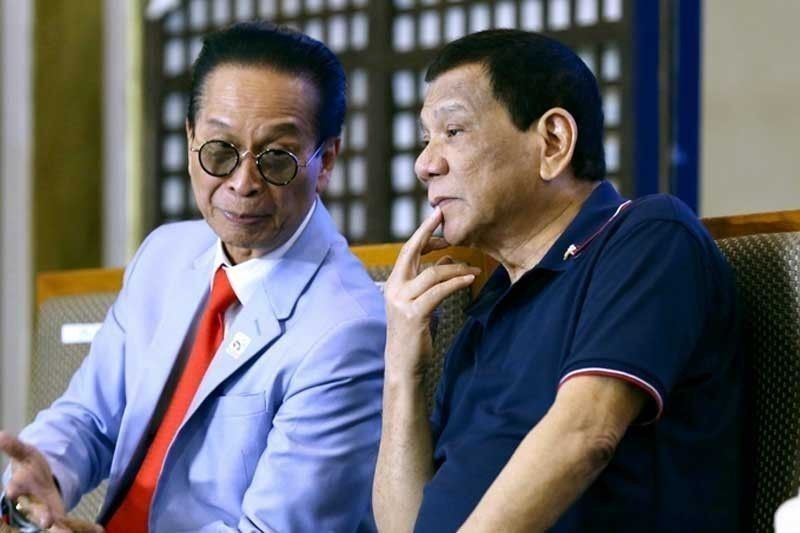 File photo shows presidential spokesperson Salvador Panelo speaking to President Rodrigo Duterte.
Presidential photo/Robinson Niñal
Palace: Release of 'ouster matrix' not a crackdown of free expression
MANILA, Philippines — The release of yet another diagram linking some opposition figures and journalists in an alleged plot to discredit the Duterte administration was not meant to suppress freedom of expression, Malacañang said Wednesday.
Presidential spokesman Salvador Panelo claimed the critics and journalists in the diagram did not express a legitimate dissent but are involved in "black propaganda."
"Definitely no. It can never be a crackdown. This government cannot crackdown on those who are practicing their freedom of expression and of speech, definitely," Panelo said in a press briefing.
"The difference is that, the ones I mentioned, they are the ones with linkages to those responsible for this black propaganda. That means, they are no longer (legitimate). That means, they are into shenanigans," he added.
Malacañang Wednesday released diagrams enumerating the groups and individuals allegedly conspiring to malign the Duterte administration.
Among those who were tagged in the supposed anti-Duterte plot are media organizations Philippine Center for Investigative Journalism (PCIJ), Rappler, Vera Files, bloggers, and administrators of websites and social media pages critical of Duterte.
Panelo claimed that the release of the diagrams would not have a chilling effect on free expression.
"We are the number one guardians of the freedom of speech and of the press," the presidential spokesman said in a chance interview.
"They can criticize this administration and they will not be held to the court as the record shows. Nobody has been hailed to the court," he added.
Vera Files president Ellen Tordesillas denied involvement in what she called an "imagined" destabilization plot.
"I deny allegations by Presidential Spokesperson Salvador Panelo linking me to any imagined destabilization efforts against the administration. I challenge him to present concrete evidence, not just silly diagrams," she said in a statement.
Rappler said the independent media would not be silenced or intimidated by "silly diagrams and lousy scripts."
"We've long moved from laughable to farce. These moves are insidious and dangerous. As technology has proven, a lie told a million times becomes the truth. More so when it's a concerted campaign from social media, government co-opted media, and from the podium of power, Malacanang," the news website said.
PCIJ has yet to issue a reaction to the new diagrams but has denied involvement in the alleged plot to destabilize the administration.