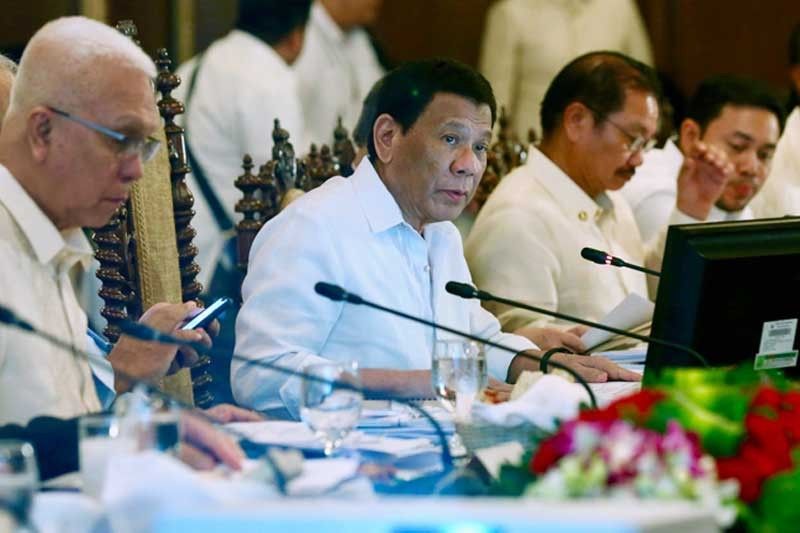 Duterte did not have a public engagement last week aside from the opening ceremony of the Palarong Pambansa 2019 in Davao City last April 28.
PPD-Robinson Ninal
Duterte back at Palace for Cabinet meeting
MANILA, Philippines — President Duterte has ended his week-long absence from the public eye, visiting the wake of the late former House speaker Prospero Nograles last Sunday and presiding over a Cabinet meeting in Malacañang yesterday.
Duterte did not have a public engagement last week aside from the opening ceremony of the Palarong Pambansa 2019 in Davao City last April 28.
A photo provided by Tourism Secretary Bernadette Romulo-Puyat last week showed Duterte in his bed watching "Django Unchained," a Quentin Tarantino film streamed by Netflix. Puyat said Duterte had called her to follow up on matters related to Boracay, which underwent a six-month rehabilitation.
Presidential spokesman Salvador Panelo has claimed that Duterte had not been seen in public recently because he was "busy with a lot of paper work" in Davao City.
Duterte ended his hiatus from the public eye last Sunday when he went to Nograles' wake at the Heritage Memorial Park in Taguig City. Nograles, the first House speaker from Mindanao, died of respiratory failure last Saturday. He was 71.
Panelo said Duterte stayed at the wake for "several hours."
Duterte returned to Malacañang yesterday and presided over a Cabinet meeting. Panelo could not say what topics were expected to be discussed during the meeting but described the list of items in the agenda as "long."
The Cabinet meeting was still ongoing as of press time.
Panelo defended Duterte's decision to work at home last week, saying the President had a "very punishing schedule" the week before.
"The reason is he wanted to focus on his work. You must remember that the President, in the Beijing trip, had a very punishing schedule. In fact, he had to miss one event because he had a migraine attack and after that he had to attend several meetings," Panelo said, referring to Duterte's attendance at the Belt and Road Forum.
"When he arrived in Davao, immediately there was this Palarong Pambansa again," he added.
Panelo claimed Duterte had to attend to paperwork that piled up while he was out of the country.
"I will give you myself as an example. I receive about 25 to 50 documents a day, which I have to finish on that very day. If you're not there for three (or) four days, they would pile up. Perhaps that's what happened to the President," he said. "He decided to stay in the house and work on them."
Panelo said Duterte sent a photo of him watching television to dispel notions that he is sick.
"The only reason why he showed a photo of him watching television while reading newspapers is to ease your concern that he is sick. That means he was OK," the spokesman said.
Panelo assailed critics who scored Duterte for working at home, saying they are fond of "nitpicking" and "hair splitting."
"Don't forget that the satisfactory rating of the President is the highest since 1989. That means our countrymen are satisfied with the way he governs," he said.
Panelo also lashed back at opposition Sen. Antonio Trillanes IV, who accused the President of laziness.
"I'm sure he was referring to himself," he said.
Duterte is expected to attend three political rallies this week.