Cynthia, Grace share lead in survey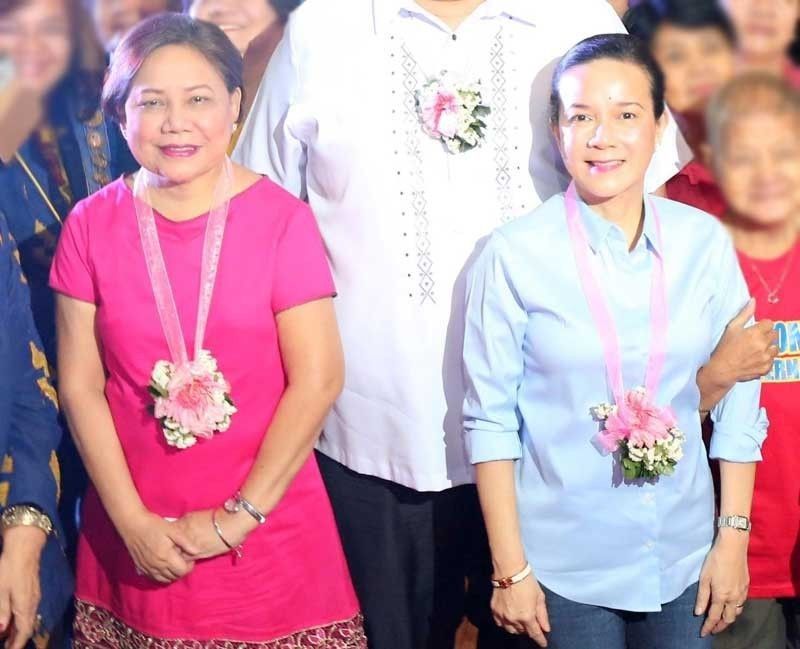 MANILA, Philippines — Reelectionist Senators Cynthia Villar and Grace Poe continued to lead the Senate race based on the latest survey conducted by Pulse Asia a little over a month before the 2019 midterm elections.
Villar and Poe tied at first to second places, garnering voter preferences of 51.7 percent and 50.5 percent, respectively.
The poll was conducted from April 10 to 14, using face-to-face interviews of 1,800 "likely voters," 18 years old and above.
The survey has a margin of error of plus or minus 2.3 percentage points at the 95 percent confidence level.
The two female senators have consistently topped pre-election surveys conducted in the past months.
Former senator Lito Lapid took third to fourth places with 45.7 percent voter preference.
Lapid was followed by Taguig City Rep. Pia Cayetano, who has a statistical ranking of third to sixth places, with 43.9 percent of respondents voting for her.
Former special assistant to the president Christopher Go obtained a voter preference of 40.8 percent and was ranked fourth to eighth.
Go was followed by another reelectionist, Sen. Sonny Angara, who ranked fourth to ninth places, with 40.4 percent voter preference.
Sharing fifth to ninth spots were former senator Ramon Revilla Jr. and former Bureau of Corrections (BuCor) chief Ronald dela Rosa with 38.1 percent and 36.7 percent, respectively.
Tied at 10th to 14th spots were reelectionist Sen. Aquilino Pimentel III (31.8 percent), Ilocos Norte Gov. Imee Marcos (29.6 percent), former senator Jinggoy Estrada (28.8 percent) and reelectionist Sen. Paolo Benigno Aquino IV (28.8 percent).
Sen. JV Estrada Ejercito, also a reelectionist, ranked 10th to 16th places with 28.1 percent of respondents voting for him.
Of the 14 probable winners, 10 are running under the Hugpong ng Pagbabago (HNP) coalition, one is an independent candidate while the other three are under three different political parties – the Nationalist People's Coalition (NPC), the United Nationalist Alliance (UNA) and the Liberal Party (LP).
Aquino was the only candidate from the opposition ticket Otso Diretso who made it to the winners' circle.
Former senators Serge Osmeña and Mar Roxas, also a candidate of Otso Diretso, placed 14th to 17th, with voter preferences of 24.6 percent and 24.5 percent, respectively.
Former presidential political adviser Francis Tolentino ranked 15th to 17th with 22.8 voter preference, followed by former senator Juan Ponce Enrile, who ranked 18th, with 17.6 percent.
The Pulse Asia survey also found only about one out of every three voters or 35 percent has a complete senatorial slate for the coming elections.
The percentages of voters showing support for 12 senatorial candidates range from 28 percent in the Visayas to 39 percent in Metro Manila, and from 34 percent in Class D to 47 percent in Class C across socio-economic groupings.
Pulse Asia said Filipino registered voters are naming a mean of eight and a median of nine, out of a maximum of 12, of their preferred candidates for the senatorial elections.
Endorsement appeal
Malacañang attributed the poll results to what it described as President Duterte's "endorsement appeal."
Eight of 12 senators in the poll's winning circle are backed by the President.
"That means people believe in the President. They think the President needs the candidates he endorsed to help him lift the country out of poverty, disorder and other problems," presidential spokesman Salvador Panelo said, adding the people want opposition candidates to support Duterte.
"Even if somebody from the other side wins, I think the message is 'we allowed you to win to help our trusted President. You are not there to sow disorder'," he said.
Go not complacent
Despite his strong showing in the recent survey, Go said he would not be complacent and would instead pursue his campaign up to the last hour.
The latest Pulse Asia survey showed Go secured within the "Magic 12," or in 4th place with an awareness rating of 98 percent.
Go clarified that his visit to various places in the country is not only meant to pursue his campaign for a Senate seat but also to get in touch with the locals and personally hear their sentiments.
Go credited his strong showing in the surveys on the support of the people who believe in President Duterte.
Gratified
Senators seeking reelection were gratified with the results of the latest Pulse Asia survey.
Poe thanked the people for their continuing trust in her.
"While I don't have a political party, I remain on the minds of many. I will continue to go around the country to present my platform that will benefit our country," Poe said in Filipino.
Villar was happy with the latest Pulse Asia survey and thanked those who expressed support for her.
"Maybe they want to vote for me because they appreciated my projects to improve their livelihood. Rest assured that when I get back to the Senate, I will continue in earnest putting up livelihood opportunities for Filipino families," Villar said in a statement.
Ejercito, who saw a big jump in his rankings from previous polls, said his hard work was "already paying off."
He said he believes Filipinos are starting to appreciate the work he has done in the Senate, especially passing the Universal Healthcare Law and the creation of Department of Human Settlements.
Pimentel said he was happy that those polled were aware of "my qualifications for the position, remember the things I have accomplished and have become aware of the good plans I have for our beloved country."
Aquino, the lone opposition candidate who made it to the survey's Magic 12, thanked the people and the volunteers for their trust and confidence in him.
If he wins a second term, Aquino vowed to work for the passage of his Trabaho Center Bill, which seeks to establish Trabaho Centers or job placement offices in public high schools and state universities and colleges.
Sen. Francis Pangilinan, campaign manager of Otso Diretso, said the opposition coalition can still spring surprises with the election less than two weeks away.
Pangilinan said in the many elections he was involved in as campaign manager, he saw many candidates outside the top 12 in surveys placing high in the actual voting.
"We believe that in the end, our countrymen won't vote for the thieves, the corrupt. Filipinos want honest, true and principled candidates – that's what we're fighting for," Pangilinan said.
Unperturbed
The camp of Liberal Party (LP) senatorial candidate Mar Roxas was unperturbed by the results of the latest Pulse Asia senatorial survey showing the former interior secretary not making it to the so-called Magic 12.
Caloocan Rep. Edgar Erice, Roxas' campaign manager, said they would exert "every effort" to convince the people to vote for him.
Erice said Filipinos have shown "renewed warmth and enthusiasm" to Roxas during his campaign sorties.
He noted the survey was conducted from April 10 to 14, during which time Roxas took a break from the campaign to be with his wife, broadcaster Korina Sanchez, and newborn twins Pepe and Pilar in the US.
"A lot has happened since his return and since April 14," said Erice.
He said Roxas has regained his ranking in the Top 12 based on their internal survey and in another poll of the Magdalo group. – With Alexis Romero, Paolo Romero, Cecille Suerte Felipe