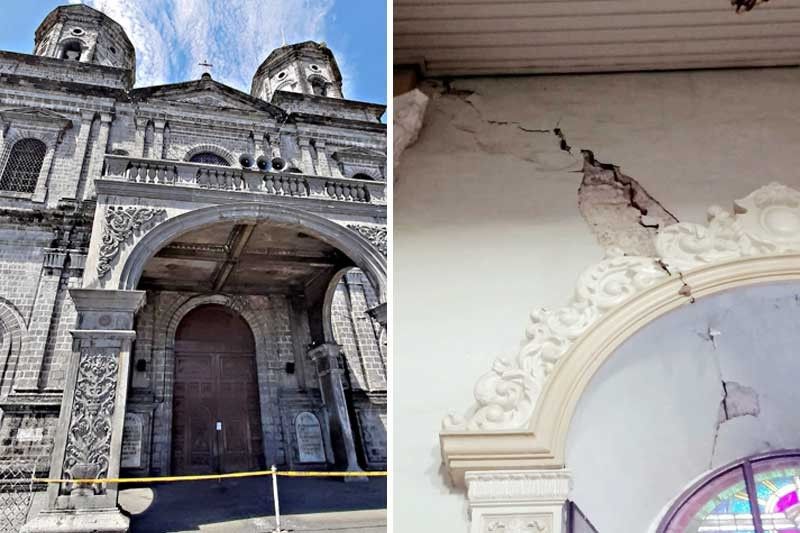 The Holy Rosary Parish Church in Angeles City, Pampanga has been closed following the earthquake last April 22, which left several cracks (right) on its facade.
Ding Cervantes
Angeles heritage church closed for repairs
ANGELES CITY, Philippines — Thousands of Catholics here will have to attend religious services elsewhere after their parish priest declared yesterday that the heritage Holy Rosary parish church could not be used for at least a year because of damage caused by the magnitude 6.1 earthquake last April 22.
Fr. Francis Dizon told The STAR yesterday that the church, known to the Kapampangan faithful as Pisambang Maragul (literally, big church), sustained critical damage in two pillars and several windows' concrete frames as well as deep cracks in several walls and hairline cracks on the ceiling.
"It will be closed for rehabilitation and restoration for a year or so," he said, adding that engineering experts would present the rehabilitation plan on May 11.
"We will make it stronger and more beautiful," Dizon stressed.?In the meantime, he said Sunday masses are to be held at the nearby Holy Family Academy covered court while daily masses would be at the parish hall.?The foundations of the church were first laid out on Oct. 18, 1877 by local folk led by Mariano Henson but its construction was pursued by the Spaniards under a scheme of forced and unpaid labor of male Filipinos aged 16 to 65. Its completion as it stands today, however, was in 1909.
Twenty-four heritage churches in Pampanga were declared unsafe since the earthquake last April 22, but there has been no word yet from the Archdiocese of San Fernando on whether some have reopened for masses.
Meanwhile, members of the Philippine Army's 48th Infantry Battalion assisted the Social Welfare and Development Office of Porac, Pampanga in the distribution of relief goods for earthquake victims in Barangays Sapang Uwak and Kamias over the weekend.
The military said at least 1,186 indigenous people received help during the outreach program and relief goods distribution from government and non-government organizations.
Maj. Gen. Lenard Agustin, 7th Infantry Division commander, said one could never tell when calamities and disasters will occur and "it is therefore necessary to actively participate in prevention and disaster preparations, which include government and non-government agencies. We need to work as a team to make a greater impact."
"It is hard for the victims to start anew after being hit by this kind of calamity. Even so, charities paved the way for these victims, especially the IPs, to receive goods and items that are basic to everyday life," said Lt. Col. Felix Emeterio Valdez, acting 48th IB commanding officer.
He added that "the act of kindness and generosity of concerned agencies helped ease the pain and hopelessness that the victims may be feeling."
As of yesterday, the National Disaster Risk Reduction Management Council said the April 22 quake resulted in 18 deaths and injured 243 persons. At least three remain missing.
It also said that 4,756 persons or 951 affected families are being served outside the evacuation areas and 3,771 persons or 986 families still remain in six evacuation centers.
A total of 17,410 persons or 3,632 families from 41 barangays in Region III were affected by the April 22 earthquake, which damaged 1,764 houses –including 238 that were totally destroyed – and 334 buildings in Regions I, III, NCR and Calabarzon.
To date, the estimated damage to various schools, roads and bridges has been placed at P505.9 million.
Sen. Richard Gordon, following the series of earthquakes that rocked various parts of the country as well as the bombings and attacks in different parts of the globe, called on Filipinos and the government to prepare for mass casualty incidents. – With Michael Punongbayan, Cecille Suerte Felipe