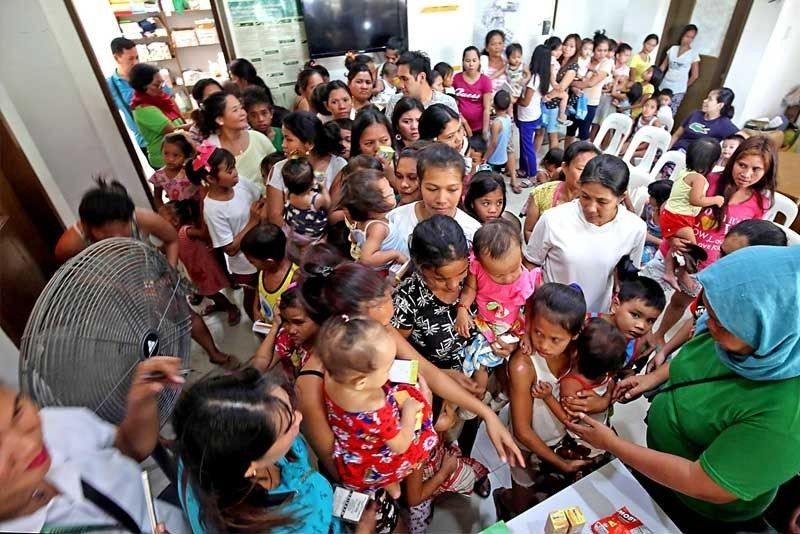 The United Nations Children Fund (UNICEF) reported that an estimated 2.9 million children in the country are unvaccinated and thus vulnerable to potentially deadly infections like measles, rubella and polio.
KJ Rosales
2.9 M Pinoy kids not immunized
MANILA, Philippines — Close to three million Filipino children are prone to measles and other life threatening diseases due to failure to get immunization.
The United Nations Children Fund (UNICEF) reported that an estimated 2.9 million children in the country are unvaccinated and thus vulnerable to potentially deadly infections like measles, rubella and polio.
According to UNICEF, measles immunization coverage in the country has declined from 88 percent in 2013 to 73 percent in 2017.
Last year, UNICEF said measles immunization coverage was recorded at less than 70 percent or way below the 95 percent required for population immunity.
Since January, close to 30,000 measles cases, including 389 deaths, were recorded nationwide.
Health experts said deaths due to measles could have been prevented had there been easy access to vaccination.
"Public hesitancy, vaccine stock-outs, the lack of aptly trained health workers and accessibility of hard-to-reach areas put many children susceptible to diseases. This leads to more outbreaks and put more children at-risk of getting sick from life-threatening diseases," UNICEF pointed out.
UNICEF stressed that vaccines are the safest and most effective way of saving lives of children.
Julia Rees, UNICEF deputy representative, said Philippine laws support immunization through the Mandatory Infants and Children Health Immunization Act that makes basic immunization mandatory and free at any government hospital or health center for infants and children up to five years of age.
While parents and caregivers are mainly responsible for having their children immunized, she said everyone in the community has a role in ensuring that all children, especially the most vulnerable and marginalized, are immunized on schedule.
"Local leaders, religious groups, academe, friends and family of parents with children and influencers have a role in making sure every child is reached with the right information and that parents are empowered to make the right decisions," she added.
UNICEF is working with the Department of Health, the World Health Organization (WHO) and other partners to protect and promote immunization.
In the past 70 years, UNICEF has assisted the government in procuring vaccines and other immunization supplies and strengthen the immunization supply chain.
It has helped the Philippine government eradicate polio and maternal and neonatal tetanus, proving that vaccines work and are safe and effective.
20 million kids at risk
The UNICEF also reported that more than 20 million children a year missed out on measles vaccines across the world in the past eight years, laying a path of exposure to a virus now causing disease outbreaks globally.
"The measles virus will always find unvaccinated children," said Henrietta Fore, executive director of the United Nations children's fund UNICEF, adding: "The ground for the global measles outbreaks we are witnessing today was laid years ago."
The UNICEF report said an estimated 169 million children missed out on the first dose of the measles vaccine between 2010 and 2017 – equating to 21.1 million children a year on average.
As a result of greater vulnerability to the disease, measles infections worldwide nearly quadrupled in the first quarter of 2019 against the same period in 2018 to 112,163 cases, according to WHO data.
In 2017, some 110,000 people, most of them children, died from measles – up 22 percent from the year before, UNICEF said. Measles is a highly contagious disease that can kill and can cause blindness, deafness or brain damage. It is currently spreading in outbreaks in many parts of the world, including in the United States, Europe, the Philippines, Tunisia and Thailand.
Two doses of the measles vaccine are essential to protect children and the WHO says 95 percent vaccine coverage is needed for "herd immunity" against measles.
But due to lack of access, poor health systems, complacency and in some cases fear or skepticism about vaccines, UNICEF said, the global coverage of the first dose of the measles vaccine was reported at 85 percent in 2017 – a level that has remained similar for the past decade. Global coverage for the second dose is even lower, at 67 percent.
Among high-income countries, the United States – which currently is fighting its biggest measles outbreak in almost 20 years – topped UNICEF's list of places with the most children missing the first dose of the vaccine between 2010 and 2017, at more than 2.5 million.
Next came France and Britain, with more than 600,000 and 500,000 unvaccinated children, respectively, during the same period.
In poorer countries, however, the situation is "critical," UNICEF's report found. Nigeria in 2017, for example, had the highest number of children under one-year-old who missed out on the first dose, at nearly four million. It was followed by India with 2.9 million, Pakistan and Indonesia with 1.2 million each and Ethiopia with 1.1 million.
Fore said measles was "far too contagious" a disease to be ignored, and urged health officials to do more to fight it.
"If we are serious about averting the spread of this dangerous but preventable disease, we need to vaccinate every child, in rich and poor countries alike," she said.