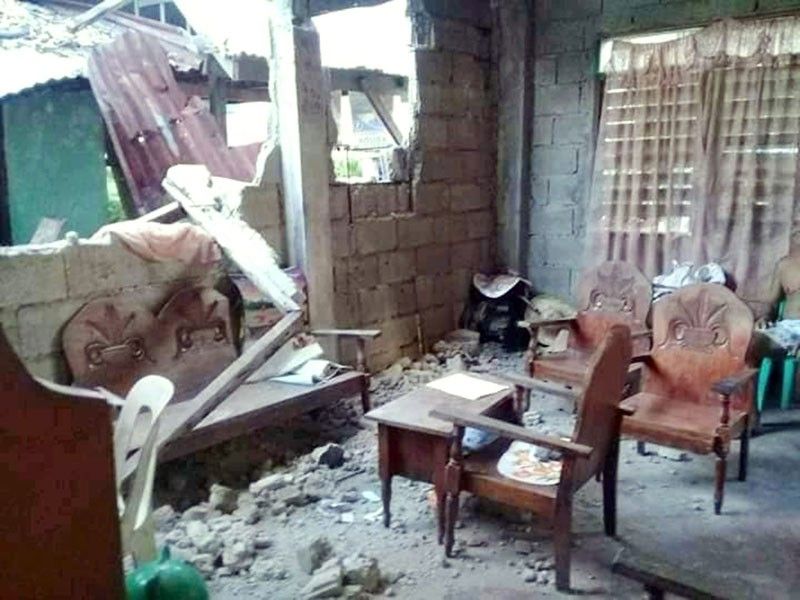 Photo from officials of the Can-avid town in Eastern Samar shows a house damaged by the earthquake that struck the area yesterday.
File
Magnitude 6.5 quake rocks Eastern Samar
Helen Flores
(The Philippine Star) - April 24, 2019 - 12:00am
MANILA, Philippines — A day after a powerful earthquake left more than a dozen people dead and several buildings damaged or destroyed in many parts of Luzon, a magnitude 6.5 quake rocked parts of Eastern Visayas yesterday, causing further damage and raising fears of more casualties.
Science Undersecretary and Philippine Institute of Volcanology and Seismology (Phivolcs) director Renato Solidum Jr. clarified that the two strong earthquakes were "not related." The agency also allayed fears of a tsunami.
The source of Monday's quake in Castillejos, Zambales was a local "blind fault" or a previously unknown fault, while the tremor in Eastern Samar was triggered by a movement along the Philippine Trench, Solidum explained.
The magnitude 6.5 quake occurred at 1:37 p.m., with its epicenter traced at nine kilometers northwest of San Julian, Eastern Samar.
The tremor, which some residents of Eastern Samar described as a "sudden jolt," left cracks on some roads and bridges as well as private and public buildings, including a church and the municipal building of San Julian.
"It's the first time that I have experienced this kind of earthquake. It was like a sudden jolt," Albert Dolot, a resident of Borongan, Eastern Samar, told The STAR in a phone interview, adding he and his mother immediately evacuated to a nearby cemetery.
The occurrence of successive strong tremors is not uncommon considering the country's geographical location, according to Solidum. "It is normal and coincidental," he said in a text message to The STAR.
The magnitude 6.5 tremor yesterday was felt at Intensity 6 – classified by Phivolcs as "very strong" – in San Julian.
It was felt at Intensity 5 – strong – in Tacloban City, Leyte; Palo and Pastrana, Leyte; Catbalogan City, Samar; General MacArthur, Salcedo and Guiuan Eastern Samar; Naval, Biliran; and Catarman, Northern Samar.
Residents of Abuyog, Hilongos, Javier, Capoocan, Julieta, Baybay, Barogo, Jaro, MacArthur, Matalum, Villaba, Leyte; San Francisco, Southern Leyte; Bislig City, Surigao del Sur; Iloilo City; Naga City; Sorsogon City; Panganiban, Catanduanes experienced the shaking at Intensity 4, which is described as moderately strong.
It was felt at Intensity 3 in Binalbagan, Negros Occidental; Cabalian, Southern Leyte; Dimasalang, Masbate and Butuan City and Cabadbaran City, Agusan del Norte; and Intensity 2 in Bago City and Bacolod City.
Phivolcs recorded a total of 21 aftershocks from the magnitude 6.5 quake as of 4:30 p.m. yesterday.
At a press conference yesterday, Phivolcs experts said the Visayas quake had deeper depth at 63 km and fewer aftershocks compared to the tremor that hit Luzon the other day. The Zambales quake had a depth of 12 km and was followed by nearly 500 aftershocks as of yesterday afternoon.
Ring of Fire
The Philippines lies on the so-called Pacific Ring of Fire, where earthquakes and volcanic eruptions are common.
According to Solidum, the Philippines has many active faults that from time to time move and generate earthquakes.
On average, about 20 earthquakes are recorded by Phivolcs daily but only a few are felt, he said. Magnitude refers to the measure of energy of an earthquake.
Intensity, on the other hand, pertains to the measure of the severity of shaking and its attendant damage on the surface of the earth.
Phivolcs has a long-standing warning that Metro Manila and surrounding areas are ripe for the "Big One," or a magnitude 7.2 quake that could be triggered by the West Valley Fault.
The 100-km fault traverses parts of Bulacan through Quezon City, Marikina, Makati, Pasig, Taguig and Muntinlupa in Metro Manila; San Pedro, Biñan, Sta. Rosa, Cabuyao and Calamba in Laguna; and Carmona, General Mariano Alvarez and Silang in Cavite.
The magnitude 7.2 quake could kill up to 40,000 people in Metro Manila and Greater Manila based on a study conducted between 2014 and 2016, Phivolcs said.
More than 400 aftershocks have been recorded from the magnitude 6.1 earthquake that hit Zambales and killed at least 15 people on Monday, Solidum said.
Phivolcs recorded a total of 460 aftershocks, with magnitudes ranging from 1.4 to 3.4.
Solidum, however, said only eight of the recorded aftershocks were felt. Phivolcs officials on Monday warned residents in affected areas to check their houses and buildings for possible cracks as aftershocks could cause damaged structures to collapse.
Blind fault
Solidum said the strong quake that struck Castillejos, Zambales late Monday afternoon was triggered by a movement of a "blind fault," or a previously unknown fault.
The shaking was felt in different parts of Central Luzon and Metro Manila, with Pampanga being hardest hit.
It was felt at Intensity 6 – considered as very strong – in San Marcelino and Subic, and Olongapo City, Zambales; and Floridablanca, Lubao and Porac, and Angeles City, Pampanga.
In Porac, Pampanga, eight people died, including five from a collapsed supermarket.
Solidum explained the quake caused more destruction in Pampanga because the ground is softer there than in Zambales, the epicenter of the quake.
"If we look at the condition of the soil in Pampanga, it is mostly composed of lahar, which is soft. Subic town and Olongapo proper are along the floodplain, which is also soft. Castillejos has solid foundation," the Phivolcs chief said in an interview with dzMM.
Solidum also said initial investigation by Phivolcs scientists on the collapsed four-story Chuzon supermarket in Porac showed the building "has structural problem."
He told The STAR of accounts that the beams and columns of the building separated during the quake.
He noted that while the soil in Porac is considered as soft, only the Chuzon supermarket collapsed.
Solidum said Phivolcs does not expect a magnitude 6.1 quake to cause significant damage to a properly built structure.
He again reminded the public not to panic during an earthquake and review disaster responses, especially in malls. "Don't go out during the shaking to avoid a stampede," Solidum said.
He also urged the public to check the structural integrity of their houses or buildings through the Phivolcs' short checklist for earthquake safety, "How safe is my house?" which is available on its website.
Minimal damage
Earlier yesterday, disaster and military officials in Eastern Visayas said damage from the magnitude 6.5 earthquake appeared to be not heavy.
"So far, unlike what happened in Porac, Pampanga, here at Region 8, there were only minor cracks on office buildings and other facilities, although the tremor caused a crack on the San Julian road," Eastern Visayas Office of Civil Defense (OCD) director Henry Torres told Camp Aguinaldo reporters yesterday.
Torres said only four persons were reported hurt in Catarman, Northern Samar. One of the victims, he said, panicked during the quake and jumped out of an office window. Three others were hit by falling debris.
"We are still collating reports from all over the region. We're getting all the reports and so far only Eastern Samar has yet to restore power," he said.
Lt. Gen. Noel Clement said from Tacloban City the military has not received reports of major damage.
"Only minor cracks on buildings in some municipalities. Also minor cracks on road along the bridge of Casoroy, San Julian, Eastern Samar. No reported casualty except one minor injury who panicked," he said.
Operations at the Iloilo City Hall and Iloilo Provincial Capitol were suspended after yesterday's earthquake.
Iloilo Gov. Arthur Defensor Sr. and city administrator Hernando Galvez announced the suspension of work at city hall as well as summer classes.
Education Undersecretary Annalyn Sevilla said public schools in the Visayas will be inspected as part of safety protocol.
The National Grid Corp. of the Philippines (NGCP) raised a yellow alert notice on the Luzon grid from 9 a.m. to 10 a.m. and 4 p.m. to 8 p.m., and a red alert warning from 10 a.m. to 4 p.m.
In a briefing yesterday, Energy Undersecretary Felix William Fuentebella said a total of 1,290 megawatts (MW) of capacity was lost as several plants were affected by the earthquake.
In the Manila Electric Co. (Meralco) franchise area, rotating power interruption was readied yesterday in case supply would not be enough to meet demand, spokesman and public information office head Joe Zaldarriaga said.
Philippine National Police (PNP) chief Gen. Oscar Albayalde, for his part, ordered the police force in Eastern Visayas to be on full alert status to ensure prompt assistance to disaster units.
"Paramount is the safety of the public, the maintenance of security in all affected areas to prevent any looting or disorder, and the clearing of all roads and bridges for speedy search, rescue and relief operations," he said in a statement. – with Janvic Mateo, Jennifer Rendon, Jaime Laude, Cet Dematera, Emmanuel Tupas, Danessa Rivera