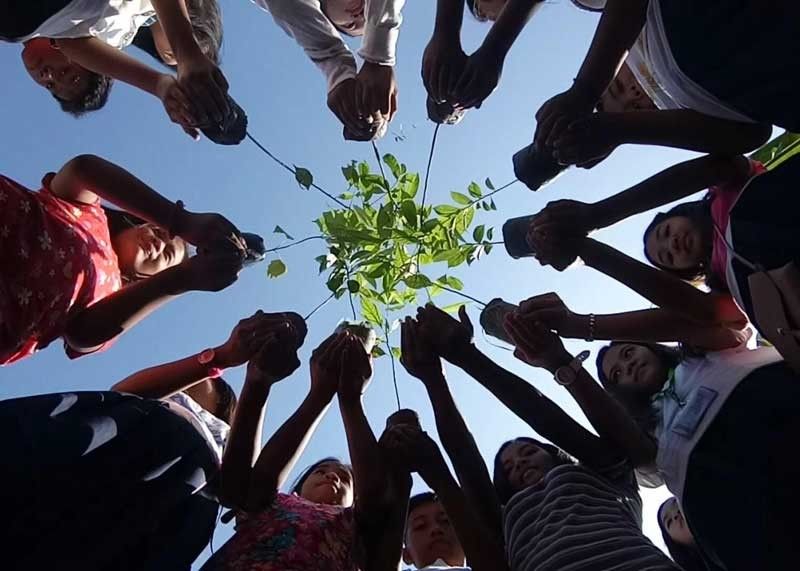 "We planted narra seedlings in Masbate that would take 100 years to fully mature or keep on growing, outliving most, if not all of us," said former journalist Michael Ubac, first nominee of Luntiang Pilipinas.
Contributed Photo
10 M trees planted to mark Earth Day
MANILA, Philippines — An environmentalist party-list group initiated yesterday efforts to fight climate change by planting 10 million trees in celebration of this year's Earth Day as it reaffirmed its commitment "to invest in the ecological sustainability of future generations."
"We planted narra seedlings in Masbate that would take 100 years to fully mature or keep on growing, outliving most, if not all of us," said former journalist Michael Ubac, first nominee of Luntiang Pilipinas.
"The seedlings symbolize Luntiang Pilipinas' commitment to pursue legislation that will have a positive impact on the country's environment and will benefit generations of Filipinos," the former reporter, who hails from the province, added.
The party-list group was established in 1998 by Sen. Loren Legarda, who is now on her third and last term as senator and who is running to represent the legislative district of Antique.
Ubac revealed they recently held two major tree-planting activities, one in Masbate City and another in the main campus of the Polytechnic University of the Philippines in Sta. Mesa, Manila.
He said Luntiang Pilipinas has shown that such a program is "doable," as the group is responsible for planting and growing two million trees in 33 provinces, 28 cities and 84 municipalities across the country.
"One of our four pillars that serve as a roadmap for achieving resiliency is a re-greening program that involves tree-growing, school-based vegetable gardening/gulayan sa paaralan and backyard gardening," Ubac explained.
"We should go beyond commemorating Earth Day; caring for the environment is a year-round commitment that requires us to be proactive in our efforts to restore ecological balance in our country – and Luntiang Pilipinas' program to plant ten million trees in our country is our contribution to this effort."
Luntiang Pilipinas is vying to be the first green party in the House of Representatives. It has been endorsed by Senate President Vicente Sotto III and Aksyon Demokratiko, the party founded by the late senator Raul Roco.
Meanwhile, Secretary Roy Cimatu of the Department of Environment and Natural Resources (DENR) has urged the public to live a more eco-friendly lifestyle.
"Being more environmentally conscious is the right thing to do. Living a more eco-friendly lifestyle could help create a sustainable planet and mitigate the effects of climate change and global warming," he said.
He asked Filipinos to pause and reflect on the most pressing ecological problems facing the world today and think of what they can do to save the planet.
"We have an obligation to take care of this planet we all share, and Earth Day is a great time to start thinking more about the environment and all the little things we can do to make the world a better place," the DENR chief added.
Over one billion people in more than 190 countries were expected to take part in the celebration of the 49th anniversary of Earth Day, making it the largest civic observance in the world. This year's theme is "Protect Our Species."
Cimatu said the Earth Day 2019 theme is a reminder that keeping the planet from destruction also means actively working on slowing down the decline of the country's threatened and endangered species such as the Philippine monkey, flying lemur, giant flying fox and tarsier.
This is timely, he added, as the country just witnessed a series of law enforcement operations that resulted in seizures of live wild animals and arrest of wildlife criminals, proof that the Philippines remains steadfast in its commitment to fighting illegal wildlife trade that is driving endangered species to the brink of extinction.
According to Cimatu, protecting the environment is not the sole responsibility of the government because the general public must also do its part, as he cited the simple things people can do to help protect the environment, which include conserving water and energy, patronizing cleaner fuel or taking public transport and practicing proper waste management.
The local celebration of Earth Day 2019 will be held on April 24 and 28. The first one will take place at the Ninoy Aquino Parks and Wildlife Center in Quezon City with DENR and Earth Day Network Philippines Inc. (EDNPI), which have lined up the events that include the signing of an agreement for tree planting activities between the DENR and Couples for Christ; launching of the search for model barangays and "green" corporations; on-the-spot painting and poster-making contests and Earth Day festival bazaar and exhibit. – With Rhodina Villanueva, Emmanuel Tupas