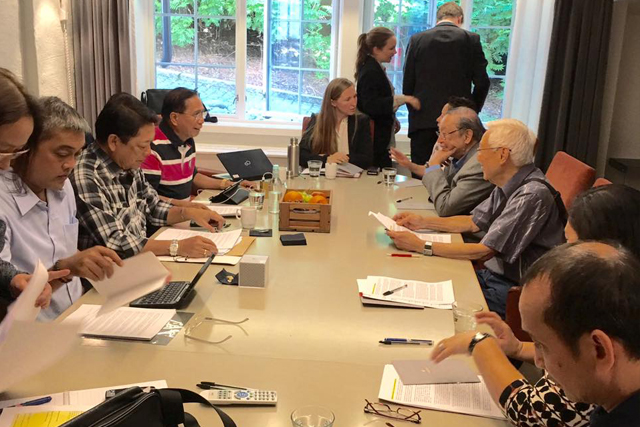 In this file photo, the government peace panel holds an informal meeting with the National Democratic Front of the Philippines in Oslo, Norway. Peace talks were terminated in November 2017 and again "permanently" last March.
Jesus Dureza, Facebook, file
Palace: New panel for talks with Reds to 'ignore' Sison
MANILA, Philippines — A new government panel for peace talks with communist rebels will ignore Communist Party of the Philippines founding chairman Jose Maria Sison and those who follow him, Malacañang said Monday.
Presidential spokesman Salvador Panelo belittled Sison's influence in the communist rebel movement, saying he no longer has control over the Maoist forces on the ground. Sison is chief political consultant of the National Democratic Front of the Philippines, which negotiates on behalf of the CPP and New People's Army.
"It doesn't matter whether he (Sison) likes or not," Panelo said when asked about Sison's opposition to Duterte's idea of creating a new negotiating team.
"(We will talk to) those who are not listening to him. We feel he is no longer being listened to," he also said.
Asked whether he thinks Sison no longer has influence over the CPP, Panelo replied: "From the way the ground forces are doing their thing, it appears to me that way."
READ: Duterte declares permanent termination of talks with Reds
Last Saturday, Duterte said he may create a new panel to negotiate with communists almost a month after he declared the "permanent" termination of the talks. The president said the negotiating panel would be composed of at least two civilians and three military officers.
Sison rejected Duterte's plan, saying the president was bent on forming a "war panel" because he wanted to increase the number of military representatives in the talks. The rebel leader also predicted that the new panel would demand the surrender of NPA members.
Panelo said in response: "We will ignore him."
RELATED: OPAPP: New panel to oversee localized 'peace engagements' with Reds
Panelo said localized peace talks would continue even if the president forms a new peace panel.
Duterte scrapped the talks with the communist rebels in November after the NPA launched successive attacks against civilians and government forces. The president has also accused the communists of pushing for a coalition government, a setup that he said would violate the constitution.
Asked what made Duterte change his mind about permanently ending peace talks, Panelo claimed the president did no such thing.
"No, have you noticed the president has always made himself open to any talks on peace; ever since sinasabi niya iyon. 'Di ba palagi niyang sinasabi, 'bigyan natin nang konting window.' Palagi iyon ang sinasabi niya eh," he said.
(Doesn't he always say 'let's give it a little window'. That's what he always says.)