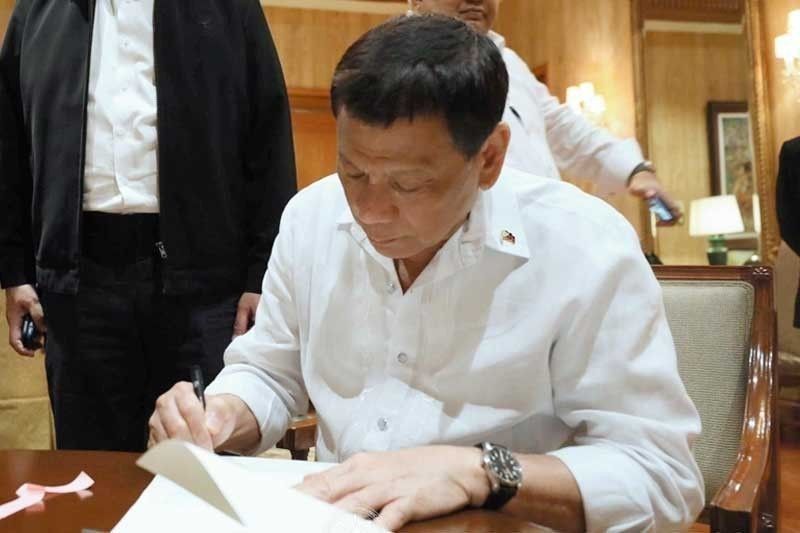 In this file photo, President Duterte signs papers. The Palace said the signing of the 2019 General Appropriations Bill might have to wait until after Holy Week.
File
Delayed 2019 budget could be vetoed entirely if 'problematic', Duterte says
MANILA, Philippines — This year's P3.757-trillion national budget may end up being vetoed in its entirety if it turns out to be problematic, President Rodrigo Duterte said Thursday.
Duterte talked about the much-delayed spending bill while he was citing the need to have allies in the Senate during a campaign rally in Bacolod City.
"The budget has just been submitted. I have to sign it once I return. I am still studying the budget (which was submitted to the) Office of the President. The Office of the President is not the budget," the president said.
"So ang legal ko magbasa uli. Ngayon pagka talagang tagilid 'yan (My legal team is reading it. Now if it is problematic), I will outright veto the entire budget," he added.
Duterte noted that the House of Representatives and Senate have been bickering over the alleged insertions in the budget.
"Eh hindi magkasundo ang Congress pati ang Senado eh, pati yung mga insertions diyan titignan ko (The House of Representatives and Senate cannot reach an agreement. I will look at the insertions)," the president said.
"Pagka tagilid talaga (If it is really problematic), I will not hesitate to veto the entire budget. Eh 'di pasensya tayong lahat (We will all suffer)," he added.
The Palace had initially announced that Duterte would sign the budget bill on Monday, April 15, but said earlier Thursday that that might happen after the Holy Week break.
READ: 2019 national budget might not be signed on Monday after all
The proposed General Appropriations Act will lapse into law April 26.
The passage of the spending bill was hampered by the mudslinging among lawmakers and between some House members and the budget department.
A reenacted budget until April would bring down full year economic growth to 6.1 to 6.3 percent, according to the National Economic and Development Authority. Economic growth is expected to slow down to 4.9 to 5.1 percent if the budget is enacted in August and to 4.2 to 4.9 percent if no new spending bill is passed this year.