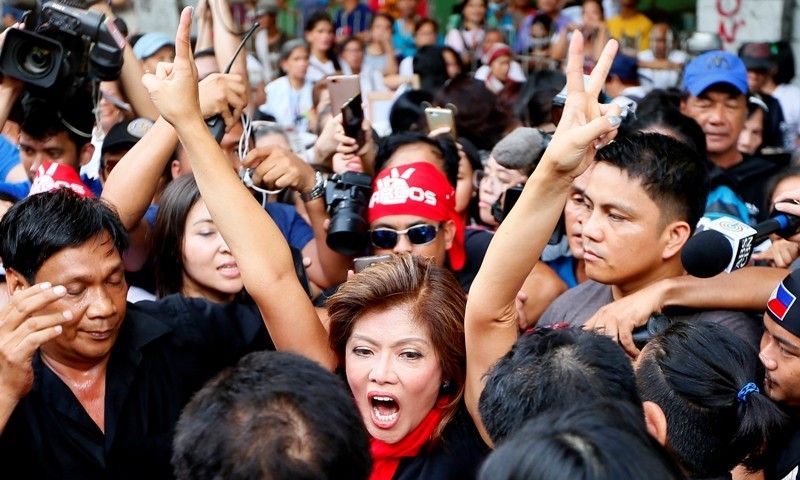 Senatorial candidate Imee Marcos on Thursday, April 11, said Manila started the dispute when the previous administration brought the two nations' conflicting claims to the South China Sea to an international tribunal.
File photo
Fact check: Imee Marcos says Philippines 'picked fight' with China through arbitration case
MANILA, Philippines — Sharing her thoughts on the maritime row between the Philippines and China, Ilocos Norte Gov. Imee Marcos on Thursday said Manila caused trouble when the Aquino administration brought the two nations' conflicting claims over the South China Sea to an international tribunal.
"I do [trust China] and that is because they never invaded Philippine shores. Syempre controversial 'to, maraming maiinis sa akin. Tayo nag-umpisa ng gulo eh. Bakit naman kasi natin hinabla sa world court?" the daughter of late dictator Ferdinand Marcos told CNN Philippines.
"We started it. We picked a fight and then ngayon, 'yun pala hindi natin kaya. Ano bang klase 'yun? Talagang takaw gulpi tayo," she added.
The arbitration case
On July 12, 2016, the Permanent Court of Arbitration in The Hague, acting on a 2013 case brought by the Philippines, ruled against China's sweeping claims over the potentially oil-rich waters of the South China Sea, parts of which is the West Philippines Sea.
In its decision, the United Nations-backed court said China breached the traditional fishing rights of Filipinos by blocking them from Scarborough Shoal.
The global tribunal also ruled that China violated its responsibilities under the United Nations Convention on the Law of the Sea (UNCLOS) by:
Engaging in widespread environmental destruction via its construction of artificial islands
Violating Philippine sovereign rights by interfering with oil and gas exploration at Reed Bank
Illegally constructing a facility on Mischief Reef, which sits on the Philippine continental shelf
China has been clear that it will not accept the verdict of the tribunal. There is no enforcement mechanism for the ruling, which President Rodrigo Duterte — a political ally of the Marcoses — shelved in exchange for warmer ties with Beijing and Chinese funding for his ambitious infrastructure plan.
Past attempts at dialogue
In the Philippines' opening statement, delivered by then Foreign Affairs Secretary Albert del Rosario in The Hague, the country underscored how past attempts at bilateral and multilateral negotiations failed to resolve the maritime disputes, leaving the Philippines no choice but to initiate the arbitration case.
According to Del Rosario, the Philippines sought to address China's maritime violations diplomatically as far back as August 1995, after Beijing seized and built structures on Mischief Reef.
He added that both sides previously agreed to resolve the sea row in accordance with UNCLOS in a joint communiqué issued in July 1998 following bilateral discussions between his predecessor, Domingo Siazon, and then Chinese Foreign Minister Tang Jiaxuan.
"Mr. President, the Philippines is committed to resolving its disputes with China peacefully and in accordance with international law. For over two decades, we diligently pursued that objective bilaterally, regionally, and multilaterally," Del Rosario said at the arbitration.
"Regrettably, neither the bilateral exchanges I have mentioned, nor any of the great many subsequent exchanges, proved capable of resolving the impasse caused by China's intransigent insistence that China alone possesses maritime rights in virtually the entirety of the South China Sea, and that the Philippines must recognize and accept China's sovereignty before meaningful discussion of other issues could take place," he added.
According to US-based think tank Asia Maritime Transparency Initiative, failure to resolve a crisis that erupted following a heated standoff in Scarborough Shoal in 2012 "led Manila to settle on pursuing international arbitration."
'Highest level of activity'
Aside from the Philippines, Vietnam, Taiwan, Malaysia and Brunei also have active claims over the South China Sea — a strategic waterway where trillions of dollars worth of ship-borne goods transit annually.
According to an August 2015 study by the National Defense University — which analyzed actions that South China Sea claimants have taken from 1995 to 2013 to advance or protect their maritime interests — China took the most actions to support its claims, followed by the Philippines.
The study also found that China is the most active user of defense forces to protect and advance its claims, with Chinese military and paramilitary actions since 1995 until 2013 constituting over 50% of such activities in the South China Sea.
"China not only used its military and paramilitary forces to pressure its rivals, but also utilized economic actions, legal actions, information actions (also known as strategic communications), and administrative actions," the study read in part.
"China also takes vigorous diplomatic actions to protect and advance its territorial claims," it added.