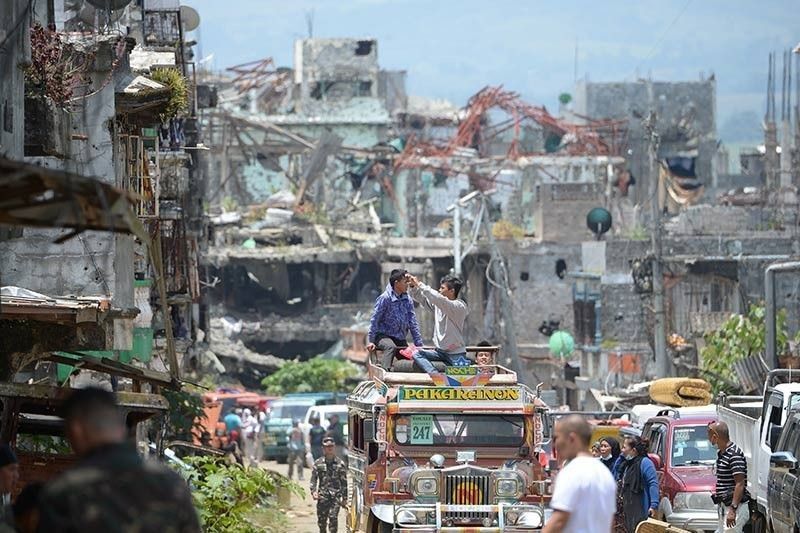 In this April 1, 2018 photo, residents on top of their jeepney take photos of destroyed buildings during a visit to their homes at the main battle area in Marawi City. The US Department of State has issued travel advisory Level 4 for the war-torn city due to the threat of civil unrest and terrorism.
AFP/Ted Aljibe, File
US flags Philippines among countries with high risk of kidnapping
MANILA, Philippines — The United States Department of State has identified the Philippines as one of the 35 countries with high risk for kidnapping.
According to a report from The Wall Street Journal (WSJ), the US Department of State added a new indicator "K" in its travel advisories, which mean that kidnapping or hostage taking occur in that country.
"The 'K' risk indicator makes it easier to see when there is a risk of kidnapping or hostage-taking to U.S. citizens traveling or living overseas," a US Department of State told WSJ.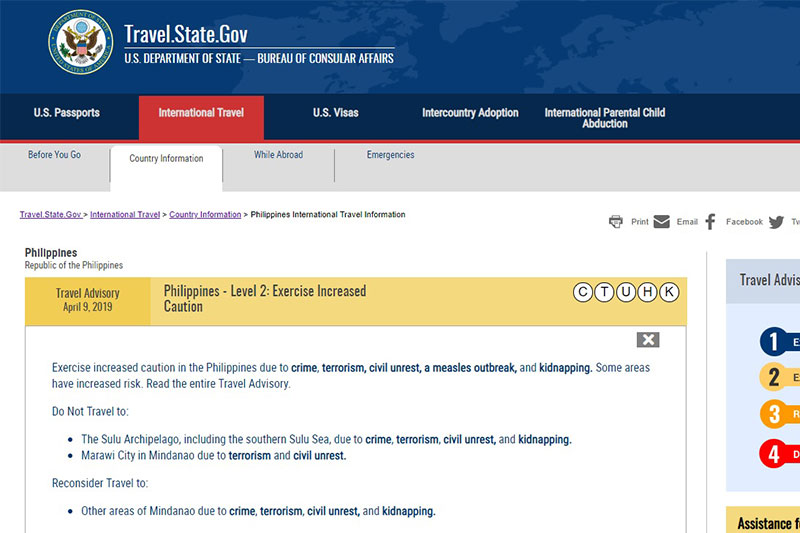 The US department, however, clarified that the new indicator does not reflect an increase in threat.
In the US Department of State website, the Philippines in general is under Level 2, which means that travelers should exercise increased caution.
"Exercise increased caution in the Philippines due to crime, terrorism, civil unrest, a measles outbreak, and kidnapping. Some areas have increased risk," the travel advisory issued April 9 read.
The Sulu Archipelago, Sulu Sea and Marawi City are under Level 4 or "Do not travel."
Washington warned its citizens that terrorist groups continue conduct kidnappings on land and at sea for ransom, bombings and other attacks in the Sulu Archipelago and Sulu Sea.
Such attacks target US citizens, foreigners, civilians, local government institutions and security forces, according to the advisory.
The US travel advisory also noted that civilians are at risk of death or injury from the remnants of the armed conflict in Marawi City.
The US Department of State said it has limited ability to provide emergency services to US citizens in these areas as US government employees must obtain special authorization to travel there.
The whole Mindanao is also under Level 3 or "Reconsider travel" as the region is under martial law. Some areas such as Cotabato City, Maguindanao, North Cotabato and Sultan Kudarat are also under a state of emergency.
"Terrorist and armed groups continue to conduct kidnappings, bombings, and other attacks targeting US citizens, foreigners, civilians, local government institutions, and security forces," the advisory said.
Aside from the kidnapping tag, the Philippines has also been flagged with "C" for the presence of widespread violent or organized crime, "T" for terrorist attacks, "U" for civil unrest and "H" for health risks due to a measles outbreak in the country.
The following countries have also been identified as high-threat for kidnapping: Afghanistan, Algeria, Angola, Bangladesh, Burkina Faso, Cameroon, Central African Republic, Colombia, Democratic Republic of the Congo, Ethiopia, Haiti, Iran, Iraq, Kenya, Lebanon, Libya, Malaysia, Mali, Mexico, Niger, Nigeria, Pakistan, Papua New Guinea, Russia, Somalia, South Sudan, Sudan, Syria, Trinidad and Tobago, Turkey, Uganda, Ukraine (in Russian-controlled eastern Ukraine), Venezuela and Yemen.
"We want you to know the danger of traveling to high-risk places and to strongly consider not going to them at all. Traveling to high-risk locations puts your life, and possibly the lives of others, in jeopardy. Traveling to high-risk areas puts you at increased risk for kidnapping, hostage-taking, theft, and serious injury," the US Department of State said in its website.