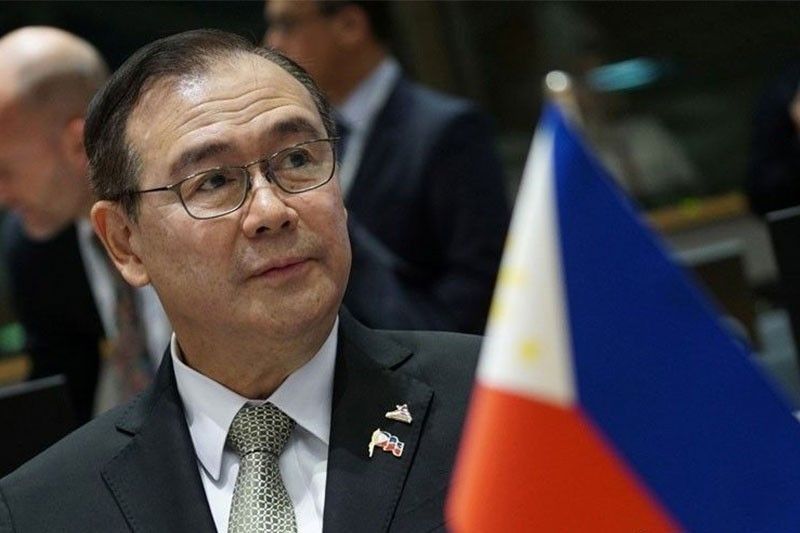 "With China, friendship is wisest; never a military alliance. The logic of balance of power," Teddy Locsin tweeted Monday night.
File
Friendship with China wisest, but no military alliance — Teddy Locsin
MANILA, Philippines — Friendship with China is "wisest," but there will never be a military alliance, according to Foreign Affairs Secretary Teodoro Locsin Jr.
"With China, friendship is wisest; never a military alliance. The logic of balance of power," Locsin tweeted Monday night.
"The US is and will remain our only military ally. You can't make an ally out of a near power – too close for comfort. Natural allies are US across Pacific and Russia behind China," he said.
President Duterte and Chinese President Xi Jinping have declared their intention to elevate their countries' relations to a "comprehensive strategic cooperation." The two leaders have also committed to "continue to manage contentious issues" regarding the West Philippine Sea and South China Sea. Xi was in Manila last November.
"Why the US, the only world power that is a bastion of democracy and human rights, is and will remain our only military ally. We don't need any other," Locsin pointed out.
During his visit to Beijing last month, Locsin said the mutual respect and friendship between Duterte and Xi have "laid athe foundation of a revitalized relationship between the Philippines and China, which have always been friends and never enemies; resisting attempts by the Great Powers in the previous century to use our proximity against each other rather than for each other's benefit."
Locsin said he was proud to be part of an effort to bring the Philippines and China closer – after supposedly being held apart by shortsighted commitments to others.
Since assuming the presidency in 2016, Duterte has been clear about his preference for China over the US, which – during the previous Obama administration – had been very critical of his bloody war on drugs.
Right after his election as president, Duterte announced his "separation" from the US and his pivot to China and Russia.
During Locsin's recent visit to China, his counterpart Wang Yi emphasized the need for the two countries to set aside their difference in pursuit of more enriching and advantageous common goals.
The Philippine official also praised China's communist party for steering the country to development and prosperity without stepping on others.
Some quarters have raised concern over Duterte's excessive appeasement of China, which has been militarizing the West Philippine Sea and South China Sea and limiting the movement of Filipino fishermen. Some quarters have also called the administration's attention to what they believed were onerous loan agreements with Beijing.
Duterte, however, has been unwilling to confront Beijing, saying the Philippines is no match for China's military might.
Meanwhile, the US Navy announced it will not send any of its ships to China's multinational naval celebrations this month marking the 70th anniversary of the Chinese navy, Pentagon spokesman Lt. Col. Dave Eastburn said.
He gave no reason for the apparent snub but told the Stars and Stripes military newspaper the US embassy defense attaché in Beijing would represent the United States at the event in Qingdao, China on April 22-25.
Last year the US disinvited China from its Rim of the Pacific exercise in Hawaii, to signal its displeasure at Beijing's excessive territorial claims in the South China Sea.
"The United States Navy will continue to engage the PLAN (People's Liberation Army Navy) through established military-to-military dialogues, such as the Military Maritime Consultative Agreement working groups and Rules of Behavior discussions," Eastburn told the newspaper.
China's Ministry of National Defense said on March 28 that 60 countries will send navy delegations to the Qingdao celebration, with many sending naval vessels.
The Philippines, Japan and South Korea – US allies in the Asia-Pacific region – are sending navy vessels to participate, according to a Japan Times report last Friday. – With Jose Katigbak, STAR Washington bureau