AFP: Chinese ships could be watching Pag-asa repairs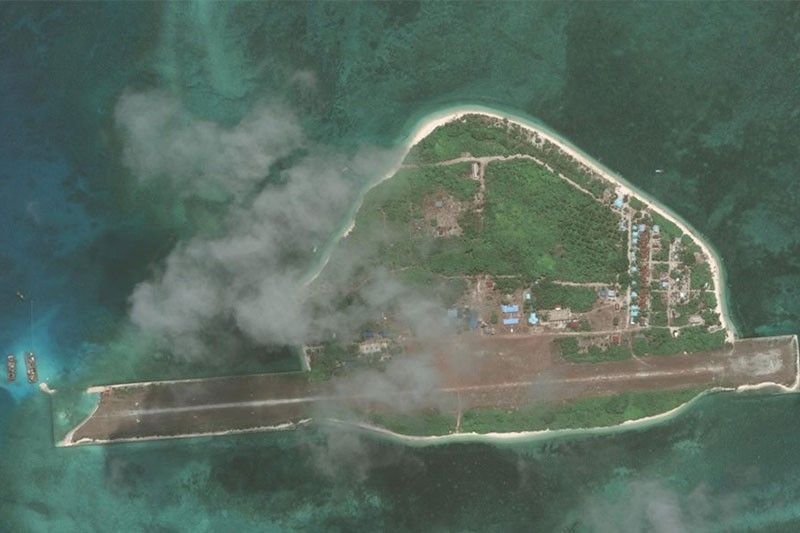 MANILA, Philippines — The Chinese ships loitering in the vicinity of Pag-asa Island in the West Philippine Sea could be monitoring the Philippines' repairs on the island, the military confirmed.
For months, hundreds of Chinese vessels have been spotted in the area of the island, one of the largest in the Spratly Islands.
Brig. Gen. Edgard Arevalo, spokesperson of the Armed Forces of the Philippines, confirmed that the foreign vessels are deployed to show their presence.
"At the same time, we have an ongoing project at Pag-asa Island — and this has been repeatedly observed — we think it's part of their surveillance," Arevalo told radio dzMM on Tuesday.
The Philippines started repairing the dilapidated runway on Pag-asa Island as early as May last year. Defense Secretary Delfin Lorenzana earlier said the repairs are expected to be completed by the end of this year.
Regular AFP patrols
Despite concerns raised over the presence of Chinese vessels in the area, the military said its naval and air units regularly conduct maritime patrols off the island.
"We can assure you that we regularly have naval ships there and those are what we use in our daily mission and operations there and in eight other features, islands and islets that the Armed Forces of the Philippines is guarding, particularly the Navy, in the West Philippine Sea," Arevalo said in Filipino.
Arevalo added that the naval ships are also accompanied by Air Force aircraft.
The military spokesperson also stressed that there have been no reports of Filipino fishermen being harassed by the Chinese vessels.
"As a matter of fact, we encourage our fishermen to report to us if they experience this kind of harassment or whatever they see as a violation of their rights," Arevalo said.
The Department of National Defense had released a statement encouraging Filipino fishermen to continue their fishing activities in the West Philippine Sea.
"Just as the Philippines honors our international obligations and protocols, we also expect other countries and their vessels to do the same especially when sailing and fishing in international waters," the DND said Tuesday. — Patricia Lourdes Viray