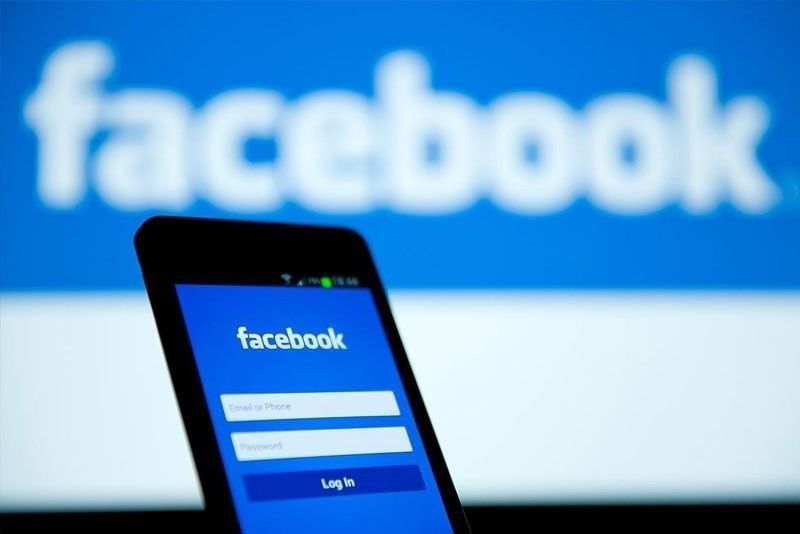 Social media giant Facebook said it has taken down 67 Facebook pages, 68 Facebook accounts, 40 groups and 25 Instagram accounts for engaging in "coordinated inauthentic behavior."
AFP/File
Facebook removes 200 fake, 'misleading' pages, accounts based in Philippines
(Philstar.com) - March 29, 2019 - 3:25pm
MANILA, Philippines — Facebook took down 200 pages, groups and accounts for using "coordinated inauthentic behavior" to spread content across the social media network.
In a blog post, Nathaniel Gleicher, Facebook head of cybersecurity policy, said 67 Facebook pages, 68 Facebook accounts, 40 groups and 25 Instagram accounts were taken down for "misleading others about who they were and what they were doing."
LOOK: Sample posts from the accounts taken down by Facebook today for inauthentic coordinated behavior. | @jvrmateoSTAR pic.twitter.com/uzZbYGvnih

— Philstar.com (@PhilstarNews) March 29, 2019
Gleicher said Facebook is "constantly working to detect and stop this type of activity because we don't want our services to be used to manipulate people."
"We're taking down these Pages and accounts based on their behavior, not the content they posted," he clarified. "In this case, the people behind this activity coordinated with one another and used fake accounts to misrepresent themselves, and that was the basis for our action."
The pages that have been taken down were a combination of authentic and fake accounts.
"They frequently posted about local and political news, including topics like the upcoming elections, candidate updates and views, alleged misconduct of political opponents, and controversial events that were purported to occur during previous administrations," Gleicher said.
"We identified these accounts and Pages through an ongoing internal investigation into Philippines-linked coordinated inauthentic behavior. Our assessment benefited from open source reporting. We have shared relevant information with policymakers and industry partners," he also said.
Gleicher: The individuals behind this activity used a combination of authentic and fake accounts to disseminate content across a variety of Pages and Groups

— Philstar.com (@PhilstarNews) March 29, 2019
'Disinformation hierarchy'
Scholars from the University of Massachusetts Amherst and the University of Leeds found in a report released in 2018 that a so-called disinformation heirarchy has PR and advertising executives at the top.
According to "Architects of Networked Disinformation: Behind the Scenes of Troll Accounts and Fake News Production in the Philippines" co-authored by Jonathan Corpus Ong, associate professor of communication at UMass Amherst in the US, and Jason Cabañes, lecturer in international communication at the University of Leeds in the UK, those chief architects work closely with anonymous digital influencers with followers ranging from 50,000 to 2,000,000 and community-level fake accounts operators who manually operate fake profiles to infiltrate community groups and news pages.
Their main responsibility is to generate and inspire support through online engagement.
"To achieve this, they recruit a team of anonymous digital influencers and fake account operators to seed core campaign messages in online spaces and create 'illusions of engagement' to inspire enthusiasm from real supporters," Ong and Cabañes said.
READ: Ad, PR execs are 'chief architects' of disinformation in Philippines — study
$59,000 spent for ads
Gleicher said in his post on the Facebook Newsroom that "although the people behind this activity attempted to conceal their identities, our investigation found that this activity was linked to a network organized by Nic Gabunada."
Adobo Magazine, which focuses on the advertising industry, described Gabunada in 2016 as "former CEO of Omnicom Media Group Philippines and former senior vice president at ABS-CBN" and the man behind Davao City Mayor Rodrigo Duterte's successful social media campaign.
"Having digital natives running the show, grasping the social media culture didn't come as a challenge, there was no need to translate campaign messages into digital creatives and copies. Each social media team from esch different area holds their own, creating their own memes and crafting their own copies and posts," he said in a feature in Adobo.
He also said that "bots were not used; the effort centered on volunteers."
Gelicher said around 3.6 million accounts followed at least one of the pages taken down, about 1.8 million accounts joined at least one or more of the groups and around 5,300 accounts followed at least one of the Instagram accounts.
Gleicher also said around $59,000 (P3,101,630) was spent for advertisements.
Last January, Facebook announced it removed 220 Facebook pages, 73 accounts and 29 Instagram pages.
It also said it banned Twinmark Media Enterprises and its subsidiaries for repeatedly violating the social media giant's misrepresentation and spam policies. — Gaea Katreena Cabico