Carpio counters Panelo on Reed Bank as collateral in Chico River loan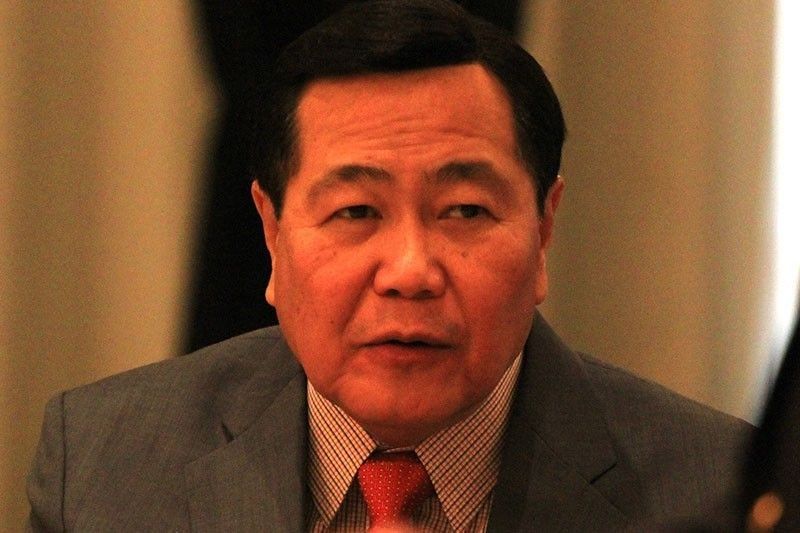 MANILA, Philippines — Senior Associate Justice Antonio Carpio has countered presidential spokesperson Salvador Panelo's statement on a provision on the Philippine government's loans from China that, the justice said, put oil-rich Reed Bank at risk of seizure.
The senior justice on Friday warned that the loan agreement for the Chico River pump irrigation project has a provision that said China can seize Reed Bank if the government fails to pay the P3.69-billion loan.
Carpio said paragraph 8.1 of the loan agreement stated that the Philippines waived any sovereign immunity over all its assets except properties of Philippine embassies and missions, assets of a military character under the control of the local military and assets located for public or government use as distinguished from patrimonial ones and those dedicated for commercial use.
According to the Civil Code, patrimonial assets are properties that are not "intended for some public use, and are intended for some public service or for the development of the national wealth."
But Panelo said that Carpio's fear of Reed Bank as collateral is "misplaced" as President Rodrigo Duterte would not declare it as patrimonial asset.
In a statement sent to reporters, Carpio said that as early as 1972, oil and gas in the Reed Bank have been classified as patrimonial property.
He pointed out that Section 8 of the Oil & Exploration Development Act of 1972 states: "The (service) contract may authorize the Contractor to take and dispose of and market either domestically or for export all petroleum produced under the contract subject to supplying the domestic requirements of the Republic of the Philippines on a pro-rata basis."
"The power to reclassify from public domain to patrimonial is a legislative power. The president's power to so reclassify was merely delegated by Congress," Carpio added.
"The Department of Energy granted a service contract to Forum Energy to exploit the gas in Reed Bank pursuant to the Oil and Exploration Development Act of 1972, as amended," he also said.
Guevarra: Seizure of Reed Bank may be 'jumping the gun'
Justice Secretary Menardo Guevarra, for his part, said that fears of China seizing Reed Bank may be "jumping the gun," as the Philippine government has mechanism in place in case of default.
In a chance interview at the oath-taking of Justice Reporters Organization in Manila on Tuesday night, Guevarra pointed out that the loan was a payable amount.
He also assured: "Assuming for the sake of argument that there may be delay or default, I'm sure that there are mechanisms in place that will take care of the situation like probably restructuring the loan, and if there's an arbitration clause, then we go to arbitration first."
Guevarra also said the government intends to honor its obligations stated in the loan agreement.
The Justice secretary added: "That one is a small amount considering the total amount of our foreign indebtedness, that's just a small amount. We can definitely pay for that."
Carpio, however, stressed that the Philippine government's future loans should veer away from the Chico River template that had provision on collaterization of our patrimonial assets and arbitration under China International Economic and Trade Arbitration Commmission.
In a statement sent to reporters on Wednesday morning, Carpio said: "If all loan agreements will follow the Chico River template, that will be a huge problem."
He also pointed out that collaterals are not standard in Official Development Assistance loans.
ODA loans are cheaper sources of financing as they carry lower interest rates than lending rates imposed by commercial banks. ODAs also have longer grace and repayment periods. — Kristine Joy Patag