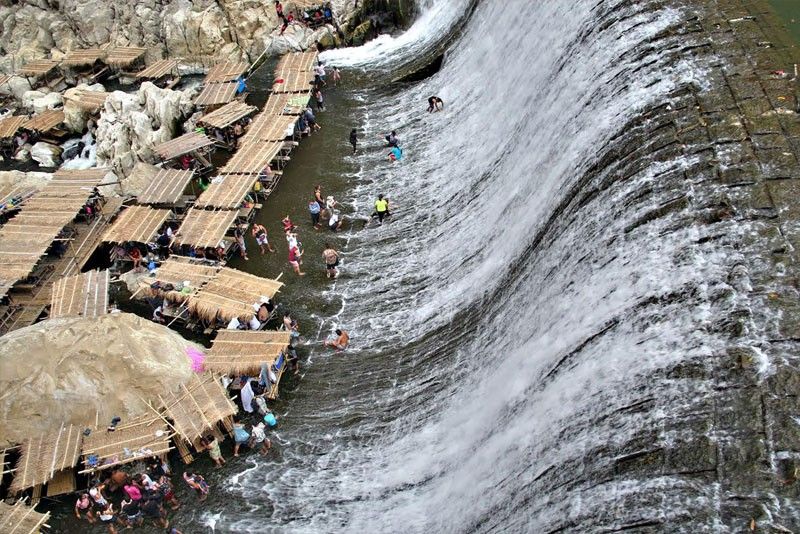 Local tourists flock to Wawa Dam in Rodriguez, Rizal yesterday to beat the summer heat.
Michael Varcas
Pagasa: Angat Dam may hit critical level in April
Helen Flores
(The Philippine Star) - March 25, 2019 - 12:00am
MANILA, Philippines — Water supply may have returned to nearly the entire east service sector of Metro Manila, but even Angat Dam is now approaching critical level so residents are being urged to conserve water.
The Philippine Atmospheric, Geophysical and Astronomical Services Administration (PAGASA) yesterday continued to appeal to residents of Metro Manila and nearby areas to conserve water.
"Based on our computation, (Angat Dam) may go down to its critical level by the end of April," PAGASA hydrologist Danilo Flores said in an interview with radio station dzBB.
As of 6 a.m. yesterday, Angat's water level was at 195.91 meters, or 16.09 meters below its normal high water level of 212 meters.
Located in Barangay San Lorenzo (Hilltop) in Norzagaray, Bulacan, Angat Dam supplies 97 percent of Metro Manila's water needs and powers the Angat hydroelectric power plant.
The 131-meter-high dam impounds water from the Angat River that subsequently created the Angat Lake.
Flores said water level at Angat drops by an average of 41 centimeters daily.
In February, PAGASA projected that Angat's water level could dip to critical level amid the drought-driving El Niño in the first half of the year, considering that there was nearly zero rainfall due to the phenomenon and no reduction in the dam's water allocation for March, April and May was made.
"Angat's June water level can dip below 180 meters," PAGASA hydrologist Richard Orendain said on the side of a climate forum in Quezon City two months ago, as reported by the Philippine News Agency.
The report added that Angat Dam recovers after the onset of the rainy season, which helps increase the water reserve in the facility.
Meanwhile, Department of Science and Technology (DOST) Undersecretary Renato Solidum Jr. has backed the construction of new dams in the country.
"Even if there's no water crisis, based on the population growth projection, the supply of Angat will not be enough, so there's really a need to build more (dams)," Solidum, who also heads the Philippine Institute of Volcanology and Seismology (Phivolcs), said.
The Kaliwa Dam in Quezon province is expected to supply some 600 million liters of water per day to Metro Manila.
The dam will be constructed by Beijing-run China Energy Engineering Corp.
Based on news reports, the construction is targeted to start during the third quarter of the year, and is expected to be completed by 2023.
Around 61 percent of the country is expected to experience drought next month due to the prevailing weak El Niño, according to PAGASA.
El Niño is associated with below normal rainfall. It is expected to last until August.