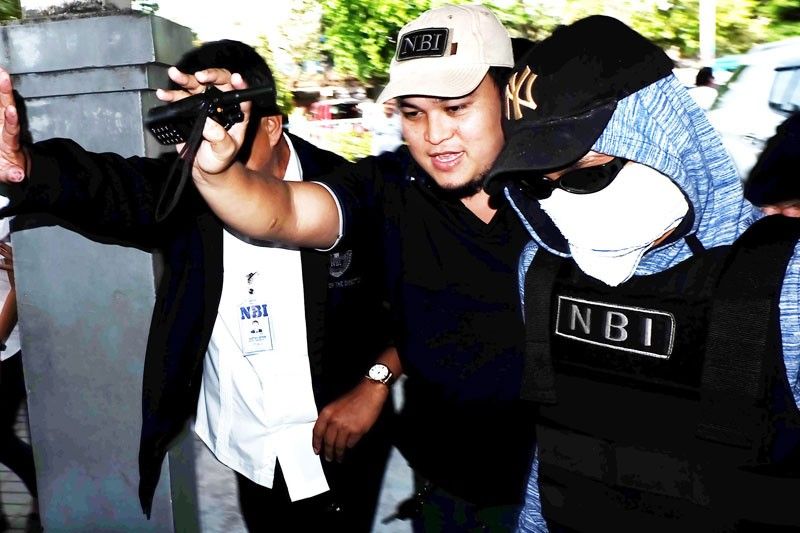 Agents of the National Bureau of Investigation escort the 17-year-old suspect in the murder of Christine Lee Silawan during the filing of a criminal complaint at the Lapu-Lapu Prosecutor's Office the other day.
FREEMAN NEWS
Police consider murder case of Christine Lee Silawan 'solved'
MANILA, Philippines — With the arrest of a 17-year-old boy for the gruesome murder of Christine Lee Silawan, the Philippine National Police (PNP) now considers the case "solved."
"Masasabi na natin na (We can say that) the murder case is solved," Senior Supt. Bernard Banac, spokesman for the PNP, told a press briefing yesterday.
However, Banac said they could not yet consider the Silawan case closed as authorities are still looking for two other suspects.
Police have yet to determine the exact involvement of the two suspects and if they are also minors.
The National Bureau of Investigation in Central Visayas (NBI-CV) tagged the minor as one of the suspects after closed-circuit television camera footage showed him together with the victim.
Probers found out he was communicating with the victim through chat and text messages.
Banac said the murder of Silawan, whose face was skinned, was a crime of passion.
He said initial reports suggested she and the suspect were romantically involved.
"Extreme rush of emotion, anger or jealousy over his relationship to the victim," Banac said in Filipino.
With this development, Banac said investigators have dropped Jonas Bueno as a suspect in Silawan's murder.
He said the Central Visayas police never considered Bueno a supect.
Bueno was arrested in Davao City due to the murder of a farmer in Danao City in January.
Banac said the Central Visayas police is giving support to the NBI, whose agents arrested the suspect.
"The NBI is the lead agency in this investigation and all records of the case in our possession will be turned over to the NBI Regional Office 7," Banac said.