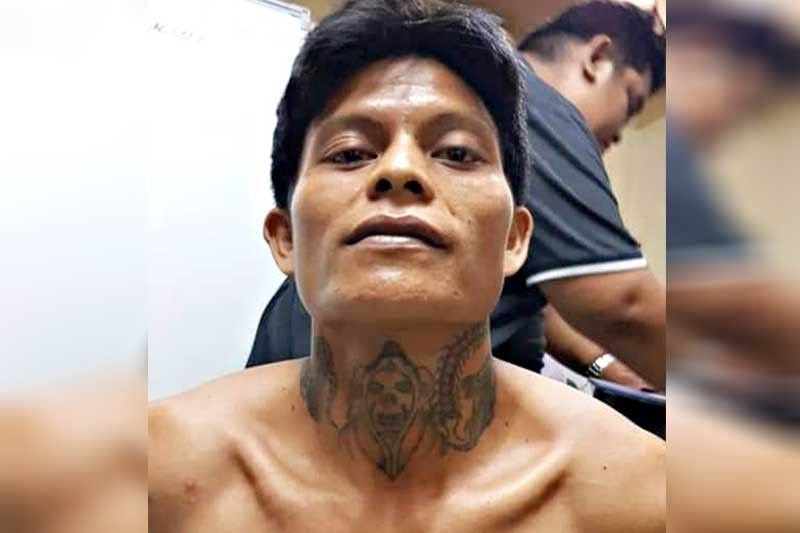 Photo provided by Brigada News Davao shows suspect Jonas Bueno following his arrest in Davao City yesterday. He admitted taking part in the murder of a farmer in Danao but not in the brutal slay of a teenager in Lapu-Lapu City.
Suspect in Cebu teen's slay falls
DAVAO CITY, Philippines — The principal suspect in the gruesome murder of 16-year-old Christine Lee Silawan in Cebu was arrested here yesterday.
A combined team of policemen and agents of the National Bureau of Investigation (NBI) arrested Jonas Bueno in Barangay Matina Pangi of this city.
Police said Bueno had used another name to work as a laborer at a construction site. He had been working on the site for four days until he was identified and arrested.
Authorities closed in on Bueno as he was identified through social media.
NBI assistant regional director Jonathan Balite said Bueno admitted faking his identity to evade arrest.
Bueno then admitted participating in other killings but denied killing Silawan, officials said.
Authorities are not discounting the possibility that Bueno is a member of a cult.
On Monday, Silawan was found dead and naked from the waist down in a vacant lot in Barangay Bankal in Lapu-Lapu City in Cebu province. Her body bore 20 stab wounds while her face was skinned and some of her internal organs were missing.
The victim was a student of Maribago High School and was first reported missing by her mother after she failed to return home from serving as a church collector on Sunday.
Central Visayas police intelligence unit chief Senior Supt. Remus Medina said Bueno's brothers Junry and Jovy were the suspects in the killing of farmer Trinidad Batucan in Danao last Jan. 11. They employed the same method of skinning their victim.
Police said Junry and Jovy were killed in a shootout with lawmen last Jan. 18. Jonas was able to escape.
The Philippine National Police (PNP) said they have retrieved text messages from one of Silawan's relatives that indicated the suspect had communicated with the victim before the killing.
PNP spokesman Senior Supt. Bernard Banac said it is likely that the suspect was known by Silawan.
A P2-million reward was put up for the arrest of the suspects in the killing.
Silawan's killing sparked a public outcry and triggered anew the debate on restoring the death penalty, which the Catholic Church said they are still against.
"Death is and will never be an answer to the killings going on in the country. Let us work for justice that will affirm and enhance life," CBCP-Episcopal Commission on Prison Pastoral Care executive director Rudy Diamante said. – With Romina Cabrera, Evelyn Macairan