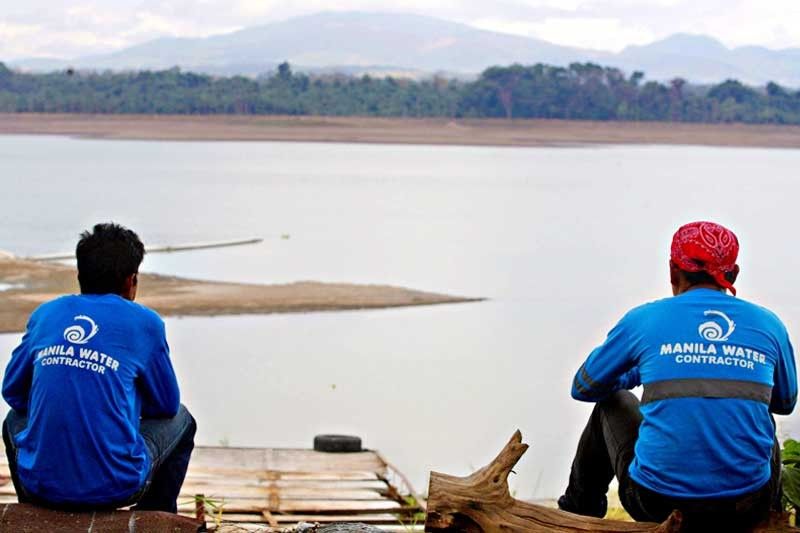 Workers of a Manila Water contractor are seen yesterday at La Mesa Dam, where the water elevation is down to 68.72 meters, the lowest in more than 20 years.
KJ Rosales
Water woes: No state of calamity in Metro Manila
Jaime Laude
(The Philippine Star) - March 16, 2019 - 12:00am
MANILA, Philippines — Despite an acute shortage of water in the east sector of Metro Manila that officials fear will persist throughout the dry season, there is no need yet to declare a state of calamity, the National Disaster Risk Reduction and Management Council (NDRRMC) said yesterday.
"Nothing to that effect. There's no plan as of today. We just had a meeting of the response cluster of Task Force El Niño," said NDRRMC spokesman director Edgar Posadas.
Posadas issued this statement to clarify reports that the NDRRMC is considering placing the entire Metro Manila under a state of calamity due to the prevailing water crisis.As this developed, President Duterte ordered yesterday the immediate release of water from Angat Dam and warned concerned authorities of severe sanction if they fail to comply with the order.
Reacting to the order, the Metropolitan Waterworks and Sewerage System (MWSS) clarified the Angat Dam bypass valve had never been closed in the first place, contrary to a report released online supposedly by a former employee.
Posadas said cloud seeding operation "will start as soon as seedable clouds are available." He added the NDRRMC will discuss the matter in a full council meeting on March 20.
NDRRMC executive director Ricardo Jalad assured the public that the government is doing everything to restore normal water supply.
Jalad said representatives from the Department of Environment and Natural Resources-National Water Resource Board (DENR-NWRB) revealed during a meeting of NDRRMC's Technical Management Group (TMG) that water level at Angat Dam was at normal operating level of 199.94 meters. The minimum operating level is 180 meters.
"This entails that Angat Dam can sufficiently address Metro Manila's water requirements," Jalad said.
Meanwhile, Manila Water Co., whose service areas are reeling from water shortage, yesterday assured the public its 20-hour water interruptions will not last throughout summer as it is starting to see the initial positive effects of the rotational water supply scheme implemented since Thursday.
"Levels of various reservoirs have started to increase and water supply, though still at low pressure in some areas, is slowly being distributed to severely affected barangays," Manila Water said in a statement.
"These operational adjustments are a temporary measure that Manila Water is undertaking to balance water supply distribution in its concession area," the company said.
"Manila Water continues to make calibrations in these adjustments to ensure that extended service interruptions will not last for the entire summer," it said.
Furthermore, the weak El Niño was not expected to affect the supply of potable water in Metro Manila and nearby areas, according to an official of the Philippine Atmospheric, Geophysical and Astronomical Services Administration (PAGASA).
"We expect the supply of Angat to last until the dry months," Ana Liza Solis, chief of PAGASA's climate monitoring and prediction section, told The STAR.
Open bypass valve
As thousands in Metro Manila continued to line up for water, President Duterte ordered the opening of the Angat Dam bypass valve to enable Manila Water to replenish its stock.
"The President is directing the MWSS to demand from the Manila Water Co. Inc., Maynilad Water Services Inc. and other responsible offices to release water from Angat Dam by noon time today, March 15, good for 150 days, in order to supply the affected areas in Metro Manila and deliver," presidential spokesman Salvador Panelo said.
"Failure to act or comply with this directive, the President will personally go to them and make the responsible officers account for such failure," Panelo added.
In issuing the order, Panelo said the President is "aware and concerned of the sufferance of the residents of Metro Manila due to the present water crisis."
But MWSS chief regulator Patrick Ty said the Angat Dam bypass valve had never been closed in the first place, contrary to a report released online supposedly by a former MWSS employee.
"For the record, the bypass is open. It is not closed," Ty said at a press briefing on Friday. "This is where Manila Water gets its 1600 million liters per day (mld) supply. If it is closed, Manila Water will not have water at all," he said.
Responding to a Facebook post by Ty Thursday night, netizen Angel Salazar alleged that the MWSS had ordered the closure of the bypass to divert water supply to Maynilad. Ty denied he made such order.
In a statement, Manila Water chief operating officer Geodino Carpio also denied that the bypass is closed.
"The bypass has been open and operated for several months now," he said. "It is actually the primary transmission mechanism from Angat to Balara (treatment facility) whenever the La Mesa level is too low to accept the usual flow into intakes," he said.
Maynilad president Ramoncito Fernandez also said the bypass valve has always been open.
He added that Manila Water is being more careful in ensuring that the 60:40 sharing of the water with Maynilad is met.
"Last year we had an issue with Manila Water because they opened the bypass without coordinating with us, resulting in our getting less than 60 percent, causing our Bagbag level to fall and affecting our service," Fernandez said.
He said the 60:40 split is not maintained throughout the day as Maynilad produces more at night because it has the Bagbag reservoir to fill up and use during the day, while Manila Water produces more during the daytime.
"Manila Water controls the bypass that regulates this sharing," Fernandez said.
"Since we went to media about it last year, they have been more careful to ensure that the 60:40 split is met," he added.
Ronaldo Padua, head of water supply operations at Maynilad, said the bypass was created to enable Manila Water to get its supply directly from the portal where water from Angat Dam comes in.
He said on normal conditions, Manila Water's share of water from Angat Dam would first have to go through La Mesa Dam before going to its treatment facility.
But when water at the La Mesa Dam is low, he said the bypass may be opened so that water for Manila Water will not have to go through the dam.
Open all along
Padua said the bypass has never closed since it opened in March 2018.
Ty explained that the shortage experienced by Manila Water customers is due to high demand, saying the concessionaire only receives 1,600 mld from Angat Dam even as its requirement is at 1,750 mld.
He said Manila Water has been using its reserve at La Mesa Dam to supply the additional requirement.
Asked why Maynilad customers are not affected, Padua said their supply is still enough for their daily requirements.
Maynilad gets 2,400 mld from Angat Dam, higher than Manila Water's requirement, because it has more customers – 1.41 million connections as against Manila Water's one million.
Ty said supply from Angat Dam could not be increased from the current 4,000 mld as it is the maximum capacity of existing structures that carry water from the dam to treatment facilities of the water concessionaires.
"We hope for the understanding of the public and rest assured that we are doing everything we can to alleviate the problem to ensure that this will not happen again," he said.
The MWSS official assured the public they are studying several medium- and long-term solutions to the water crisis.
"We are working on this and we want to ensure that does not happen again. Once everything stabilizes, we want to ensure that the service quality to the consumers will resume," Ty said.
Short-term solutions being worked out are the re-energization of the Cardona plant in Rizal and tapping of several deep wells in consultation with the National Water Regulatory Board.
"When the rains come we are hoping it will fill the La Mesa Dam and normally the demand will drop when the rains come. We're waiting for that," Ty said.
Wawa Dam eyed
MWSS administrator Reynaldo Velasco, for his part, said they are eyeing Wawa Dam in Rizal province as an immediate alternative water source for the metropolis.
Velasco said he has already raised the matter to Manila Water and Wawa Dam development proponents Enrique Razon and Oscar Violago of Prime Infra.
"While indeed the present low water level at La Mesa precipitated also by El Niño is a grave concern and poses a big challenge to government to produce the water immediately needed, the Wawa Dam is set to produce an additional 520 mld and the implementation of Manila Water's 80 mld supply of water for consumers in the East Zone, untangling the legal impediments that can bar MWC from making ready its water supply by 2012," he said.
"There is an indication of an increased water supply to more than 500 mld if technical arrangements on design and capex deployment can favorably and cooperatively be agreed by MWC and Prime Infra," he added.
The MWSS chief added he may now have to convince stakeholders, particularly Manila Water and Prime Infra, to immediately finalize their cooperative agreement.
Socioeconomic Planning Secretary Ernesto Pernia, for his part, said they are now providing inputs and suggestions for a proposed executive order on the creation of a central authority on water management.
"It's a real shame we have a Department of Energy, which is important, but we utterly lack an apex body – a Department of Water – to ensure water supply and distribution, an indispensable vital need," he said.
The Senate committee on public services chaired by Sen. Grace Poe has invited government officials and representatives from private concessionaires in its inquiry on Tuesday into the water shortage in Metro Manila.
Speaker Gloria Macapagal-Arroyo is also conducting her own inquiry into the matter.
On Thursday, she asked MWSS officials to brief her and some colleagues on the situation.
She suggested that the two water concessionaires reduce water pressure to enable them to steadily supply their customers without interruption. – With Janvic Mateo, Christina Mendez, Edith Regalado, Helen Flores, Paolo Romero, Jess Diaz, Catherine Talavera, Czeriza Valencia, Rhodina Villanueva