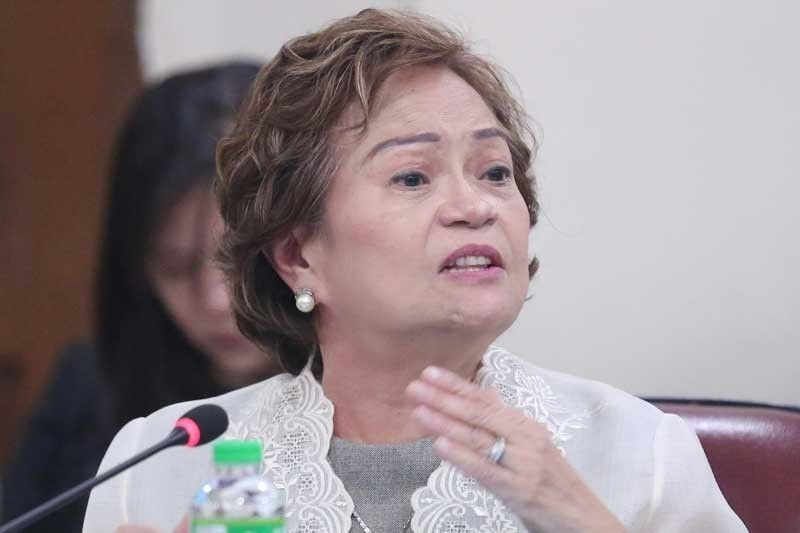 In this file photo, retired Chief Justice Maria Lourdes De Castro attends the impeachment proceeding against former Chief Justice Maria Lourdes Sereno at the House of Representatives' Committee on Justice.
The STAR/Michael Varcas
SC junks admin rap vs retired Chief Justice De Castro
MANILA, Philippines — The Supreme Court dismissed the administrative complaint against retired Chief Justice Teresita De Castro for lack of "prima facie" (at first appearance) evidence in the complaint.
In a release on Friday, the SC Public Information Office said that the tribunal junked the administrative complaint filed by Elvira Enalbes, Rebecca Angeles and Estelita Ocampo who accused De Castro of gross ignorance of the law, gross inefficiency, gross misconduct, gross dishonesty, and conduct prejudicial to the best interest of service.
They argued that De Castro failed to act on two petitions, even after more than five years, filed by spouses Eligio Mallari and Marcelina Mallari in 2012 and 2013, respectively.
RELATED: Pro-Duterte lawyer ordered suspended by Supreme Court
The complainants argument relied on Article VIII, Section 15 of the 1987 Constitution that holds that the high court must resolve all cases or matters within 24 months, said the SC.
"To hold a magistrate administratively liable for gross ignorance of the law, it is no enough that his action was erroneous; it must also be proven that it was driven by bad faith, dishonesty, or ill motive," the resolution, penned by Associate Justice Marvic Leonen, read.
Two-year period to resolve cases does not summarily bind SC
The tribunal also pointed out that the reckoning of the 24-month period begins when the last pleading, brief or memorandum has been sugnmitted.
It also stressed that the while the 24-month period is "persuasive, it does not summarily bind this Court to the disposition of cases brought before it."
"It is a mere directive to ensure this Court's prompt resolution of cases, and should not be interpreted as an inflexible rule," the tribunal also said.
The SC also stressed that it is the court of last resort and should be accorded ample time to deliberate on cases filed before it.
"Ineluctably, leeway must be given to magistrates for them to thoroughly review and reflect on the cases assigned to them. This Court note that all matters brought before it involves rights which are legally demandable and enforceable. It would be at the height of injustice if cases were hastily decided on at the risk of erroneously dispensing justice," it added.
The court also pointed out that De Castro has already retired from the court in October 2018, rending the admnistrative complaint moot.