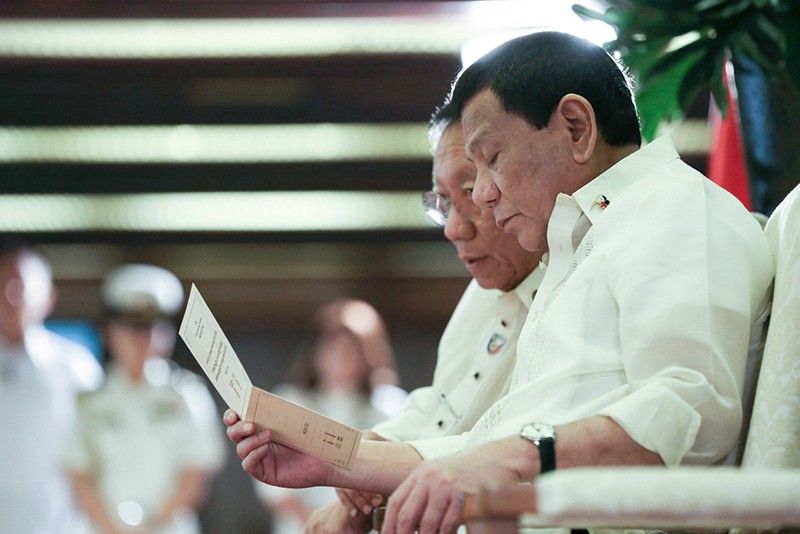 President Rodrigo Roa Duterte skims through a document on the sidelines of the awarding ceremony for the Outstanding Women in Law Enforcement and National Security of the Philippines at the Malacañan Palace on March 11, 2019. Joining the President on stage is Solicitor General and Republic Defenders Chairman Emeritus Jose Calida.
SIMEON CELI JR./PRESIDENTIAL PHOTO
Duterte vetoes bill expanding powers, capabilities of Office of Solicitor General
(Philstar.com) - March 15, 2019 - 3:27pm
MANILA, Philippines — President Rodrigo Duterte vetoed a bill that sought to "further strengthen" the Office of the Solicitor General, saying the provisions augmenting the agency's employee benefits "may prove to be too onerous to the government."
In his message to congressional leaders dated March 7 — a copy of which was released by Malacañang on Friday — Duterte wrote he was "apprehensive" to sign the bill which he said has provisions granting benefits beyond the current compensation framework for other government offices.
The president said the additional benefits for OSG workers, who also enjoy benefits received by other state offices, would "erode" the government's thrust to "standardize and rationalize" the present compensation framework in the bureaucracy.
Duterte also said the measure will "create too much disparity and inequality" among the employees in the Executive branch, adding that the bill will undermine the principle of "equal pay for work of equal value."
"While I support the strengthening of the Office of the Solicitor General and value the work of men and women in the OSG, as head of the Executive branch, I am duty-bound to consider the subject bill not just in terms of its possible favourable effects on the OSG and its personnel, but also its impact on the entire government bureaucracy," Duterte said.
Sen. Richard Gordon, sponsor of the measure, previously said the bill included reforms allowing the OSG to hire more lawyers in its ranks.
The bill also mandated "competitive" retirement perks and other benefits for OSG members to help recruit new lawyers and make them stay in the agency. — Ian Nicolas Cigaral