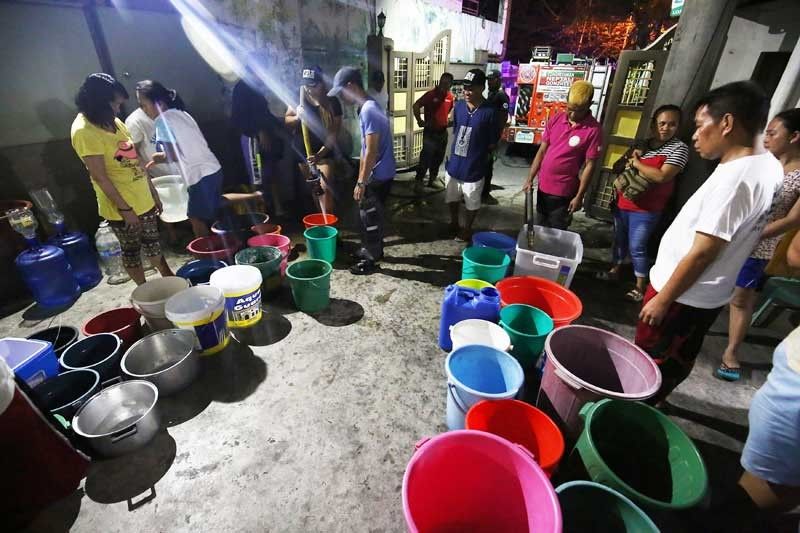 "We're always concerned with respect to any problem affecting the welfare of people," presidential spokesman Salvador Panelo said at a press briefing.
Miguel De Guzman
Water crisis worries Palace
MANILA, Philippines — Malacañang yesterday expressed concern about water interruptions in parts of Metro Manila and nearby areas, assuring the public that measures would be taken to address the problem.
"We're always concerned with respect to any problem affecting the welfare of people," presidential spokesman Salvador Panelo said at a press briefing.
"We will respond to that. But the problem is the water should come from the sky. What if it does not rain? We may have to wait," he added.
Panelo said conducting cloud seeding operations is a "possibility."
He said water concessionaires should improve how they relay information about water interruptions to give the public ample time to prepare.
East zone concessionaire Manila Water Co. Inc. said its customers would have to endure three more months of unstable supply as service interruptions would continue amid El Niño.
This as water at the La Mesa Dam reached critical level at 68.92 meters as of yesterday morning.
The Philippine Atmospheric, Geophysical and Astronomical Services Administration (PAGASA) has warned that El Niño would last until June.
"Even if distribution stabilizes, it does not mean that supply will be back to its normal level. There will still be hours where consumers will have no supply but we will be more accurate as to the specific time," Manila Water communications manager Dittie Galang told The STAR.
"Right now, we are studying our schemes and be more predictable as to when there will be no supply so that consumers will be able to prepare and store water," she added.
Supply from La Mesa Dam is Manila Water's reserves since it gets to maximize allocation from Angat Dam at 1.6 million liters per day.
"Our main allocation is from Angat. However, our demand has outpaced our available supply, that is why we needed to get from La Mesa," Galang said.
"We had supply problems because some of our reservoirs were depleted. We are now refilling them to ensure a more steady supply," she added.
While some areas in its concession have seen improved supply, most parts are still experiencing interruptions amid ongoing operational adjustments.
The areas include the cities of Makati, Marikina, Pasig, Taguig, Mandaluyong, Quezon City, San Juan and Antipolo as well as the towns of Pateros, Angono, Binangonan, Cainta, Jalajala, Rodriguez, San Mateo, Taytay and Teresa.
In the meantime, Manila Water has 27 tankers roaming around its concession areas to provide water to consumers.
"We advise them to be more responsible now in using water in their households since several areas will have low water pressure (while) certain areas are possibly experiencing no water at all," Galang said.
On the other hand, west zone concessionaire Maynilad Water Services Inc. said the areas of Las Piñas, Muntinlupa, Parañaque and Bacoor, Cavite would also experience water interruptions as it temporarily shut down Putatan Water Treatment Plant
The shutdown will pave the way for the upgrade of pumps in preparation for the activation of its newly constructed treatment facility.
Cloud seeding
Meanwhile, the Department of Agriculture has instructed its regional offices to conduct cloud seeding operations over Bulacan, Pampanga and Rizal to help contribute in the filling up of La Mesa Dam.
PAGASA has said hotter days may begin this quarter coupled with lesser rainfall and dry winds and will likely affect 47 provinces in the country.
By April, PAGASA said 42 provinces will experience dry spell while there will be drought in 22 others. The drought is expected to worsen by May as 33 provinces are seen affected.
PAGASA hydrologist Jayson Bayusa said even if Angat dam has yet to reach critical level, operators could not increase the amount of water being released to La Mesa to ensure that water would last until the end of the dry season.
Opposition senatorial candidate Samira Gutoc said water concessionaires and local government units "should have anticipated this and prepared a contingency plan."
Gutoc said fire trucks must be utilized to deliver water to communities without supply.
Damage to the agriculture sector has reached P464.27 million due to El Niño and affected 16, 034 farmers and fishermen, the DA said.
But the department stressed it has drafted its El Niño Mitigation and Adaptation Plan to lessen the impact of the dry spell.
Reelectionist Sen. Grace Poe urged the government to be more proactive in addressing the looming water crisis, which will surely affect the agriculture sector.
"We are an agricultural country and that says a lot regarding the importance of water supply. We have provinces that have year-round sufficient water supply, enabling their farmers to plant and harvest year-round as well. Some provinces lack such water supply, making huge tracts of agricultural lands idle during lean months," she noted.
She said the government needs to capitalize on the fact that lots of typhoons that bring heavy rains frequently visit the country. – With Alexis Romero, Rhodina Villanueva, Cecille Suerte Felipe, Helen Flores, Sheila Crisostomo