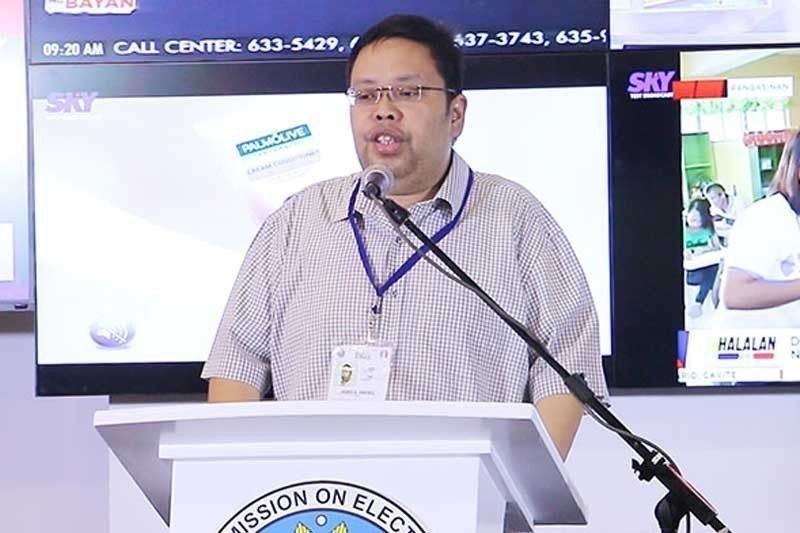 According to the Comelec, the winning candidates would be given six months to comply. Otherwise, they will not be proclaimed.
File
Comelec warns bets: No SOCE, no proclamation
MANILA, Philippines — Winning candidates in the May 13 midterm polls will not be proclaimed and cannot assume office if they fail to file their Statements of Contributions and Expenditures (SOCE) on time, the Commission on Elections (Comelec) disclosed yesterday.
Resolution No. 10505 promulgated on Feb. 28 states that "no elected candidate shall enter upon the duties of office until he has filed his SOCE."
The same prohibition applies if the political party of the winning bet also fails to comply.
According to the Comelec, the winning candidates would be given six months to comply.
Otherwise, they will not be proclaimed.
"The office of an elected candidate who failed to file SOCE shall be considered vacant pursuant to Sec. 11 of the Omnibus Election Code until he has complied and submitted his SOCE within six months from proclamation," the Comelec noted.
The poll body added that after this deadline lapses and the candidate fails to assume office, a permanent vacancy occurs for which the office shall be filled up in accordance with the Constitution or law.
As a policy, candidates who will run in the coming polls, regardless of whether they win or lose, are required to file their complete SOCE by June 12 or not later than 30 days after election day.
"Except for elected candidate and party-list groups, the deadline is final and non-extendible," the Comelec maintained.
The resolution also showed that for winning bets, late filing within six months shall be meted with administrative fines with the amount depending on the elective post concerned.
For national political parties, party-list organizations and senators, the fines shall be P10,000 instead of the previous amount of P30,000.
On the other hand, provincial political parties shall be slapped with a fine of P8,500 down from P22,500 while provincial governors and vice governors have to pay P8,000 down from P25,000.
Provincial board members, congressmen, local political parties, mayors and vice mayors will be fined P7,000 (from P20,000); while the fine for councilors is P6,000 (from P15,000).
Social media accounts
The Comelec also reminded candidates, political parties and party-list organizations to register their social media accounts, saying only a few have complied so far.
In a notice, the poll body noted all candidates and parties participating in the May 13 polls should immediately register their website name and addresses of official blog and/or social media pages with its Education and Information Division.
The agency added that as of March 6, only 13 of 62 senatorial candidates and only 25 of 134 party-list groups have complied.
The senatorial aspirants include Serge Osmeña III, Nancy Binay, Danilo Roleda, Pia Cayetano, Cynthia Villar, Ramon Revilla Jr., Jose Manuel Diokno, Paolo Benigno Aquino IV, Florin Hilbay, Manuel Roxas II, Aquilino Pimentel, Rodrigo Manicad Jr. and Willie Ong.
Based on Comelec Resolution No 10488 promulgated last Jan. 30, "any blog or social media page which, when taken as a whole, has for its primary purpose the endorsement of a candidate, whether or not directly maintained or administered by the candidate or their official campaign representatives, shall be considered additional official blogs or social media pages of the said candidates."
According to Comelec spokesman James Jimenez, the poll body does not regulate the contents of campaign propaganda.
However, the poll body wants to make sure that the expenses incurred in the production of these social media materials are included in the SOCE of candidates and parties.
Jimenez said earlier that they are also on the look out for bloggers or social media influencers who have become campaign outlets of candidates.
He added that if these bloggers are being paid by candidates, they also have to be declared in the SOCE.