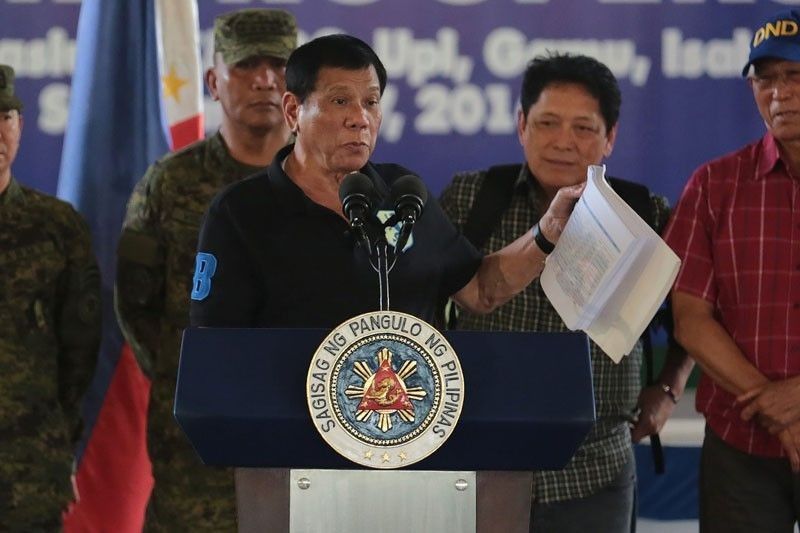 Rodrigo Duterte shows one list of alleged drug-linked barangay officials in this 2018 file photo
Michael Varcas/The STAR/File photo
Tañada, Alejano: 'Narco-list' an attempt to influence voters
MANILA, Philippines — The government's plan to release a list of candidates allegedly linked to illegal drugs is an attempt to influence voters, candidates from Otso Diretso, an opposition slate, said.
"It's a way for the government to influence the voters," former Rep. Erin Tañada (Quezon) said. "However, it is dangerous and may lead to gross neglect of due process because they are accused even without any evidence presented in court."
It was Local Government Secretary Eduardo Año and the Philippine Drug Enforcement Agency who first said they would make public the supposed "narco-list" of local candidates before the start of the campaign season for local candidates on March 29.
Alejano: Courts are proper forum
Rep. Gary Alejano (Magdalo party-list) said that "the rule of law must always prevail."
"If there is substantial evidence linking officials to illegal drugs then there is proper forum for them in the courts where they could be held criminally liable," he said.
Outside of public shaming, he said, that the there should be "legal accountability of officials that are proven to be part of the illegal drug [trade]."
This is not the first time the government will release a list of politicians allegedly involved in the drug trade.
President Rodrigo Duterte in 2016 made public a list that prompted denials from those included. Others were not able to react to their inclusion as they had been long dead or did not exist.
RELATED: Duterte says he deliberately read old list of 'narco officials'
Palace: List will help voters
Answering criticism that releasing names without due process violates presumption of innocence, presidential spokesperson Salvador Panelo said in a press conference on Monday that if individuals felt "libeled" that they could "always go to the courts."
But they were firm on supporting the DILG's plans of releasing the names.
"The idea of presenting a list by the DILG and PDEA is to tell the electorate the kind of candidates that they will choose from and I think it will help them," Panelo said.

READ: Palace firm on the release of narco list

While the presidential spokesperson believes there is legal recourse for names that may be placed on the list erroneously, other local officials who were on the list have ended up killed in police operations or by unknown gunmen.

In 2016, for example, former Albuera, Leyte, Mayor Rolando Espinosa was killed while in government custody for allegedly resisting a search of his cell at a Leyte jail. Datu Saudi Ampatuan, Maguindanao town mayor Samsudin Dimaukom, who was also on the list, was killed in a police shootout that same year.
For the Commission on Elections, inclusion on the narco list would not be grounds for disqualification. Comelec Commissioner Rowena Guanzon said that it would be better for the government to just file cases and that the list could equate negative campaigning.