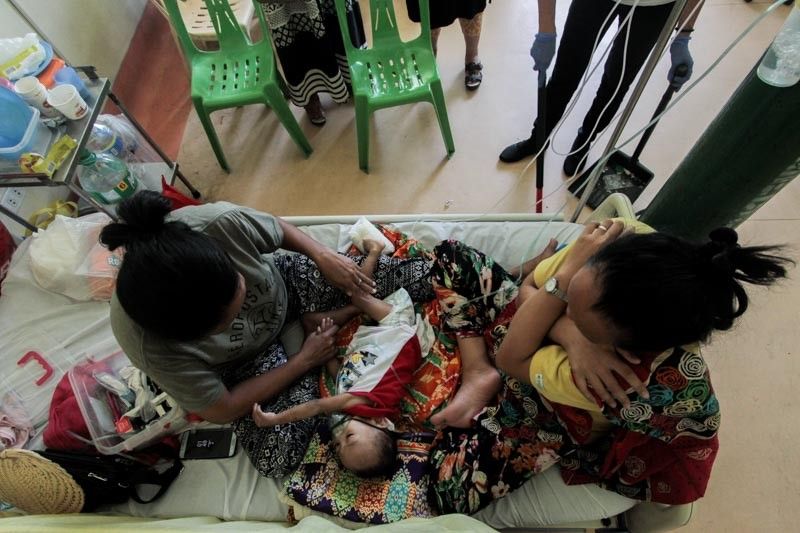 his photo shows a measles patient in San Lazaro Hospital.
Philstar.com/Efigenio Christopher Toledo
UNICEF: Philippines one of countries that saw biggest jumps in measles cases
MANILA, Philippines — The Philippines is one of the countries that saw the largest increases in cases of measles from 2017 to 2018, the United Nations Children's Fund said Friday.
In a press release, UNICEF warned that cases of measles are soaring to "alarmingly high level" worldwide. Ten countries were responsible for more than 74 percent of the total increase in 2018.
Ukraine, the Philippines and Brazil saw the largest year-on-year increases in cases.
"In Ukraine alone, there were 35,120 cases of measles in 2018. According to the government, another 24,042 people were infected just in the first two months of 2019. In the Philippines so far this year, there have been 12,736 measles cases and 203 deaths, compared to 15,599 cases in the whole of 2018," UNICEF said.
Early in February, the Department of Health declared an outbreak of measles in Metro Manila, Central Luzon, CALABARZON, Western Visayas and Central Visayas.
Other countries with highest increases in cases between 2017 and 2018 include Yemen, Venezuela, Serbia, Madagascar, Sudan, Thailand and France.
Ninety-eight countries reported more cases of measles in 2018 compared with 2017.
"This is a wake-up call. We have a safe, effective and inexpensive vaccine against a highly-contagious disease—a vaccine that has saved almost a million lives every year over the last two decades," Herietta Fore, UNICEF executive director, said.
She added: "These cases haven't happened overnight. Just as the serious outbreaks we are seeing today took hold in 2018, lack of action today will have disastrous consequences for children tomorrow."
The World Health Organization, however, had different figure. It said last year that cases worldwide had risen nearly 50 percent in 2018, killing 136,000 people.
Threats
The UN body warned that conflict, complacency and the growing anti-vaccine movement threatened to erode decades of work to tame the highly preventable but potentially deadly disease.
"Almost all of these cases are preventable and yet children are getting infected even in places where there is simply no excuse," Fore said.
She added: "Measles may be the disease, but, all too often, the real infection is misinformation, mistrust and complacency. We must do more to accurately inform every parent, to help us safely vaccinate every child."
Measles can be transmitted by respiratory droplets and direct contact. Its complications include diarrhea, middle ear infection, pneumonia, encephalitis, malnutrition, blindness and may lead to death.
The surge in cases of measles worldwide is happening against a backdrop of rising global concern about vaccine hesitancy.
Philippine authorities said vaccination rates in the country have been declining for year but also pointed to the Dengvaxia controversy.
The mistrust stoked by the scare is blamed to have tainted the government's immunization programs, not only discrediting the anti-dengue vaccine but also casting doubt on other vaccines that could protect individuals from other life-threatening diseases.