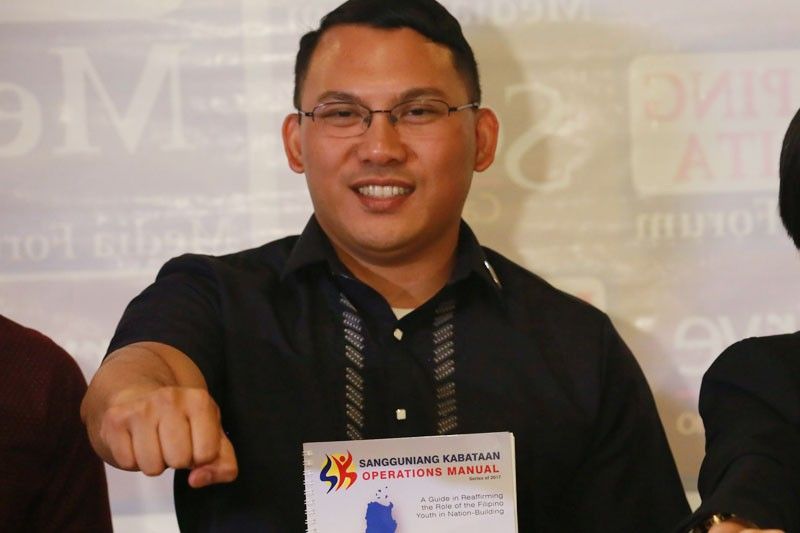 National Youth Commission (NYC) chairman Ronald Cardema said yesterday he will not resign amid calls from some groups for him to step down over his proposal to remove the state scholarships of "anti-government" students.
Michael Varcas
National Youth Commission chair Ronald Cardema: 'I won't quit or apologize'
MANILA, Philippines — He's not resigning, and he's not apologizing to government scholars.
National Youth Commission (NYC) chairman Ronald Cardema said yesterday he will not resign amid calls from some groups for him to step down over his proposal to remove the state scholarships of "anti-government" students.
Speaking to The Chiefs yesterday on Cignal TV's One News, Cardema said his proposal merely covered scholars who are found by security forces to have taken up arms in rebellion against the government.
A former member of the left-leaning League of Filipino Students (LFS) when he was a Biology student at the University of the Philippines in Diliman, the 32-year-old Cardema said he acknowledged dissent as a healthy element in a democracy.
Aside from his controversial proposal, two groups said Cardema should leave his post due to conflict of interest, being the NYC head and at the same time chair of party-list group Duterte Youth, whose first nominee happens to be his wife, seeking a congressional seat in the May elections.
"Definitely I will not resign," Cardema told The Chiefs as he claimed the resignation calls were based on "wrong information."
Earlier yesterday, Cardema told The STAR he was only calling for the removal of government scholarships of "very very few" anti-government students who have already joined or are supporting the New People's Army.
"We did not say all, and I always specifically mention that it's OK to rally and to voice out their dissent even with the President or on our government," he added.
Cardema's clarification was diffreent from his earlier statement, which called for the removal of scholarships of "all anti-government" scholars.
"The Filipino people formed the government to govern, to regulate, to discipline, to collect taxes and to allocate the Filipino people's funds into government scholarships and programs. Fighting the government means fighting the majority of the Filipino people and also not fulfilling their roles as the expected breadwinners who will uplift their families and as our hope in strengthening our country," he said in a statement on Tuesday.
"As chairman of the National Youth Commission, I am requesting our head of government, Philippine President Rodrigo Duterte, to issue an executive order removing the government scholarships of all anti-government scholars, specifically those students who are allied with the leftist CPP-NPA-NDF, a terrorist group that is trying to overthrow the Philippine government and killing our government troops," his earlier statement read.
LFS spokesperson Kara Taggaoa, speaking to The Chiefs, demanded an apology from Cardema, saying the group in particular did not espouse armed rebellion.
In reaction, Cardema said, "I think the LFS or she should apologize for lying, because there are members of the League of Filipino Students who fought in the mountains, who killed policemen and soldiers already, and nobody's raising that point."
Cardema's proposal drew criticisms from both allies and critics of the government, with Malacañang saying that dissent is a valid exercise of people's right to freedom of speech, expression and assembly.
Delicadeza
As this developed, the militant Bagong Alyansang Makabayan (Bayan) and election watchdog Kontra Daya said Cardema has a lot of explaining to do as regards his involvement in the party-list group Duterte Youth.
Bayan secretary-general Renato Reyes said "a cursory examination of the Duterte Youth Facebook page shows Cardema" as principal campaigner of his wife, Ducielle Marie Suarez, the first nominee of party-list group with full name Duty to Energize the Republic through the Enlightenment of the Youth Sectoral Party-list Organization.
Both Bayan and Kontra Daya said the Commission on Elections should investigate Cardema to ensure that no government resources are being used for Duterte Youth's campaign.
The two groups said Cardema should resign or take a leave of absence out of delicadeza because it is improper for him to take two conflicting roles.
They stressed that Cardema could not use NYC as a platform for his party-list group and that President Duterte himself asked his Cabinet members not to campaign for candidates.
"And if his group wins, wouldn't he directly benefit as he is related to the first nominee?" Bayan noted.
Kontra Daya, for its part, said aside from projecting some delicadeza, taking a leave of absence or resigning is one way to assuage suspicion of abuse of power and authority.
"Cardema should be reminded that the use of government funds and resources is a clear violation of the Omnibus Election Code," Kontra Daya said in a statement.
"He cannot hold on to his government position and ignore the glaring controversy. He needs to answer directly questions such as: How can the Duterte Youth represent the marginalized and underrepresented when its main movers are already part of government? On a related note, is Duterte Youth really representing the interest of the youth?" Kontra Daya said.
Kontra Daya said Comelec should address the issue of how Duterte Youth got accredited given all these questions, especially the fact that Cardema himself was already part of government when the group filed for its accreditation.
"Were there no red flags raised as to the possible use of public funds for the party-list group? Was Comelec even aware that Cardema is married to the first nominee of Duterte Youth?" Kontra Daya convenor Danilo Arao said.
Arao said the House of Representatives "may also be interested to know that there are pictures on social media of the Duterte Youth using the (House) logo in a tarpaulin."
Endangering the youth
Taggaoa of the LFS said Cardema endangers youth activists when he tagged the group as recruiters for the NPA.
"You must have forgotten the lessons from your history classes. For having the guts to say that the youth of today who remain critical against the government are 'rebels' and undeserving of the right to education, you have failed this country's unsung heroes and martyrs," Taggaoa said in an open letter.
"Our painstaking efforts to arouse, organize and mobilize among our ranks are borne out of our thirst for real national liberation. The recent victories that we have garnered, especially in the pursuit of free education, wouldn't be possible without our organized rage that took us to the streets, the halls of the congress, the Senate and other avenues," she added.
The National Union of Students of the Philippines echoed the call for Cardema's resignation, saying he does not serve as the students' voice on issues.
"Our right to education and freedom of expression are inherent in the Constitution. Cardema's pronouncement to deny students the chance to study on the basis of expressing 'anti-government' sentiments is a shallow enough reason to suggest," it said.
"The funds for the scholars of the country came from the Filipino people – they are scholars of the country and not of the government, not the fascist leader that Cardema is being a mouthpiece of. Thus, it is rightful that the youth and students speak and stand up for the rights and democratic interests of the people, not sit in silence and suffer," the group added.
Catholic Bishops' Conference of the Philippines Episcopal Commission on Youth executive secretary Fr. Conegundo Garganta also said students should have access to education regardless of religion, political ideology or affiliation.
But Interior and Local Government Secretary Eduardo Año said he wants Cardema to stay because "he is just human" who makes mistakes. – With Evelyn Macairan, Emmanuel Tupas