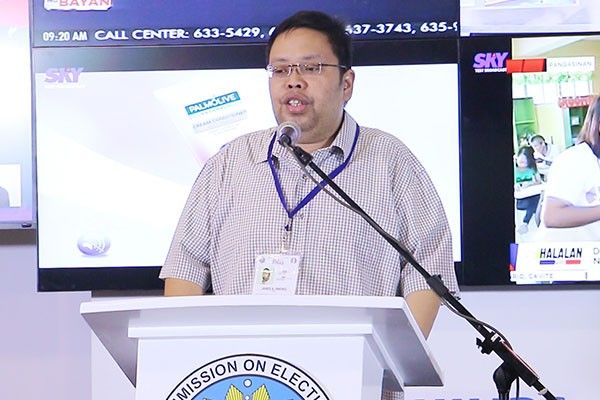 Comelec spokesman James Jimenez yesterday admitted that it would be difficult for the Comelec to organize a one-day debate for all the senatorial candidates, saying: "Fitting all of them into one debate would be unwieldy and would run longer than a Lav Diaz opus."
File
Debates for 62 Senate contenders unlikely — Comelec
MANILA, Philippines — It is unlikely the Commission on Elections (Comelec) will initiate debates for all 62 contenders for Senate posts in the May elections.
Comelec spokesman James Jimenez yesterday admitted that it would be difficult for the Comelec to organize a one-day debate for all the senatorial candidates, saying: "Fitting all of them into one debate would be unwieldy and would run longer than a Lav Diaz opus."
"If you serialize the debates, on the other hand, the question arises: How many episodes do you do? Five debates with two having 13 participants instead of 12? Ten debates? Three debates with one of those debates having 20 instead of 21 participants? You get the picture," he added.
Jimenez made the statement in reaction to former Comelec commissioner Gregorio Larrazabal's call for the commission to organize debates for senatorial candidates ahead of the May 13 midterm polls.
He said the senatorial debate will provide good opportunity for voters to listen to the candidates and make such activity a regular event every election.
"It will regularize national debates, where the voters already know and expect to see the candidates to discuss substantive issues. If done right, voters will now demand it for future elections," he explained.
Although Jimenez agrees with Larrazabal's recommendation to hold debates for all 62 senatorial candidates, he said it would be a challenge greater than organizing the presidential debates in 2016.
Meanwhile, the Comelec is eyeing the possibility of requiring candidates to pay for dismantling illegal campaign posters as Commissioner Rowena Guanzon suggested the hiring of a company that will remove all illegal campaign posters and charge the cost to the candidates.
"By law, we (Comelec) charge the expenses (of dismantling) to them (candidates) and once we go to that extent the people expect us to file complaint for election offense," Guanzon disclosed.
According to her, the Comelec cannot just keep on shouldering the cost of dismantling the illegal posters and let the candidates go without being penalized.
She revealed that candidates were already asked to remove the illegal campaign posters, stressing the need for aspirants to comply with campaign regulations.
Guanzon said there is a need for candidates to learn a lesson and to remove their posters even without the Comelec asking them.
Jimenez said the Comelec is coordinating with the Metropolitan Manila Development Authority (MMDA) in setting a team – composed of Comelec personnel from the National Capital Region, the MMDA and the Philippine National Police (PNP) – to remove all illegal campaign posters.
After the campaign materials are taken down, these will be preserved as evidence for the filing of election offense, he added.
Jimenez discouraged the public from removing the illegal posters themselves as this may pose danger to their lives. A better option, he added, would be for them to testify in court.
As for the gun ban campaign, the PNP said at least 20 policemen were among the 1,731 persons arrested for violating the ban. – With Emmanuel Tupas