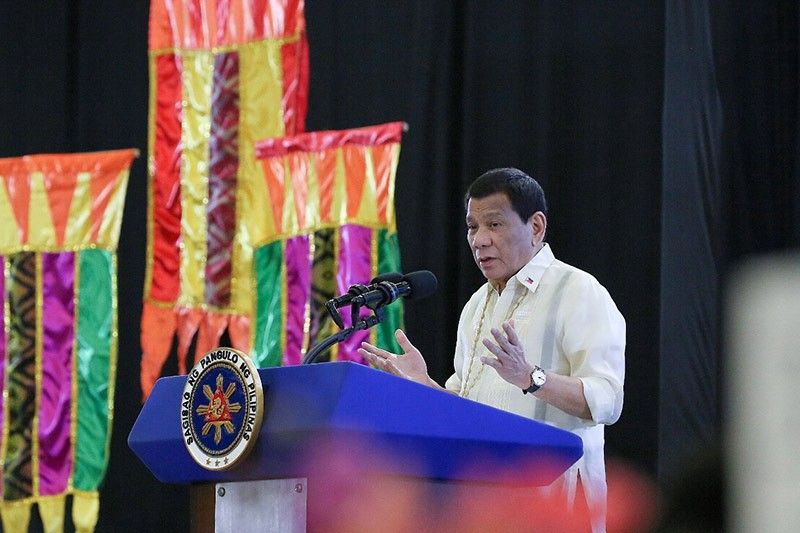 President Rodrigo Duterte delivers his speech during the 9th anniversary of the Mindanao Development Authority and the 25th anniversary of the Brunei Darussalam-Indonesia-Malaysia-Philippines East ASEAN Growth Area at the SMX Convention Center in Davao City on Feb. 19, 2019.
Albert Alcain/Presidential Photo
Duterte may skip EDSA People Power anniversary events for 3rd time
MANILA, Philippines — President Rodrigo Duterte would likely skip the commemoration of the 33rd anniversary of the 1986 EDSA Revolution next week because he has a lot of work to do, Malacañang said Wednesday.
Panelo noted that Duterte has not attended the anniversary of the historic event since he became president.
"Did he attend the event last time? He did not. He has not done so for two years. So most likely, he will not attend," Panelo said in a press briefing in Malacañang.
"Maraming trabaho si presidente (The president has a lot of work to do)," he added.
While he may not attend its anniversary, Panelo claimed the 1986 popular revolt is "important" to Duterte.
"I remember he issued a statement right? He always issues a statement in support. So it's important," the presidential spokesman said.
"It's just a celebration. Many will be there to represent him," he added.
Panelo said Duterte's skipping of EDSA anniversary rites had nothing to do with his alliance with the family of the late dictator Ferdinand Marcos, who was ousted during the 1986 popular revolt.
Duterte's father Vicente was a Cabinet member of Marcos but his mother Soledad was a supporter of the opposition led by the late President Corazon Aquino.
Ilocos Norte Gov. Imee Marcos, daughter of the late president, was one of the few local executives who backed Duterte's presidential bid in 2016. Duterte reciprocated Imee's support by endorsing her senatorial bid for the 2019 polls.
Human rights activists claim corruption and human rights abuses were rampant during the time of Marcos but the former leader's loyalists deny this and even described his presidency as the Philippines' "golden age."
Academics have dismissed the loyalists' claim as "deceptive nostalgia for a past that never really existed."
In 2016, Duterte was widely criticized by human rights groups for allowing the burial of Marcos at the Libingan ng mga Bayani but the president maintained that the late strongman deserves to be interred in the heroes' cemetery as a former commander-in-chief and lawmaker.