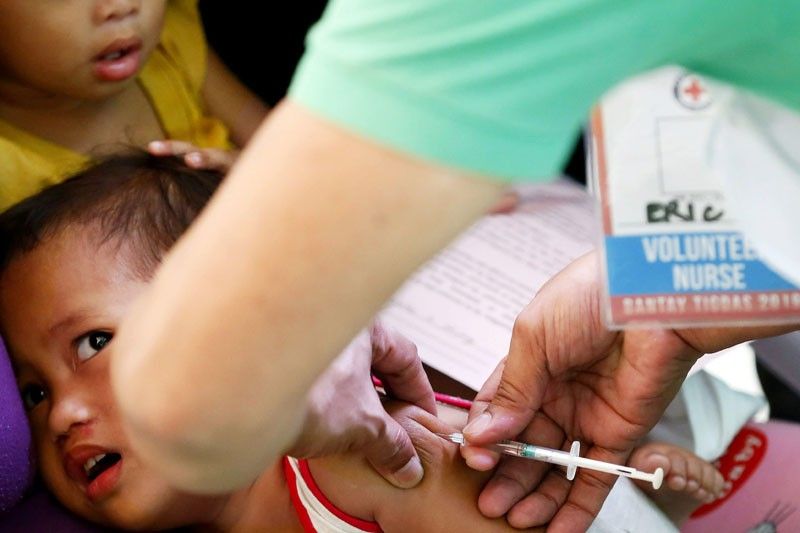 Philippine Red Cross and Department of Health volunteers conduct house-to-house measles vaccination on Feb. 16.
AP
Concern raised on measles outbreak impact on OFWs, tourism
MANILA, Philippines — With the number of measles cases still on the rise, the Department of Health (DOH) yesterday expressed concern over its possible impact on tourism and the deployment of workers overseas.
Health Undersecretary Eric Domingo said over 800 more measles cases were recorded in a span of two days.
"It's still increasing. We now have 9,267 measles cases from our report on Feb. 16," Domingo said.
He said the death toll from measles has climbed to 146 from 136.
Domingo said 824 new cases were reported, bringing to 9,267 the total number of measles cases from Jan. 1 to Feb. 18 this year.
DOH data showed that 8,443 measles cases, with 136 deaths, were recorded from Jan. 1 to Feb. 16.
There were only 2,534 measles cases during the same period last year.
The regions where measles outbreaks were declared posted the highest number of cases. These are Calabarzon (Cavite, Laguna, Batangas, Rizal, Quezon) with 2,310 cases; National Capital Region, 1,937 cases and Central Luzon with 1,387.
Domingo said they are concerned over the possible effects of the measles outbreak on tourism and the deployment of overseas Filipino workers (OFWs).
"If we fail to control the outbreak, you can't stop other countries from giving travel advisories for their nationals not to go to the Philippines because of the measles epidemic," he said.
He added OFWs may be "restricted from traveling to other countries or may be asked for additional requirements" such as vaccination.
Domingo said Hong Kong, which is measles free, has inquired about the situation in the Philippines, apparently because of heavy traffic between the two places.
"Hong Kong has been declared measles-free. They expressed their concern about the measles outbreak here. We have many Filipinos traveling to Hong Kong," he said.
Domingo assured the public that the measles outbreak would be controlled soon as the DOH intensified its immunization program among children aged six to 59 months.
"Measles vaccines are now almost exclusively limited to children. We are intensifying vaccination in all regions because we don't want measles to spread further," he said.
The DOH targets to vaccinate 12 to 14 million children, including 2.4 million infants aged six to 59 months; seven to eight million grade schoolers and pre-schoolers and 2.6 million adults.
Domingo said if they meet the vaccination coverage rate of 95 percent, "herd immunity" would be achieved, which means even unvaccinated individuals are protected.
Aside from the scaled up immunization program, the DOH also asked the Bureau of Quarantine to establish health desks at the airports to provide medical services to departing travelers.
"The people should be responsible to have themselves voluntarily checked before leaving the country. Because if other countries have this bad experience from us, there could be repercussions," Domingo said.
Caceres Archbishop Rolando Tria Tirona urged non-government organizations and church groups to work together with the DOH in eradicating measles, particularly in Bicol.
Tirona also appealed to parents to bring their children to government health centers for free measles vaccines.
"We are saddened by the reported deaths of children, mostly from poor families and communities," the archbishop said.
Ernie Vera, DOH Bicol officer-in-charge, said they recorded 53 measles cases from Jan. 1 to Feb. 2.
Sorsogon recorded the highest number with 21 cases, followed by Masbate with 12; Camarines Sur, 12; Albay, 5, and Camarines Norte with 3. There was no reported case of measles in Catanduanes.
Related video: