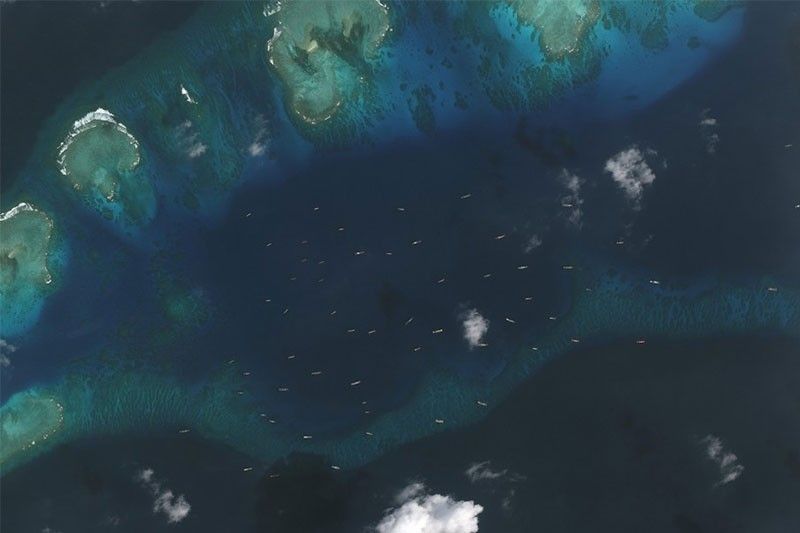 Satellite imagery from Dec. 20, 2018 shows Chinese vessels near Pag-Asa Island in the West Philippine Sea.
CSIS/AMTI via DigitalGlobe
Chinese newspaper misquotes AFP chief on presence of militia in Spratlys
MANILA, Philippines — In an attempt to downplay the presence of maritime militia in the South China Sea, a Chinese newspaper has wrongfully quoted Armed Forces of the Philippines chief Gen. Benjamin Madrigal Jr.
In an article published February 17, Chinese newspaper Global Times accused Washington-based think tank Asia Maritime Transparency Initiative (AMTI) of "misreading" satellite images of Pag-asa Island, one the largest features in the Spratly Islands.
Global Times claimed that Madrigal "has played down AMTI's report that Chinese vessels have been gathering near [Pag-asa Island], saying that no reports of increased number of Chinese vessels had been received."
What the AFP chief actually said was that there were no reports of Chinese ships interfering with the Philippine government's upgrade of the facilities on Pag-asa Island.
"We have not received any report that there are hampered activities there. But of course, we are continuously monitoring," Madrigal told reporters in a mix of Filipino and English last week.
Earlier this month, AMTI released a report showing that People's Liberation Army Navy, Chinese Coast Guard ships and fishing vessels have increased near Subi Reef, which is 12 nautical miles from Pag-asa Island.
The Philippine government is currently constructing a beaching ramp on the island, as well as repairing the island's dilapidated runway.
According to AMTI, fishing vessels deployed in the area appear to be part of Chinese maritime militia as they have no gear indicating fishing activity.
Satellite imagery dated January 11 showed that Chinese navy and coast guard ships were spotted near Pag-asa Island while there was no Philippine Navy vessel in sight.
"The drop in the number of government vessels, mirroring the reduction of the militia presence, suggests Chinese forces have settled into a pattern of monitoring and intimidation after their initial large deployment failed to convince Manila to halt construction," AMTI said.
Global Times, on the other hand, insisted that the Chinese vessels were not directly engaged on activities on Pag-asa Island as the island was not seen on satellite images released by the think tank.
The Chinese newspaper pointed out that the photos only show the lagoon around the island.
In downplaying the presence of maritime militia in Philippine waters, Global Times also accused Manila of illegally occupying Pag-asa Island, which is under the jurisdiction of the municipality of Kalayaan in Palawan.
"According to some common sense, vessels and airplanes sending supplies to Zhongye Dao (illegally occupied by the Philippines) depart from Palawan Island, which is located southeast of Zhongye Dao. Therefore, the Philippines' supply ships and planes commute in the east and south areas of Zhongye Dao," the report read. China refers to Pag-asa as "Zhongye Dao."
The Chinese newspaper also claimed that the AMTI report was only attempting to "make a fuss" by confusing Pag-asa Island with the lagoon around the island and reefs near it.
It also insisted that activities of Chinese ships in the area were within normal range and that fishing boats from the Philippines, Vietnam and Malaysia also operate in the area.
"Waters near Zhongye Qunjiao (Pag-asa Island and reefs) have long been Chinese fishermen's traditional tropical fishing grounds in the South China Sea," it said.
Following reports of presence of Chinese militia near the Spratlys, Defense Secretary Delfin Lorenzana earlier called on other claimants to respect Philippine sovereignty as the country repairs its facilities on Pag-asa Island.
"We expect other countries to respect Philippine sovereignty and to conduct themselves in a civilized manner befitting members of the global community," Lorenzana said in a statement.
Stressing that Pag-asa Island has been part of the Philippines since 1978, Lorenzana said improving the safety, welfare, livelihood and personal security of Filipinos on the island is part of the government's constitutional mandate.
"These planned modest improvements are basic but nonetheless highly essential in delivering social services to raise the standard of living and improve the quality of life of Filipino citizens on the island," the Defense chief said.