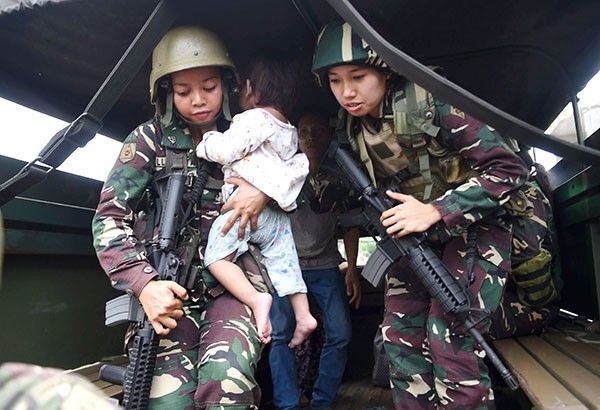 A soldier holds a child rescued from the battle zone in Marawi City.
AFP
Children in conflict-affected Mindanao areas continue to suffer deaths, injury — group
(Philstar.com) - February 16, 2019 - 2:46pm
MANILA, Philippines — Save the Children on Saturday raised concern on the situation of children in war-torn provinces in Mindanao, saying young people in these troubled areas continue to suffer deaths, injury, abduction and sexual violence.
Citing the results of its "Stop the War on Children" report released over the weekend, Save the Children said many countries account for the high number of young people living in conflict-affected areas, adding that in absolute terms, the highest figures came from nations like the Philippines.
The group also said military use of schools continues in several countries, including the Philippines.
"In 2017, at least 30 children were recruited and were used as human shield by armed groups such as Bangsamoro Islamic Freedom Fighters, New People's Army and the Maute Group," Save the Children said in a statement.
"An undetermined number of children were killed and injured during the Marawi siege while three cases of the rape of girls aged as young as 14 by the Maute Group was verified by the United Nations," they added.
"Large-scale recruitment of children was reported at the height of Marawi siege while the Armed Forces of the Philippines detained four boys for alleged association with Abu Sayyaf Group," they continued.
Lawyer Albert Muyot, CEO of Save the Children Philippines, said war and armed conflict either disrupt or end childhood as children can die in gun battles, be displaced from home, miss out on schools or suffer hunger and sickness.
He also called on rebels and government forces to ensure children in conflict areas are safe from abduction, detention and displacement and their rights are respected.
"Schools and health centres must be treated as zones of peace and protection and every child is protected from rape and sexual violence," Muyot said.
"The impact of conflict on children is deep, devastating and lifelong," he added.
Deaths of children below 5 years old due to war reached 870,000 from 2013 to 2017, five times more than the 175,000 adult fighters who died during the same period, Save the Children said.
The group also said 420 million children or one in five around the world now live in conflict areas, an increase of 30 million from 2016. — Ian Nicolas Cigaral