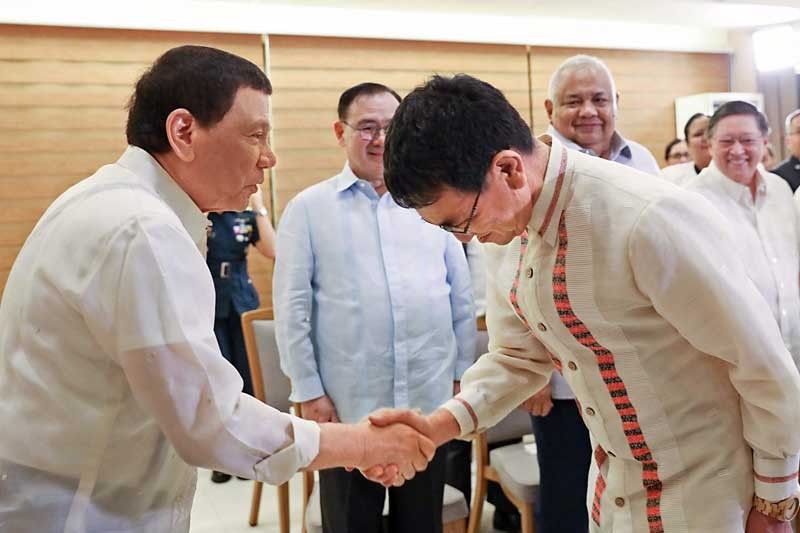 President Duterte welcomes Japanese Foreign Minister Taro Kono to the Matina Enclaves in Davao City on Saturday. Looking on are Foreign Affairs Secretary Teodoro Locsin Jr., Executive Secretary Salvador Medialdea and Finance Secretary Carlos Dominguez.
Japan vows continued support for Mindanao
DAVAO CITY, Philippines — Japan's foreign minister met with President Duterte in this city on Saturday and relayed his country's readiness to continue supporting development efforts in conflict-stricken Mindanao.
Foreign Minister Taro Kono paid a courtesy call on Duterte at the Matina Enclaves here as part of a three-day official visit to the Philippines.
During the meeting, Duterte said he was honored by Kono's visit.
"Foreign Minister Kono, for his part, said Japan welcomes the ratification of the Bangsamoro Organic Law (BOL). He also mentioned that Japan would like to continue to support the development of Mindanao," the Malacañang statement said.
The BOL will create a new autonomous region with greater control of natural resources in parts of Mindanao and with a bigger share in national government resources.
Cotabato City; Autonomous Region in Muslim Mindanao (ARMM) provinces of Maguindanao, Lanao del Sur, Tawi-Tawi and Basilan, except Isabela City; and 61 villages in seven towns of North Cotabato voted for inclusion in the soon-to-be-formed Bangsamoro region during plebiscites held on Jan. 21 and Feb. 6.
Isabela City in Basilan and the entire province of Lanao del Norte rejected the BOL during the plebiscites. Sulu also opposed the BOL but the province would still be included in BOL because ARMM provinces are taken as one geographical unit.
Kono also expressed Japan's sympathy to the victims of the twin blasts that rocked Jolo that left more than 20 people dead last month.
Also in the agenda of the Japanese foreign minister's visit was the inauguration of the Japanese Consulate General in Davao. Kono said Japan is "pleased" to open a new consulate general in the city.
Kono was accompanied by Japanese Ambassador Koji Haneda and Davao Consul General Yoshiaki Miwa. Also present during the courtesy call were Executive Secretary Salvador Medialdea, Foreign Affairs Secretary Teodoro Locsin Jr., Finance Secretary Carlos Dominguez III and Philippine Ambassador to Japan Jose Laurel.
The Department of Foreign Affairs has described the visit as "a testament to the strengthened strategic partnership between the Philippines and Japan" and an affirmation of the two countries' longstanding bilateral friendship.
Meanwhile, Kono also had a bilateral discussion with Locsin yesterday morning at the Marco Polo Hotel.
Kono and Locsin tackled areas of mutual interest, including political, economic and people-to-people engagement between Japan and the Philippines.
Kono also met separately with Dominguez and Defense Secretary Delfin Lorenzana at the Waterfront Insular Hotel.
Kono and Dominguez discussed how to further strengthen relations between the two countries, especially since Japan vowed to fund several important infrastructure projects in the country.
P10.62 billion road development project
The Philippines and Japan yesterday signed the exchange of notes for the P10.62-billion road development project in conflict-stricken areas in Mindanao.
The exchange of notes between Locsin and Kono took place at the Marco Polo Hotel in Davao City.
Through the Japan-assisted project titled "Road Network Development Project in Conflict-Affected Areas in Mindanao (RNDP)," access roads linking the region's main cities will be constructed or refurbished, specifically in the areas of Lanao del Sur, Maguindanao and Sultan Kudarat. It will cover the Matanog-Barira-Alamada-Libungan Road, Parang-Balabagan Road, Tapian-Lobok Coastal Road, Marawi City Ring Road, Parang East Diversion Road and Manungan-Parang Road.
The signing means that the details of the project and financing arrangement have been ironed out. It comes before the actual signing of agreements.
"Japan is at the forefront of the road to the realization of Mindanao's great promise. The RNDP, on which we exchanged notes, is an important step toward that goal by allowing communities long ravaged by conflict to heal, to live, and work in safety, and enjoy the dividends of peace," Locsin said in his speech. – With Alexis Romero, Helen Flores