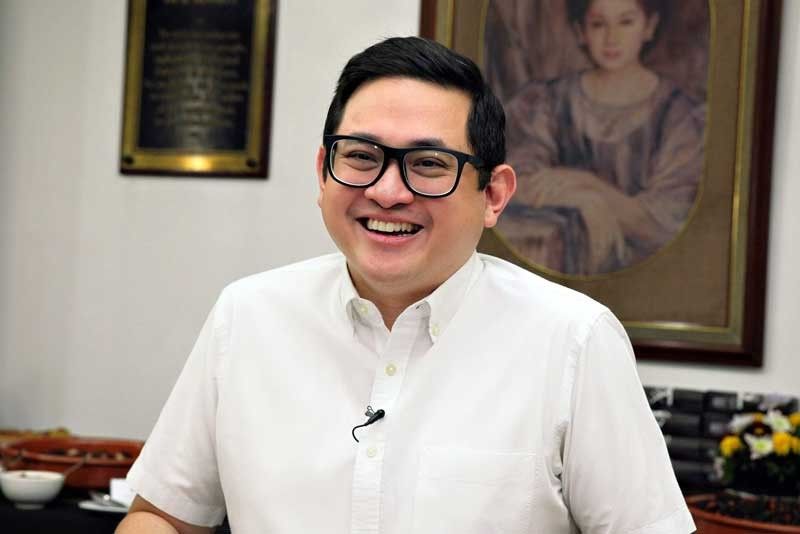 Sen. Paolo Benigno 'Bam' Aquino IV meets with editors and reporters of The Philippine STAR the other night.
Joey Viduya
Bam Aquino vows to push for more education reforms
MANILA, Philippines — After successfully pushing for free college education, reelectionist Sen. Paolo Benigno "Bam" Aquino IV is eyeing more reforms in the educational system that will ensure jobs for college degree holders.
Aquino said at least five measures are needed to effect these reforms.
The first, he said, should address the "still very big industry-academic mismatch" that prevents college graduates from getting decent jobs.
Now 41 and a father of two girls aged four and one, Aquino was armed with facts and figures in discussing his "track record" and future plans like a professor, talking rapidly as he avoided getting interrupted by other questions while still
answering one thrown at him during a conversation with STAR reporters and editors on Thursday night.
His media officer said his officemate was asked to come specifically to aid the senator when citing numbers and other data related to issues he wanted to discuss.
"There are a lot of opportunities but unfortunately our academic institutions are really not maximized," Aquino said.
Aquino, who is running under the opposition coalition's Otso Diretso slate in the coming May elections, is the principal sponsor of Republic Act 10931, also known as the Free College Act that promotes universal access to quality tertiary education by providing free tuition and other school fees in state universities and colleges, local colleges and universities and state-run technical vocational institutions.
"The Free College Act was 30 years in the making… if we are able to pass such a difficult measure, it means we can also do the same with other difficult laws. We've been fighting for this since I was a student leader. With political will and support from teachers, youth groups, students and school institutions, we came together to push for this," Aquino said.
"So the major reforms in the educational system can be done in the first year of the 18th Congress. Then reform on the structure of both public and private institutions. We also need to provide more support for teachers, ensure update in the curriculum that would make them more competitive with graduates of our neighboring countries," he added.
RA 10931 is one of 35 laws Aquino pushed since he was elected for the first time as a senator during the midterm elections in 2013 when he was only 35 years old.
Aquino's two other measures – the Innovative Startup Act or tax breaks for small business entrepreneurs and the Magna Carta for scientists – are awaiting President Duterte's signatures to become law.
Another important law that Aquino worked on was RA 10644 or the Go Negosyo Act, which promoted job generation and inclusive growth through development of micro, small and medium enterprises.
At present, he noted that there are over 1,000 Go Negosyo centers all over the Philippines, which have been facilitating assistance to small entrepreneurs.
No credit grabber
Aquino said records of the Senate would belie criticisms, especially on social media, that he is a credit grabber.
He expressed belief this tag is easy to dispel but being targeted by attacks online makes his reelection bid more challenging.
Aquino admitted the struggles are real because the situation has become quite different.
He said the administration of his cousin – then president Benigno Aquino III – was still popular when he ran in 2013 and being young contributed to his victory at the time.
But this year's senatorial race is a different ballgame because "the issue is now my track record."
"Sariling sikap na yan. I am hoping people will look at the track record," Aquino said, amid all the attacks against him, obviously by trolls.
For the free college education law, Aquino said he and his colleagues in the Senate made sure to establish a hotline and a Facebook page where students can give feedback, a mechanism to address loopholes in the proper implementation of the measure.
"It turned out three schools were still collecting miscellaneous fees from students even if it's prohibited by the law. We reported that to CHED (Commission on Higher Education) and they corrected it," Aquino said.
"Trolls are accusing me of credit grabbing, terrorist and many others," Aquino said, adding his online bashers used to be mild as they would only edit his Wikipedia page and call him "ninja turtle."
Aquino said his team never gets tired of correcting misinformation against him but the "machinery" being used to target him is vicious and strong.
But the worst, he said, was when he was in Marawi a few days before the IS-inspired Maute group occupied the city and "then justice secretary Vitallano Aguirre tagged me as a terrorist."
"Nasa Marawi ako noon for the opening of a Go Negosyo event," he said.
"The political situation now is really different from the political scenario in 2013 and you have to accept it and be able to address it," Aquino said.
No to TRAIN Law
Aside from championing measures for educational reforms, Aquino said he also strongly opposed the passage of Republic Act 10963 or the Tax Reform for Acceleration and Inclusion (TRAIN) act, which some sectors are blaming for the increase in prices of basic commodities.
He said it is not true that TRAIN revenues will go to free education, health program, infrastructure, higher salaries of government workers and other programs being mentioned by the administration as these are already funded in the national budget.
Aquino said the Department of Education and Department of Public Works and Highway posted underspending of P100 billion and P200 billion, respectively, in 2018 while collections from excise tax were pegged at P60 billion.
"The total budget for 2019, P3.7 trillion. The underspending in 2018 is more than P300 billion," Aquino said, noting the P60 billion would not add much to anything but to people's burden.
"It's really wrong. (For me), the government should be more efficient in its spending to make sure people will get better services and not to burden them with additional taxes," he explained.
Aquino said the TRAIN provisions changing the income bracketing could have helped about six million ordinary workers but the tax on fuel and other fuel products resulted in high inflation rate.
"Why add a tax to products which we have no actual control over?" he asked.
Aquino also said the TRAIN law was implemented without a clear list of the 10 million poor families who are supposed to receive P200 a month in conditional cash transfer. Government officials admitted they have yet to identify the other 5.6 million recipients.
Aquino stressed the P200 monthly aid for each family will not be enough to cover the increases of basic needs and worst, it will be given in October or months after the people have suffered from high prices.
"We tried to correct it but unfortunately they did not pay attention to the Senate," Aquino said.
Fresh faces
Aquino said he is so proud to run among the candidates of Otso Diretso, which he described as "the best slate I've ever been part of."
"They are the kind of people we need in the Senate. As they say, the Senate is the last bastion of democracy. We really need an independent Senate," he said.
Aside from Aquino, other Otso Diretso candidates include former senator Mar Roxas, Magdalo Rep. Gary Alejano and former ex-Quezon representative Erin Tañada, lawyers Chel Diokno, Pilo Hilbay and Romulo Macalintal, as well as Muslim assemblywoman Samira Gutoc.
Aquino said he will not get tired of pushing measures that ensure a better future for young Filipinos, even if it means time away from his family.
His four-year-old daughter Rory often asks why he's not home. "It's for the young people like my kids that I am working for a better country," he said in Filipino.