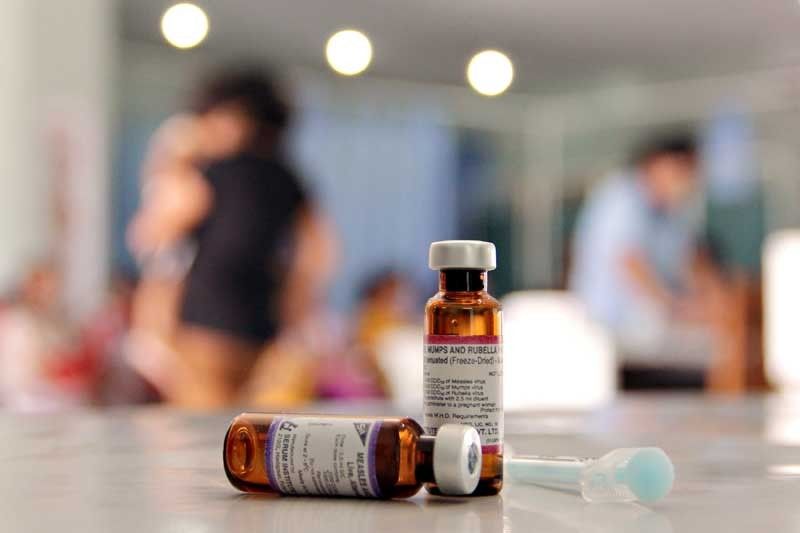 Vaccines are pictured next to patients in a hospital in Sarangani province in this November 2018 photo. At least 20 people have reportedly died of 'tigdas' or German measles in the province.
Measles outbreak declared in Metro Manila, Central Luzon
MANILA, Philippines — The Department of Health (DOH) yesterday declared an outbreak of highly contagious measles in the National Capital Region (NCR) and Central Luzon.
"We are declaring an outbreak as cases have increased in the past weeks and to strengthen surveillance of new cases and alert mothers and caregivers to be more vigilant," Health Secretary Francisco Duque III said.
In an interview, Duque reiterated his agency's call for parents to submit their children to anti-measles vaccination to contain the spread of the disease.
He warned that bronchopneumonia from measles complication can be lethal, so parents should not be complacent about it.
"Parents have to absolutely bring their children to the health centers for immunization. There is no other way but back to bakuna or vaccination. Parents should not wait for complications to set in because it might be too late," he said.
Based on data presented by the DOH Epidemiology Bureau, the number of measles cases in Metro Manila from Jan. 1 to 19 had reached 196, as compared to 20 cases reported in the region in the same period last year.
At the San Lazaro Hospital, one of the DOH's referral centers for infectious diseases, an average of 48 measles cases are registered every day.
As of Feb. 5, San Lazaro has seen 1,355 cases. Of these, 1,240 patients were admitted in January, including 1,114 pediatric patients. Forty-seven of the children died.
This month, San Lazaro has admitted at least 264 cases, including 241 children, eight of whom have died.
Last year, the NCR registered 3,646 measles cases compared to 351 cases in 2017.
The NCR is composed of the 16 cities of Caloocan, Malabon, Navotas, Valenzuela, Quezon City, Marikina, Pasig, Taguig, Makati, Manila, Mandaluyong, San Juan, Pasay, Parañaque, Las Piñas and Muntinlupa and the lone municipality of Pateros.
Related to this health bulletin, other regions under tight watch by the DOH include Regions 1, 2, 4A, 4B, 5, 6, 7, 8, 9, 13 and Cordillera Administrative Region.
The regions need to scale up their response against measles and have all children vaccinated, the DOH said.
Measles is a highly contagious respiratory disease caused by a virus. It is transferred from person to person through sneezing, coughing and close personal contact.
Its signs and symptoms include cough, runny nose, red eyes/conjunctivitis, fever and skin rashes lasting for more than three days.
Aside from bronchopneumonia, other complications include diarrhea, middle ear infection, encephalitis or swelling of the brain, malnutrition and blindness, which may lead to death.
"Nutritional support and oral rehydration are important measures to increase body resistance and replace lost body fluid caused by coughing, diarrhea and perspiration," Duque said in a statement.
He added that immunization and vitamin A supplementation of nine-month-old children are the best defenses against measles.
Physician Jesse Fantone, chief of the DOH's Regional Epidemiology and Surveillance Unit in Central Luzon, confirmed the outbreak.
"Yes, it's an outbreak," Fantone said.
Dengvaxia fiasco
Vice President Leni Robredo urged yesterday the Duterte administration to take immediate actions to help bring back the public's trust in the government's immunization program to prevent another measles outbreak this year.
Robredo said the rise in measles cases could have been avoided if there were no irresponsible comments and accusations made that eroded the public's trust in the government's immunization program.
The Vice President was apparently referring to the controversy involving the Dengvaxia vaccine, which some groups blamed for the deaths of some Filipino children.
She said because of the Dengvaxia scare, many parents are afraid to have their children vaccinated.
"I hope concerns like this should not be politicized because the lives of the children are at stake here," she said.
Ruby Constantino, director of the DOH Disease Prevention and Control Bureau, earlier warned that another measles outbreak is expected this year, with 2.4 million unvaccinated children.
Robredo said the country's program against measles has been effective, noting that the Philippines is close to eradicating the infectious disease.
"Let's avoid finger pointing. Instead let's find solutions on how we can recover from this," she said.
Meanwhile, the Philippine Foundation for Vaccination (PFV) yesterday expressed alarm over the rising cases of measles, saying even babies are now getting infected.
In an interview, PFV executive director Lulu Bravo noted there were reports of children below nine years old who have contracted measles.
"We are bothered by so many deaths now from measles and even young babies less than the age recommended for vaccination, meaning nine months old, are getting measles," Bravo said.
Bravo maintained that babies should have measles protection from their mothers up to about nine years old.
But she warned that the babies of mothers who are not vaccinated or not adequately vaccinated would be susceptible to measles as early as one month old.
"In 2005 to 2010 and up to 2013, we were having zero deaths with only a few cases. We are now looking at big outbreak and hundreds, even thousands, are expected to die every year if this trend continues," Bravo said.
Bravo cautioned that the tourism industry will likely be affected if the rise in measles cases will not be curbed soon because it "is always a potential scare for people not to come."
"When infectious disease outbreak happens, visitors will not come. Remember the Olympics in Rio de Janeiro in Brazil? When Zika was reported to have increased there, some athletes opted not to participate," she added.
The expert urged parents to have their children vaccinated to protect them against vaccine-preventable diseases like measles.
The DOH is targeting a vaccination rate of 90 percent. In 2016 and 2017, it achieved 70 to 80 percent of the target.
Last year, the agency posted vaccine coverage of 40 percent. – With Helen Flores